Pecan pie with a hint of orange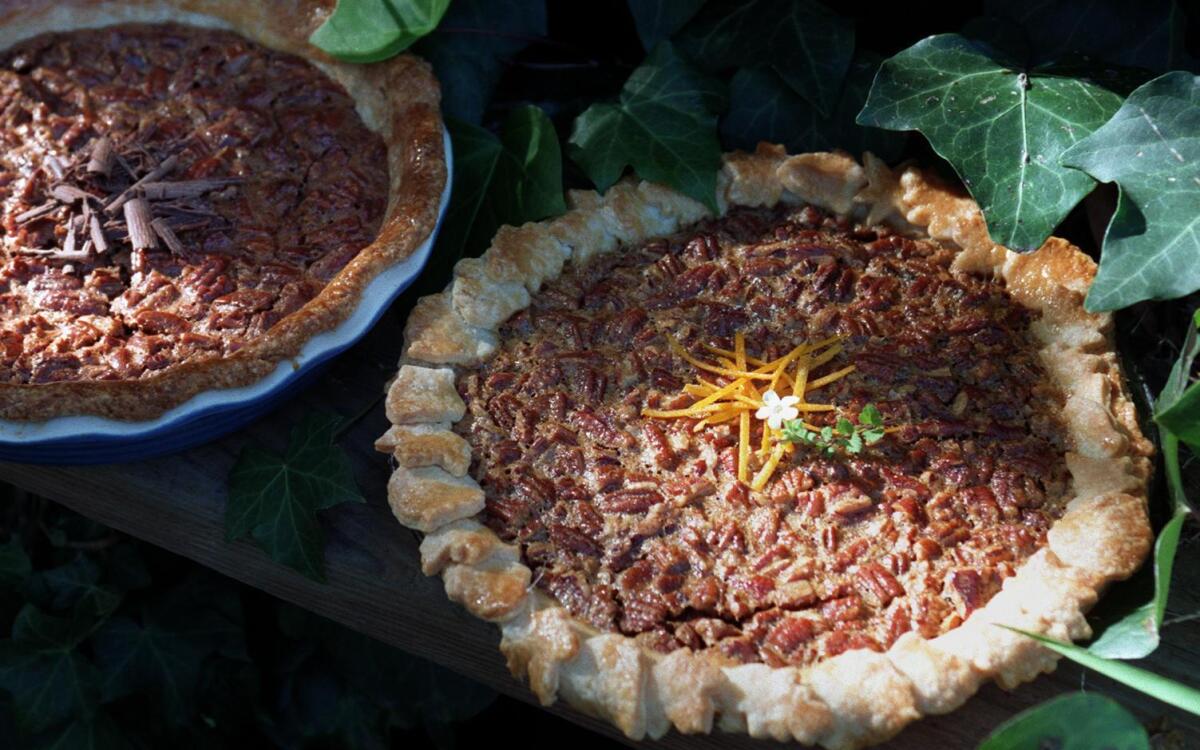 Print Recipe

Print Recipe
I used to ask for lemon meringue pie every year for my birthday instead of chocolate cake. The reason: My mother made great pies.
If birthdays make me think of lemon pie, Thanksgiving makes me think of pecan pie. Every Thanksgiving feast at our house ended with a warm slice of sweet, crunchy pecan pie topped with cool whipped cream.
My mom's is the best pecan pie I've ever had. When I was a teenager and spending more time helping her in the kitchen, I learned her secret: a pinch of orange rind. Such a simple adjustment to create such a mysteriously wonderful flavor. "Just enough for people to wonder what makes it taste so good," she told me, "but not enough to give it away."
Following my mother's advice, I developed my own version of her pecan pie, with, of course, just a hint of orange. I've also come up with a chocolate pecan pie in homage to her. She is a chocolate lover, and the combination of chocolate and pecans is amazing.
Take your pick this Thanksgiving. Better yet, make both.
Crust
1
Mix flour, sugar and salt. Using food processor, pastry blender or hands, cut butter into flour until it resembles small peas. Mix yolks and water, and add to flour mixture, mixing just until incorporated. Wrap dough in plastic wrap and chill 1 hour.
2
Roll out pastry 1/8 inch thick. Roll up on rolling pin and unroll in 9-inch pie tin. Trim off excess (it can be used for decorating edges). Set crust in freezer until filling is prepared. This will help crust edges retain their shape when baked.
Filling and assembly
1
Lightly beat eggs. Whisk in brown sugar, corn syrup, salt, butter, vanilla, orange liqueur and zest to make filling.
2
Remove crust from freezer. Line bottom with chopped pecans and pour filling over nuts. Lift pie and gently tap on counter top to release air bubbles. If necessary, smooth out bubbles with spatula.
3
Bake at 400 degrees for 10 minutes. Reduce temperature to 325 degrees and cook until center of pie doesn't jiggle when moved, about 40 minutes. Cool before serving. Serve with whipped cream.
Variations:
Chocolate pecan pie:

1. Melt 3/4 cup semisweet chocolate chips in double boiler. Make sure that water does not touch upper bowl. Alternatively, melt chocolate in microwave intermittently 2 to 4 minutes on 50% power; time will vary according to microwave used. Let chocolate cool briefly.

2. Follow pecan pie filling directions, mixing chocolate with eggs, brown sugar, corn syrup, salt, butter and 2 teaspoons vanilla extract (instead of 1 teaspoon), and omitting zest and liqueur.

3. Line pastry shell with pecans and fill as above.
---
Get our new Cooking newsletter.
Your roundup of inspiring recipes and kitchen tricks.
You may occasionally receive promotional content from the Los Angeles Times.