Persimmon Cake With Rum Orange Icing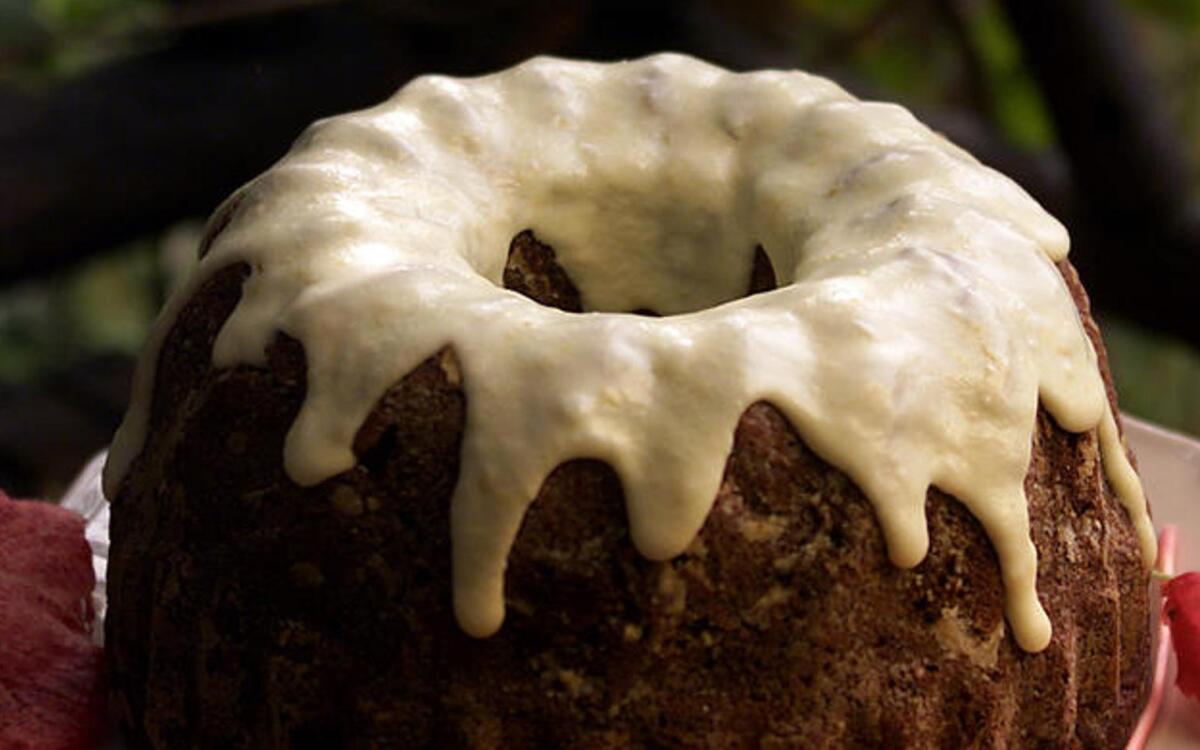 Print Recipe

Print Recipe
This mountain of rummy persimmon cake drizzled with rummy orange icing was inspired by James Beard's persimmon bread.
From the story: Beyond Pumpkin Pie
Cake
1
Heat the oven to 350 degrees. Spread the nuts on a baking sheet and toast until lightly browned, about 15 minutes, shaking the pan once or twice.
2
Meanwhile, butter a 12-cup bundt pan with 2 tablespoons of the melted butter, then dust with flour and knock out the excess. Mix the walnuts and currants together; set aside.
3
Sift the flour, sugar, ginger, baking soda and salt together in a large bowl and stir to blend.
4
Whisk the persimmon puree, eggs, rum and remaining melted butter together until blended.
5
Pour the wet ingredients into the dry ingredients and whisk until thoroughly smooth. Add the nuts and currants and fold with a large rubber spatula until thoroughly mixed. Smooth the batter into the pan, pushing it up against the outer rim.
6
Bake at 350 degrees until a thin skewer inserted halfway between the tube and rim comes out clean, 60 to 65 minutes. Cool the cake in the pan 10 minutes, then knock the pan against the counter a few times to loosen the cake. Unmold onto a rack and cool.
Rum orange icing
1
Whisk the sugar, butter, 3 1/2 tablespoons orange juice and the rum together until smooth. Whisk in the zest. Test a little on the cake--if the icing is too thick to spread when it falls, whisk in another 1/2 tablespoon orange juice. Use at once. (Makes 1 1/2 cups.)
2
To ice the cake, set the cooled cake on its rack over wax paper and slowly pour the icing from a measuring pitcher around the top of the cake, letting the icing fall in long graceful drops down both sides. Immediately spoon the icing on the paper over the top again, in the same direction, until all of it has been used.
3
Using spatulas, lift the cake onto its serving platter. The cake can be covered and kept in a cool place 2 to 3 days before serving.
Garnishes
1
At serving time, if desired, cut the persimmon in strips about 1/2-inch-wide, 1/2-inch thick and little-finger length, and lay them in the grooves along the top of the cake, pointed ends out. Arrange unsprayed leaves around the base. To serve, slice with a serrated knife.
---
Get our new Cooking newsletter.
Your roundup of inspiring recipes and kitchen tricks.
You may occasionally receive promotional content from the Los Angeles Times.