Pork Spare Ribs With Pineapple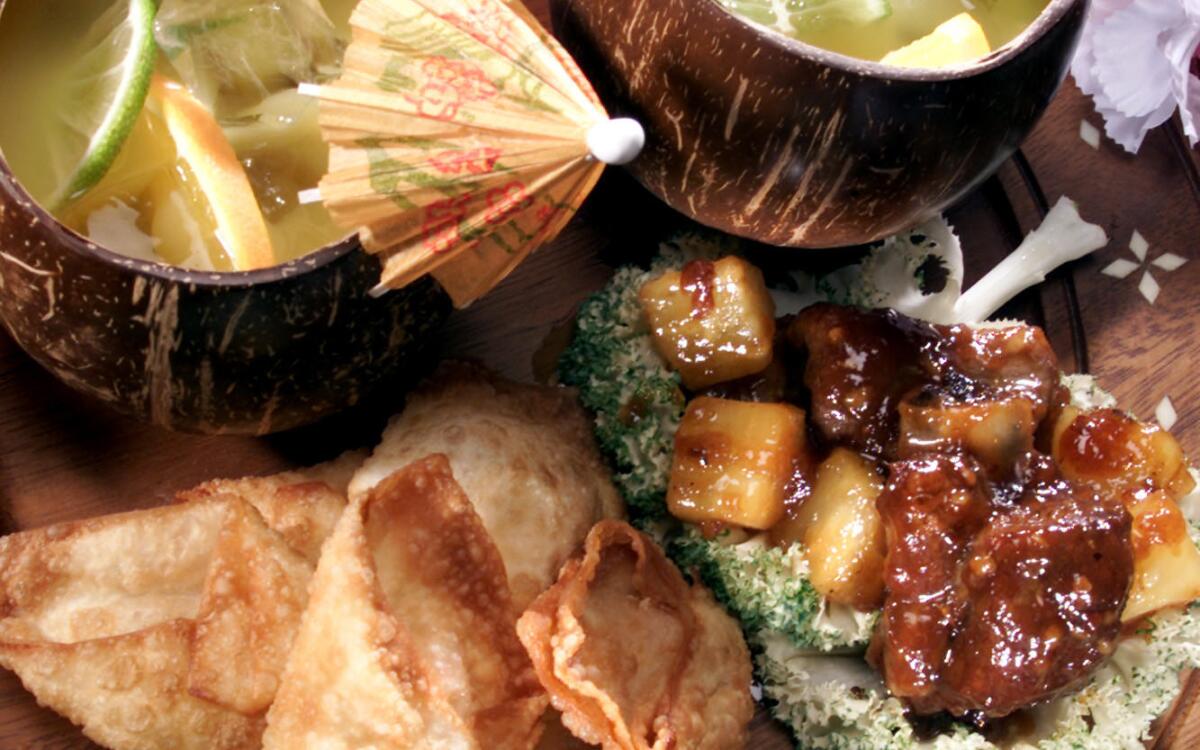 Print Recipe

Print Recipe
If you look around, you can still find wildly exotic old buildings with soaring canted roofs, crude but forceful facades and maybe some remains of a bamboo grove or the bluntly sculpted raging gods known as tikis. They're the ghosts of a tropical fantasy that swept this country in the '50s and '60s and abruptly ebbed in the '70s.
Most of the surviving buildings are hotels, but there was much more to the Polynesian craze: food, drink, music, interior decor, a whole style of hospitality.
And it seems to be making something of a comeback these days. Hawaiian shirts are no longer embarrassing; bidding is heavy on eBay for collectible tiki mugs. As a result of the cult of '50s Exotica music, a recent album, "The Forbidden Sounds of Don Tiki," actually brought back 87-year-old Exotica great Arthur Lyman to play on two tracks.
Recently we've seen books on how to mix Polynesian cocktails, even "The El Paso Chile Company Rum & Tiki Cookbook" (William Morrow, $12.95). And last year Sven Kirsten published "The Book of Tiki" (Taschen Books, $30), a lush, affectionate study of the tiki motif, particularly in architecture, where it inspired the very wildest buildings of the Googie school.
There's usually a note of condescension when we look back on the Polynesian craze, because it's hard to take anything exactly as people did in its own day. But it would be a mistake to think of Polynesian cuisine as essentially tacky. True, like tail fins on cars, it was an exuberant cultural phenomenon that intellectuals decried; true, it eventually became savagely unfashionable. But in the '50s and '60s, a night at a Polynesian restaurant was widely considered dining in the grand style.
For instance, a restaurant named Beach Bum Burt's, which boasted a spectacular view of King Harbor in Redondo Beach, specialized in wedding receptions. Brides-to-be once murmured, "Darling, on our special day, I want the reception to be at . . . Beach Bum Burt's!"
The image of Polynesia was a mix of leisure, balmy climate and hula-dancing sensuality: basically, an amped-up version of the usual snowbird's fantasy of California. The idea of representing what life was actually like in the South Seas was almost beside the point. My parents, who at one period scarcely ate at any other kind of restaurant, clearly saw it all as just a pleasant rationale for a big night out--like the entertainment at a supper club, except that you didn't have to dress up for it. (On the contrary, when you were eating snacks from something called a pupu platter, casualness was all.)
And I can report, having been taken along to many such restaurants as a kid, that you didn't have to have any ideas at all about Polynesia to enjoy these places. They were simply intoxicating environments, smelling of tropical fruits and flowers, full of plants and exotic statues, their ceilings hung with puffer-fish lamps and outrigger canoes. The dim lighting was punctuated only by torches and the occasional flaming appetizer or cocktail. Your plate was full of luscious sweet-and-sour things, and in the background you heard trickling fountains and sweet, dreamlike Hawaiian music. It was overwhelming--lyrical, jovial, romantic and sensuous, though certainly naive and mannered.
The sort of food served at these places definitely didn't originate in Hawaii. Au contraire, it was invented in California by people who, at least in the beginning, had never been to the South Pacific.
The basis was a rich, upscale version of American Cantonese cuisine. Rice always meant fried rice, never steamed rice; lobster was a favorite ingredient. There were also touches of Malaysian cuisine--satays with peanut sauce and curries made with coconut milk; this was America's first glimpse of Thai food--and various dishes (usually involving pineapple) invented by Americans to fulfill the fantasy.
Despite the Hawaiian associations, surprisingly little effort was made to cook real Hawaiian food. Sometimes you could get a roast whole pig at a restaurant, occasionally some laulaus (baked packets of meat wrapped in ti leaves), hardly ever the insipid porridge called poi.
And Polynesian cuisine was brazenly adapted to American ingredients and tastes. Trader Vic's recipes regularly call for celery, apples and A-1 sauce. Every restaurant struck its own balance between Cantonese food, the chef's inventions and surf 'n' turf favorites (sometimes in disguise--the Caesar salad might get renamed the King Kamehameha). Moa kai lanai, the specialty at Beach Bum Burt's, was a Continental sort of idea: a tomato stuffed with chicken salad paired with an avocado stuffed with shrimp salad.
Still, many an Asian family living in suburbs that had no Chinese restaurant would go out to the local Polynesian place for a big night. The pupu platter (from a Hawaiian word for snack; "pupu" originally meant sea shell) was always an array of Cantonese appetizers such as shrimp toast, egg roll, paper-wrapped chicken and very sweet pork spare ribs.
Throughout the craze, the trademark of Polynesian restaurants was cocktails with colorful names like Suffering Bastard or Missionary's Downfall, often served in quaint glasses or mugs or even coconut shells (the Pi Yi came in a hollowed-out pineapple). For the final touch, they were usually garnished with tropical flowers or paper parasols, when they weren't set aflame.
Most of these cocktails were made with rum. This was a personal preference on the part of the influential owners of Don the Beachcomber and Trader Vic's, but it was also part of the Polynesian cult's rejection of stuffy respectability. Since the 19th century, rum had been considered a cheap, coarse drink, unfit for company--Prohibitionists liked to smear all alcoholic beverages by calling them "rum." But with the Zombie, the Scorpion and the Mai Tai, it was transformed into an exotic but hearty delicacy: pirate grog.
Once restaurants popularized this sort of dining, it turned out to be devilishly easy to do at home. People started throwing home luaus (named for lu'au, a dish of fish and taro greens served at parties in Hawaii but scarcely ever on the mainland). Canners of pineapple and coconut milk obligingly cranked out recipes and guides to home luauing.
The luau was popular because of its informality and suggestion of tolerable wildness (hulahula! scowling tiki gods!). It was festive--you wore colorful shirts for it; the backyard was lit with "tiki torches"; with a can of Sterno, an empty pineapple shell could be turned into a romantic sort of chafing dish.
And because the food appealed shamelessly to the American sweet tooth, in its time Polynesian cuisine probably had more influence on home dining than Cajun, California or any of the other food trends of the second half of the 20th century. Not much of it has survived, though, except for rumaki, an appetizer of chicken livers, water chestnuts and bacon invented at Don the Beachcomber as a way to use up chicken livers.
When Polynesian went big time in the '60s, it was explosive; in the '70s, it collapsed almost overnight. What happened? For one thing, Julia Child had gotten Americans over their fear of French food, and the giddy, gaudy Polynesian style started to look just sloppy and amateurish. On top of that, many of the '70s Polynesian places had been cutting corners and serving perfunctory food.
Basically, though, people got tired of Polynesian food. At one time it had been the big excitement, but now restaurants that served flaming ice cream desserts "dedicated to the volcano goddess Pele" just looked silly.
But everything that is fashionable is silly--it may just take a while to see it. In a few years, people are probably going to wonder how restaurants in the '80s and '90s could have thought it was more tasteful to have exposed heating ducts in their ceilings than, say, outrigger canoes.
And maybe, years after that, we'll see mildly patronizing nostalgia for that silly High-Tech look.
1
Separate the ribs and chop them into 1-inch pieces with a heavy knife.
2
Place the oil in a large skillet and fry the ribs over medium-high heat until they're lightly browned, about 5 minutes a side. Add the garlic and ginger, and cook over medium heat until fragrant, 1 to 2 minutes.
3
Drain off the oil from the skillet and add the soy sauce, the juice from the pineapple can and the sugar, vinegar, water and paprika. Bring to a boil, cover the skillet, reduce the heat to low and simmer until the ribs are tender, 45 minutes.
4
Add salt to taste. Add the pineapple chunks and dissolved cornstarch and cook over medium heat until the sauce is clear and slightly thickened, 1 to 2 minutes.
From "Hawaii Kai Cookbook" by Roana and Gene Schindler (Hearthside, New York; 1970). Hawaii Kai was a leading Polynesian restaurant in New York.
---
Get our new Cooking newsletter.
Your roundup of inspiring recipes and kitchen tricks.
You may occasionally receive promotional content from the Los Angeles Times.