Puerco con chile negro (pork with dried pasilla chile sauce)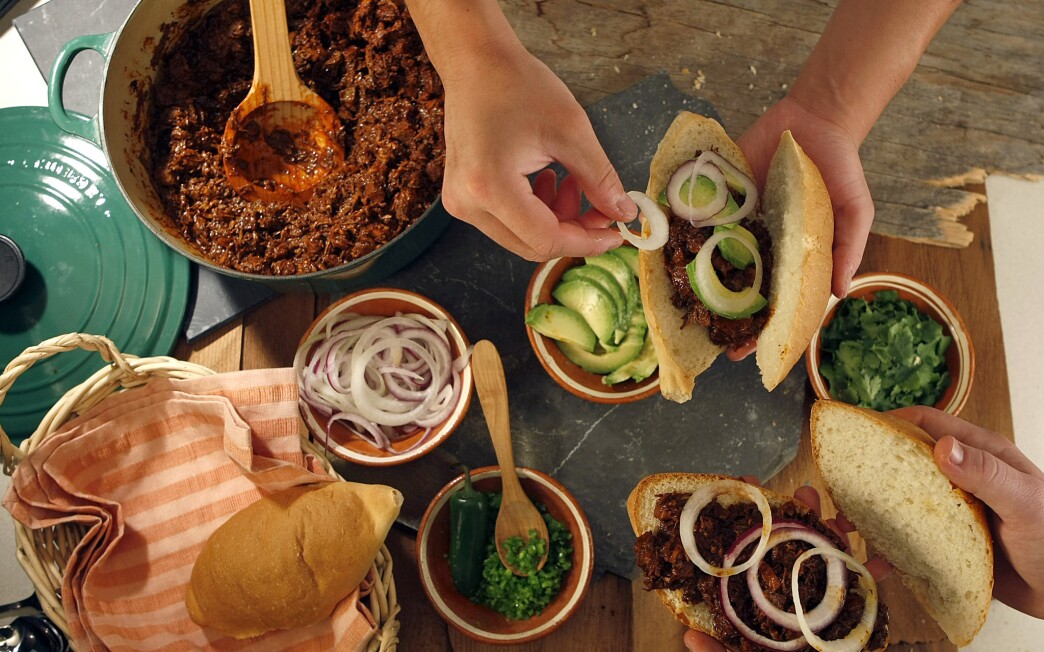 Print Recipe

Print Recipe
Sotera Jaime and her trusty 10-quart stainless steel stockpot have seen a lot of mileage over the years.
As the matriarch of one of Southern California's most popular farmers market families, Jaime cooks up a hearty hot lunch almost every day for an ever-changing cast of a couple of dozen extended family members, farmhands and part-time sales employees.
The 61-year-old co-owner of Jaime Farms hits the road before dawn, driving from her home in Chino to one of the farm's 20 or so farmers market stands scattered across Southern California -- a Pasadena market on Tuesdays, the Santa Monica Wednesday market and the Palm Springs market on Saturdays.
There, in addition to delivering her homemade lunch, she spends much of the day working the stand -- reorganizing leaning towers of collard greens, helping customers choose the just-right jewels for churning into strawberry sorbet and resolving any errant parsley problems along the way.
Then, hours later, she pulls back into her driveway and spends the afternoon and early evening cooking the next day's lunch.
--
Hearty dishes
These aren't your average workaday cold-cut creations but hearty slow-cooked braised meats and stews. Even after a long workday, this silver-haired abuela isn't keen on shortcuts.
She eschews conveniences like canned tomatoes (she makes her own stewed tomatoes from market rejects) and scoffs at the idea of canned chicken broth. To get that puerco con chile negro finished on time, Jaime relies on good old-fashioned recipes that are fuss-free, loaded with flavor and amenable to her make-ahead schedule.
" Puerco?" she asks Alex Weiser, co-owner of Weiser Family Farms as he wanders the back alley where wholesale farmer-to-chef sales go down at the Wednesday Santa Monica farmers market. Market regulars such as Weiser, along with a few lucky chefs, always seem to somehow follow their noses to the Jaime Farms stand right around noon.
Before Weiser can respond, Jaime scoops a few spoonfuls of the chopped pork bathed in thick pasilla chile sauce onto a small plastic plate. She hands him a bolillo, the Mexican equivalent of a French roll, and motions with her hands showing how to scoop up the smoky, brick red sauce with the bread. Then she turns back to face the large stainless stock pot that is resting atop a folding table and gets right back to assembling another plate.
" Bueno?" she occasionally asks, checking on her growing crowd of sidewalk eaters. The answer is always yes.
Such is the typical Jaime Farms lunch, be it at one of the farmers markets where the family sells produce or at picking day at one of the farms.
Even when Jaime can't make it out to serve herself, she'll pack lunch for the farmhands to send with whichever of her three thirtysomething sons is in charge. (She typically leaves the 200-mile treks to the family's new Santa Maria farm to the next generation.)
Soon after Jaime and her husband, Jose Luis Jaime, immigrated to the Los Angeles area more than 30 years ago, he went to work for Joe Taguchi, owner of what was then Taguchi Farms. Taguchi sold them the farm in 1997. She helmed the family stove, stuffing the yellow crookneck squash that her husband brought home with mushrooms, onions and whatever Mexican cheese she had on hand.
--
From the garden
Today, Jaime's cooking style may be rooted in the chile-spiced chicken, pork and vegetable dishes of her native Morelos, a state in south-central Mexico, but in her home kitchen, she adds whatever is ready for the pot that week (her backyard serves as the family's small farm).
Her recipes never go so far as calling for only the youngest, perfect baby radishes -- she leaves the finicky cooking to chefs. Instead, Jaime is drawn to those dishes that are easy to make for a crowd and reheat before the 5 a.m. commute, like that pork with black chile sauce.
She starts by sliding a whole pork butt straight into a pot of simmering salted water, not even bothering to brown it first. It's a step most of us would probably never skip, as searing gives meat that essential caramelized depth of flavor. Or so we think.
But two hours later, when she removes the cooked meat to cool, then pulls it apart and chops the pork into uniform pieces, the lack of browning isn't missed at all.
The pasilla sauce, a straightforward combination of pureed dried chiles, garlic and chicken broth, steals the show with every fantastically smoky bite. It's even better the next day.
--
Communal meal
Many of Jaime's vegetable dishes are every bit as workday-friendly. To make stuffed squash, she blanches yellow crookneck squash, then slices them in half lengthwise to scoop out their meaty centers.
She mixes the pulp with sauteed mushrooms and onions, chopped parsley and queso fresco or C otija (a hard cow's milk cheese) and mounds the filling into each boat-like half before wrapping them up for later.
They're brilliantly simple edible to-go containers waiting to be baked and passed out to outstretched hands.
There's always a bounty of freshly picked condiments, such as cilantro, sliced jalapenos and red onions available to dress up whatever is for lunch. But most days the family eats their puerco con chile negro straight up. The best part about Jaime's home-cooked street-corner lunches is squeezing in the time to eat it together.
1
Place the pork in a large stew pot with a lid and cover with water. Add 1 tablespoon salt and bring to a boil over high heat. Reduce the heat to a very low simmer, cover and cook until the pork is cooked through, about 2 hours, occasionally skimming any foam from the top with a large spoon. (It is OK if the pork is still medium rare/pink in the center.) Remove the pork from the broth and set aside until cool enough to handle, saving the broth.
2
While the pork is cooling, remove the stems and seeds from the chiles by opening each chile with your fingers or a small knife and scraping out the seeds. In a grill pan over medium-high heat, toast the chile pods in batches, pressing down with a spatula occasionally, until they begin to darken in spots and blister, about 1 minute per side. Place the toasted chiles in the pork broth until slightly softened, about 10 minutes, and remove to a bowl.
3
Place a small strainer on top of a large liquid measuring cup and strain 1 cup of the pork broth into the cup. Discard the remaining broth (or save it for another use) and wipe out the pot with a paper towel.
4
When the pork is cool, trim the thick layer of fat from the top and discard. Chop the pork into roughly one-half-inch cubes and place the meat in the stew pot, discarding the bone. Sprinkle the meat with 1 tablespoon salt.
5
In a blender, combine the garlic, half the softened chile peppers and chicken broth. Blend on medium-high speed until pureed and pour over the pork. Repeat with the remaining chile peppers, any juices that have accumulated in the chile pepper bowl and reserved 1 cup of pork broth. Stir well to combine.
6
Bring the pork to a gentle simmer and cook, covered, until the meat is tender, 2 to 3 hours. Stir every 10 minutes or so to make sure the mixture does not burn on the bottom of the pan. Remove from heat and season if desired with additional salt. This makes about 8 cups.
7
If the sauce is a bit thin, it can be thickened with cornstarch: In a small bowl, combine the cornstarch with 1 tablespoon water. Stir well and pour over the pork. Stir to combine, increase the heat and boil until the sauce is slightly thickened, about 2 to 3 minutes. Remove from the heat and season with additional salt to taste.
8
Arrange the bolillos, onions, avocado, chilantro and jalapenos on a serving platter. Allow guests to spoon the pork and sauce onto the bolillos and add the garnishes as desired.
From Sotera Jaime of Jaime Farms. The flavor improves the day after it is made.
---
Get our new Cooking newsletter.
You may occasionally receive promotional content from the Los Angeles Times.