Queen and Diva's mac 'n' cheese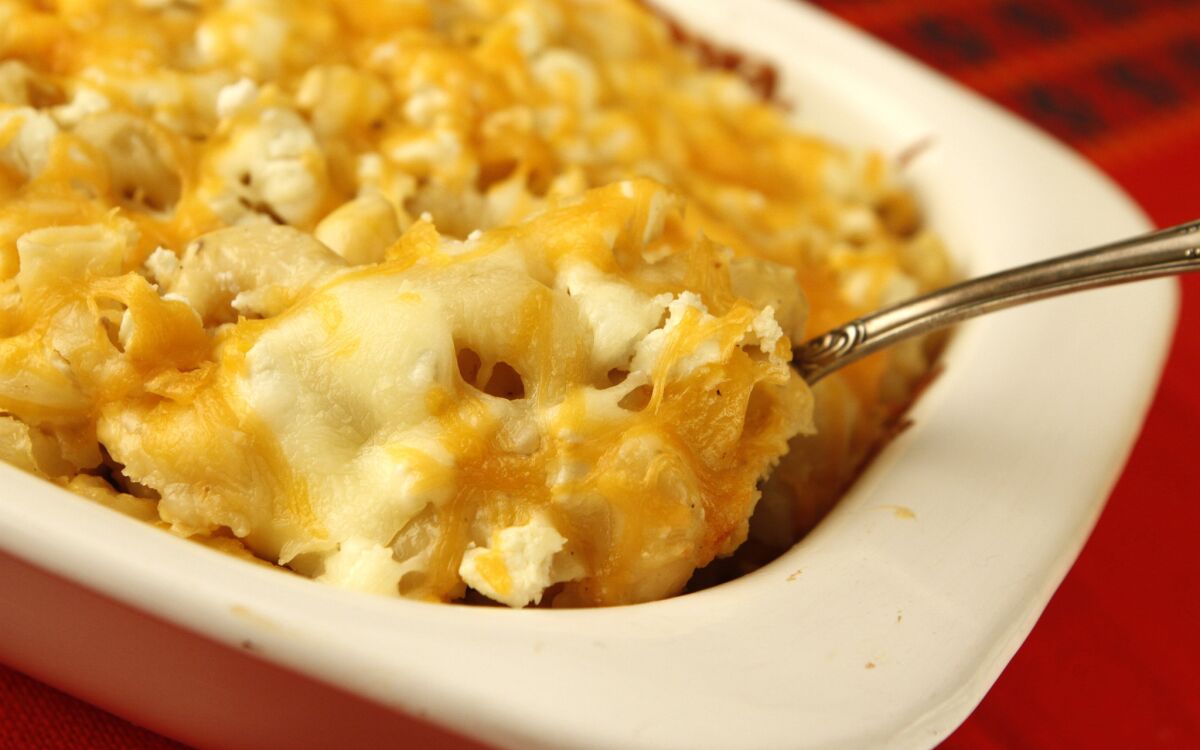 Print Recipe

Print Recipe
Every year at my house, we host what we call the "Long Table Thanksgiving." It's a simple tradition, and it does a lot to minimize holiday stress. We provide the birds, and everyone else brings a side dish. Oh, and we eat at a very long table. Everyone is welcome at the Long Table, and no one is turned away.
Guests may bring a cherished recipe from their childhood or a dish they've continued to perfect for every gathering. The dishes are often classic comfort food, sometimes heavy on the cream of mushroom soup, crackers or French-fried onions. There is no shortage of Velveeta. These are dishes from home, and they speak to the cooks' memories, not their gourmet aspirations.
Sean makes this mac 'n' cheese every year and we have come to count on it -- expect it, even -- as a staple. The Long Table would not be complete without it.
From the story: A long Thanksgiving tradition in Southern California
1
Heat the oven to 350 degrees. Cook the macaroni according to the instructions on the package until al dente. Drain.
2
While the noodles are cooking, in a large bowl, whisk together the eggs, salt and pepper. Whisk in the sour cream and melted butter.
3
Stir the macaroni into the bowl with the egg mixture and set aside.
4
In a large saucepan, heat the Velveeta, cream of mushroom soup and the milk over medium heat and cook, stirring frequently, until the Velveeta is melted and incorporated with the soup and milk to form a nice sauce consistency. Add additional milk to thin if the sauce is too thick. Remove from heat.
5
Stir the sauce in with the macaroni, then stir in half (1 cup each) of the cheddar and jack cheeses. Place the macaroni mixture into a greased 13-by-9-inch baking dish.
6
Spoon the goat cheese in dollops over the macaroni mixture, then sprinkle over the remaining cheddar and jack cheeses.
7
Bake until the cheese topping is melted and the sauce is bubbly, about 30 to 40 minutes. Remove and cool slightly before serving.
From Sebrena Smith and Sean Swayze.
---
Get our new Cooking newsletter.
Your roundup of inspiring recipes and kitchen tricks.
You may occasionally receive promotional content from the Los Angeles Times.