Rainbow Curry Rice Noodles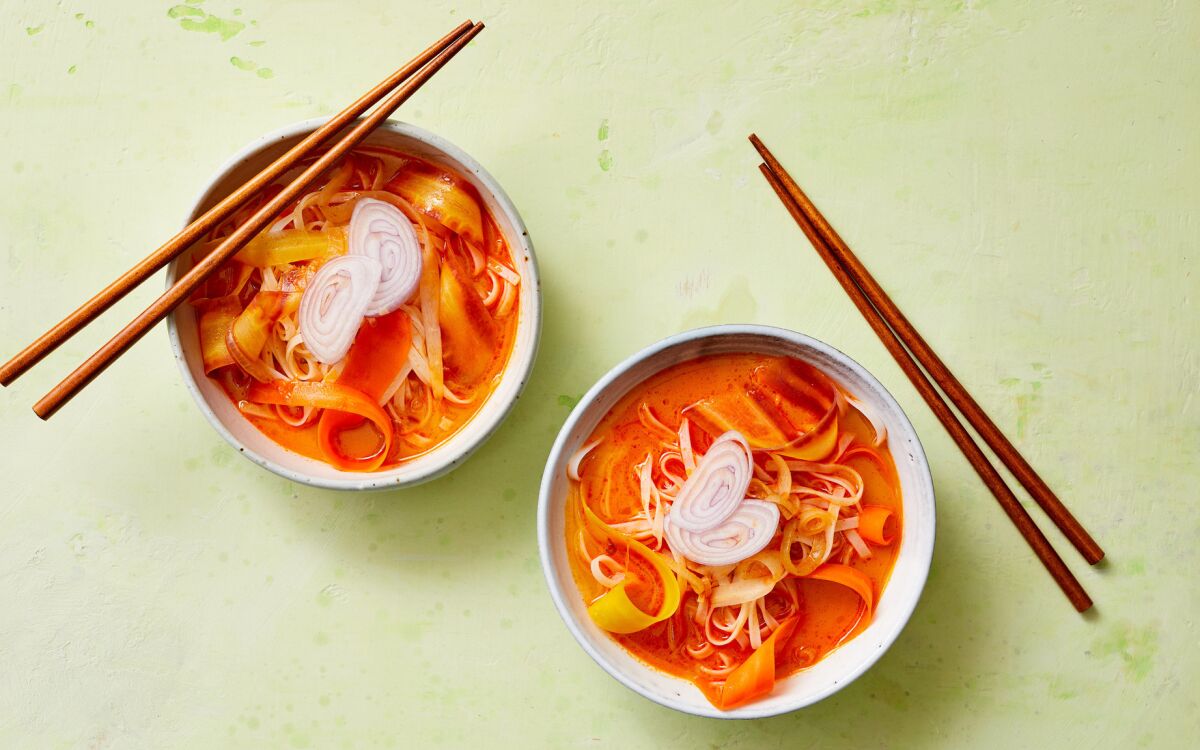 Print Recipe

Print Recipe
Sweet shallots and carrots mellow the heat of curry, as do rice noodles. Be sure to buy rice noodles that are about ¼ inch wide; they're sometimes labeled pad Thai noodles. If you can handle adding a sixth ingredient, a squeeze of fresh lime juice at the end adds welcome brightness and acidity.
1
Bring a large pot of salted water to a boil. Add the noodles and cook for 3 minutes. Drain, rinse under cold water until cold and drain again.
2
Meanwhile, heat a Dutch oven or other wide, large pot over medium-high heat. Open the can of coconut milk and scoop 2 to 3 spoonfuls of the solid fat into the Dutch oven. Add half of the shallots, season with salt, and cook, stirring occasionally, until tender, 3 to 4 minutes.
3
Add the curry paste and cook, stirring, until a shade darker and toasty, 1 to 2 minutes. Add everything remaining in the can of coconut milk, then fill the can with water and pour it in. Bring to a boil over high heat, then reduce the heat to simmer. Taste and add more curry paste and salt if you'd like. Simmer for 10 minutes.
4
While the sauce simmers, run a vegetable peeler along the lengths of the carrots to create ribbons. You'll have a flat core of carrot remaining; you can snack on it or save for another use.
5
Add the noodles and carrots and stir until both are just tender with a little bite, about 1 minute. Divide among serving bowls and serve immediately.
---
Get our new Cooking newsletter.
Your roundup of inspiring recipes and kitchen tricks.
You may occasionally receive promotional content from the Los Angeles Times.