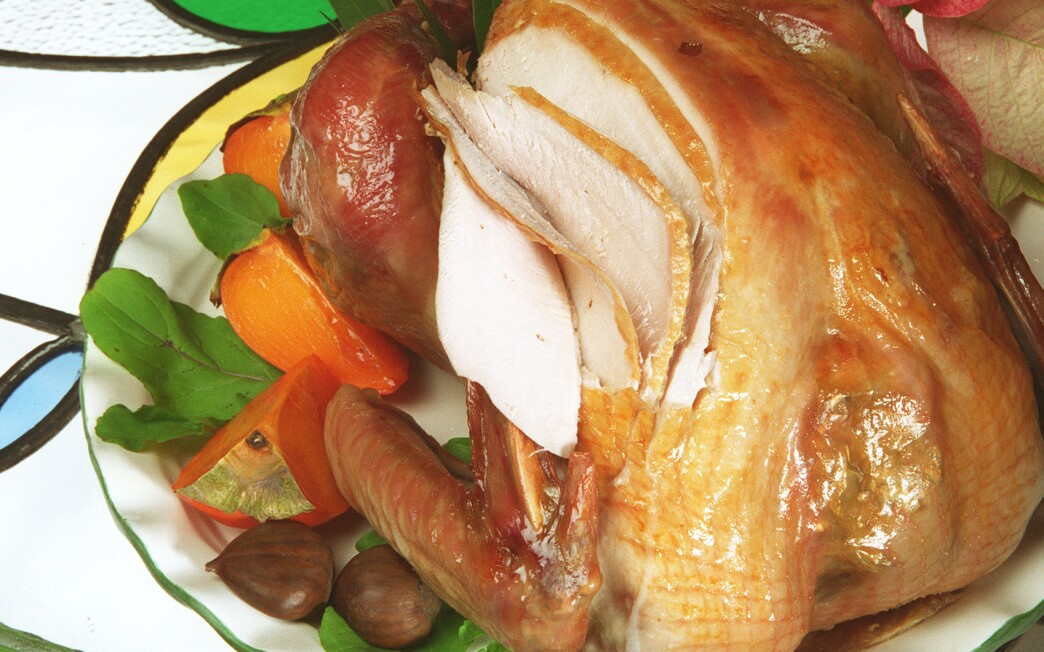 Print Recipe

Print Recipe
For years, I was tormented by turkeys. Sometimes they'd overcook and go dry. So the next year I'd try and pull them a little quicker. Let me tell you, there's nothing like carving a turkey in front of God and everybody and cutting into a hip joint that is not fully cooked. And then there were the magical deflating turkeys. Beautiful when they came out of the oven, with puffed-up white meat straining against the bronzed skin, somehow they managed to shrink and wither before they got to the table.
Then I discovered brining. I brined my first turkey at Thanksgiving 1994. I had undercooked the bird the year before, so this was my dinner to overcook it. Even so, the breast meat stayed moist. When I sliced it, it fell away in neat sheets, it didn't crumble into turkey-flavored sawdust. And deflation was not an issue. The bird came out of the oven looking like a '50s starlet and stayed that way right through dinner.
From the recipe: Turkey Trouble
1
Combine the salt and water in a large pitcher and stir until the salt dissolves. Place the turkey in a pot just large enough to hold it and pour the salt-water combination over it. If the turkey is completely covered, don't worry about using all of the brine. Cover the top with foil and refrigerate 6 hours or overnight, turning 2 or 3 times to make sure the turkey is totally submerged.
2
Remove the turkey from the brine and pat it dry with paper towels. Return it to the pot and refrigerate it, uncovered, 6 hours or overnight to dry thoroughly.
3
Heat the oven to 450 degrees. Place the turkey on its side on a rack in a shallow roasting pan and roast 15 minutes. Turn the turkey to its other side and roast another 15 minutes. Finally turn it breast-side up and roast another 15 minutes.
4
Reduce the heat to 325 degrees and roast until the meat thermometer inserted in the center of the thickest part of the thigh registers 160 to 165 degrees, about 2 hours. Remove the turkey from the oven and set aside 20 minutes before carving.
---
Get our new Cooking newsletter.
You may occasionally receive promotional content from the Los Angeles Times.