Roast whole chicken with cauliflower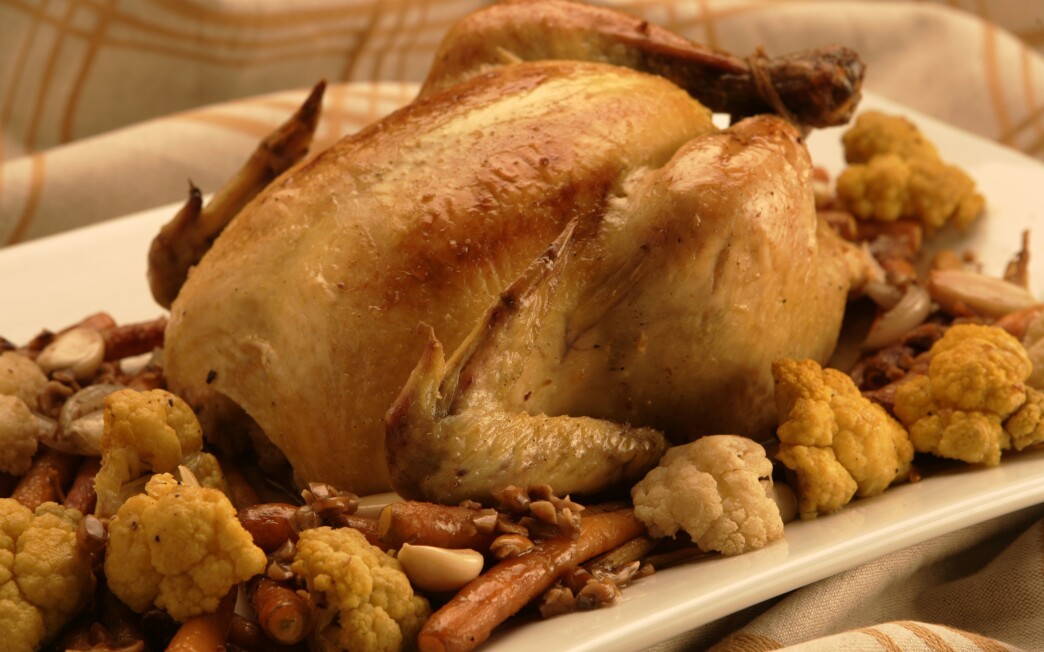 Print Recipe

Print Recipe
Roast a whole chicken with a few heads of baby orange cauliflower, some tiny orange, purple and white carrots and a handful of toasted hazelnuts. The earthy notes of the chicken, the caramelized carrots and the crunchy hazelnuts bring out the subtle flavor of the cauliflower. And the dish looks remarkable, like a rustic, burnished feast.
From the story: A brilliant comeback
1
Heat the oven to 350 degrees. Put the nuts on a baking sheet and toast them in the oven until browned and fragrant, about 10 minutes. Let cool, then coarsely chop the nuts. Set aside.
2
Raise the oven temperature to 425 degrees. Clean the chicken inside and out with cold water; pat dry with paper towels. Let stand for 20 minutes.
3
Smear the butter under the skin and on the outside of the chicken and season with 2 teaspoons salt and one-eighth teaspoon pepper. Tie legs together with kitchen twine. Place the chicken, breast side up, in a roasting pan, and cook until the skin begins to crisp, about 20 minutes.
4
While the chicken is roasting, prepare the vegetables. Wash the cauliflower and separate it into large florets. Separate the garlic cloves from the head and crush them by laying each clove on a flat surface and pressing down on it with the broad side of a large kitchen knife. Remove the peel. After the 20 minutes, distribute the crushed garlic cloves and shallots around the chicken in the pan, top with the cauliflower and carrots, and drizzle with 1 cup cold water. Season vegetables with salt and pepper to taste.
5
Lower the oven temperature to 350 degrees and cook, basting the bird and vegetables with the cooking juices two to three times, for 20 minutes more. Then scatter the hazelnuts over the cauliflower, basting every 10 minutes or so, until the juices run clear when you cut between a leg and a thigh, about 1 hour more.
6
Transfer the chicken to a warm serving platter and let stand 10 minutes. Surround the chicken with vegetables, spoon the cooking juices all over, garnish with parsley if desired, and serve immediately, carving at the table.
From "The Bistros, Brasseries and Wine Bars of Paris" by Daniel Young. (This recipe is from Thierry Breton of Chez Michel.)

Orange cauliflower is available at select supermarkets and farmers markets. White cauliflower can be substituted.

Baby carrots of various colors are available at farmers and well-stocked markets.
---
Get our new Cooking newsletter.
Your roundup of inspiring recipes and kitchen tricks.
You may occasionally receive promotional content from the Los Angeles Times.