Rugelach
Yields
Makes 4 dozen cookies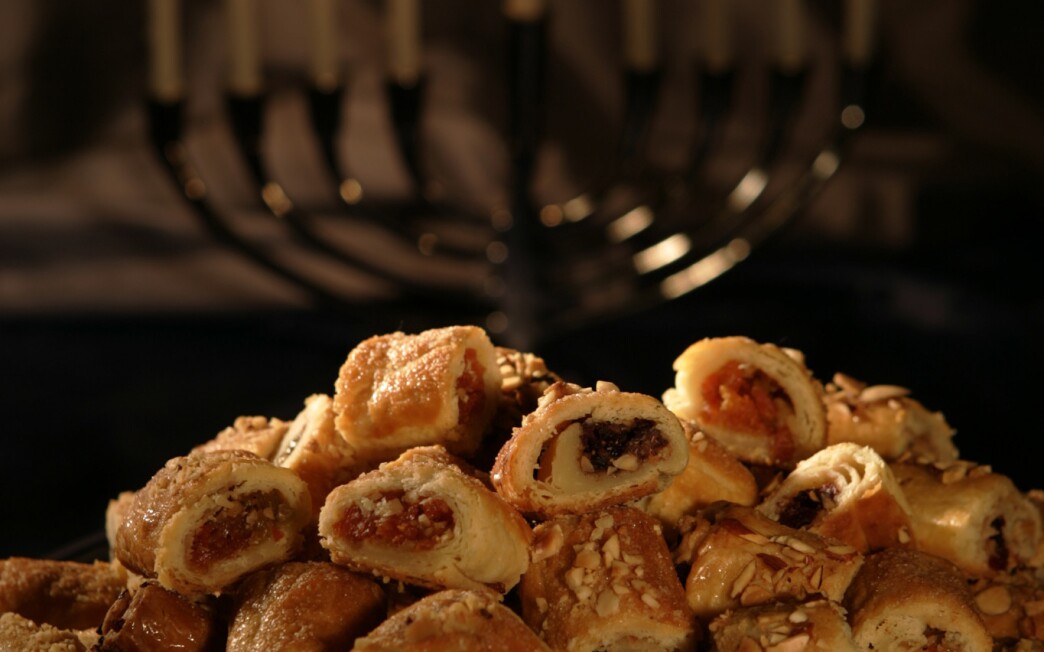 Print Recipe

Print Recipe
Anyone who thinks celebrating Hannukkah properly involves getting out a frying pan can think again.
Yes, potato latkes are wonderful. And yes, jelly doughnuts, which have become traditional for the holiday too, are superb. But before there were doughnuts or latkes, there was cheesecake.
No, we're not going to suggest cheesecake this Hanukkah, though that would be absolutely in line with tradition. As Joan Nathan reminds us in her "Jewish Holiday Cookbook," cheesecake was essential in the Hanukkah story: Judith gave cheesecakes to Assyria's Gen. Holofernes, which made him thirsty, so she gave him wine, which made him swoon and she was then able to slay him, saving the Jews.
"They weren't sweet cheesecakes; they were savory," explains Nathan by phone from her Washington, D.C., home.
In any case, Judith's cheesecake is why rugelach, the wonderful little cookies-cum-mini-coffee cakes that have cream cheese in the dough and are rolled up with fillings made of any combination of nuts, dried fruits, preserves, spices and chocolate, have come to be traditional for Hanukkah.
Short of coming up with a delicious savory cheesecake, nothing could be more true to the spirit of the holiday than rugelach. Not even potato latkes. (Potatoes didn't travel from the New World to the Old World until the 1550s.)
Rugelach weren't always associated with Hanukkah, though, because the pastries didn't always include cheese. "Rugelach have always been made in Eastern Europe," Nathan says. "There might have been some that were buttery, but most were made with a yeast dough rolled out very thin."
In the 19th century, immigrants brought rugelach to America, and the cream cheese innovation, Nathan says, may have come courtesy of the Philadelphia cream cheese company, around the time the product was launched in 1890.
"They had to make up recipes with their products, and they saw the Jewish customers were really receptive." One of those recipes may have been for rugelach made with cream cheese dough.
Who knew? And further, who knew that the word rugelach comes from the Yiddish rugel, which means "wrinkle"? (Perhaps that comes from the Latin ruga, also meaning wrinkle.) So rugelach means "wrinkles" or "folds," which makes sense because they're rolled up in a wrinkly, folded sort of way.
When I was growing up, my grandmother baked decent rugelach when she came to visit. Otherwise, it came in a pink box from Viktor Benes. That was fine, but I always dreamed of finding a recipe for homemade rugelach to die for. I dreamed, for this Hanukkah, of rugelach filled with the best dark chocolate and maybe hazelnuts, or wonderful dried cherries and the freshest almonds. I asked Donna Deane, The Times' test kitchen director, to make my holiday dreams come true, and she did, creating recipes for three of the most amazing rugelach I could have imagined.
Choose one or two of the fillings, make a batch of the dough, and let 'em roll.
1
In the bowl of a standing mixer fitted with a paddle attachment, cream together the butter and cream cheese on low speed until blended, about 2 minutes. Mix in the vanilla until incorporated.
2
In a medium bowl, stir together the powdered sugar, salt and flour. With the mixer at low speed, slowly incorporate half of the flour mixture into the butter mixture until blended; repeat with the remaining flour mixture. Mix just until dough forms, about 1 minute.
3
Turn the dough out of the mixing bowl onto a lightly floured surface. Knead once or twice, then divide the dough in half. Shape each part into a half-inch-thick rectangle and wrap in plastic wrap. Chill 2 hours or overnight. While the dough is chilling, make your choice of fillings.
4
Heat the oven to 350 degrees.
5
Roll one rectangle of chilled dough out on a lightly floured surface so that it is a one-eighth-inch thick rectangle. Trim the dough to a 13 1/2 -by-10-inch rectangle, then cut it into thirds crosswise. Brush each with melted butter.
6
In a small bowl, combine 3 tablespoons sugar with the cinnamon. Sprinkle 1 teaspoon of the cinnamon-sugar mixture evenly over each rectangle of dough. (Reserve the remaining cinnamon-sugar mixture to sprinkle over the top of cookies with apricot or cherry filling.)
7
Spoon one-third cup filling along the edge of each rectangle closest to you. Roll each rectangle of dough into a log. Place the logs, seam side down, on baking sheets covered with parchment paper.
8
Repeat steps 5 to 7 with the remaining chilled dough. You will have 6 logs, 3 on each baking sheet.
9
In a small bowl, lightly beat the egg yolk with one-half teaspoon water. Brush the top and sides of the logs with the egg yolk mixture. Lightly score the top of each log so that it is easier to cut into eight equal pieces after it is baked.
10
For cookies with chocolate-hazelnut filling, sprinkle one-half teaspoon sugar over the top of each log, then sprinkle 1 teaspoon chopped hazelnuts (reserved from making the filling) over the top. For cherry-almond-filled cookies, sprinkle the top of each log with about one-fourth teaspoon cinnamon-sugar mixture, then 1 teaspoon chopped toasted almonds (reserved from making the filling). For apricot cookies, sprinkle about one-half teaspoon of the cinnamon-sugar mixture over the top of each log.
11
Bake 30 to 35 minutes, until lightly browned. Remove to a wire rack to cool. When cool, cut each log into 8 pieces with a sharp or serrated knife.
From Times Test Kitchen Director Donna Deane. You can choose two fillings for one recipe of dough.
---
Get our new Cooking newsletter.
You may occasionally receive promotional content from the Los Angeles Times.