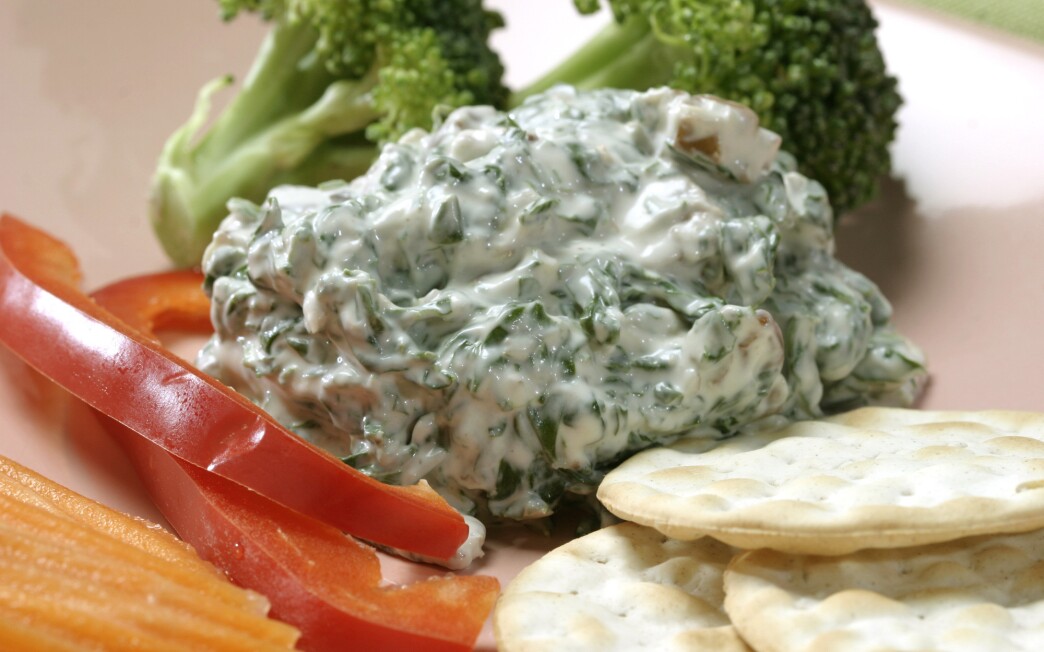 Print Recipe

Print Recipe
At all but the most archly ironic parties, classic creamy dips seem to have gone the way of pigs in a blanket. Salsa and guacamole are inescapable, and even hummus is more likely to turn up with the cocktail du jour. When it comes to party food, immigrants rule.
But it doesn't take a Minuteman to know what will always be most irresistible. The all-American dip, the dairy-based kind that clings to chips and crudites alike, is one of the most seductive innovations of that age of innocence, the 1950s. The contrasting combination of crunchy and silky textures, of saltiness against creaminess, is so perfect it's hard not to double-dip.
Dips are just the guiltiest of pleasures, which has to be why salsa and hummus moved into their territory. In all the nutrition nuttiness over the last 20 years, Americans were clearly looking for alternatives to sour cream and mayonnaise and cream cheese, especially all three together. Unfortunately, fat-free perversions did more harm than good -- anyone craving the real deal could eat a whole tub of chemically altered dairy product and never get any satisfaction.
Now that fats have been partially rehabilitated, the classic dips look better than ever. You just have to forget those mid-century ideas about the rest of the ingredients and bring old favorites into a fresh era.
Start with that old party stalwart, artichoke cheese dip. Its origins are murky, but it generally comprises artichoke hearts, mayonnaise and Parmesan, baked together into edible proof that the only thing better than plain mayonnaise is mayonnaise bubbling with cheese. In most recipes the artichokes are canned (and taste of tin) or marinated (and taste of vinegar and whatever dried spices the producer bought in bulk).
You get cleaner, much more robust flavor by starting at the beginning and steaming whole artichokes and dicing the hearts. The cooking is easy, and the leftover leaves can either be used to dunk into the dip or eaten as a snack all by themselves. Real Parmigiano-Reggiano also elevates this dip into another dimension from Kraft in the green can, and a freshly roasted poblano chile adds a hot and smoky undertone.
(For a superb variation, try diced Vidalia onion, mayonnaise and grated cheddar, blended in the same proportions and baked the same amount of time. It's not classy, but it is good.)
Another great dip reimagines the old Knorr spinach dip, made from a box of dehydrated vegetable soup mix blended with mayonnaise, sour cream, frozen spinach and canned water chestnuts. The combination of salty, crunchy and creamy is addictive; I once had a chef friend whose last meal with me before she moved to Europe was pizza, chocolate chip cookies and an entire batch of this dip.
But it is even better when you start with fresh spinach, which has not just a clearer flavor but better texture, without the wateriness that the Knorr recipe relies on to reconstitute the soup flakes. Smoky bacon and toasted pecans contribute the crunch you normally get from water chestnuts (and far more taste). Pickled jalapenos provide the heat a salsa generation needs.
Yet another dip, green goddess, evokes another era so powerfully it seems brand-new. An adaptation of a salad dressing invented in the 1920s at the Palace Hotel in San Francisco, it is the most amazing blend of fresh herbs, herb-flavored vinegar, mayonnaise and a whole tin of anchovies -- and when it's made fresh, it tastes like every one of those and much more. A little cream cheese thickens it enough so you can dunk anything without having it drip like dressing.
Potato or tortilla chips are natural dippers, as are any raw vegetable, particularly the usual crudite suspects: baby carrots, pepper strips, cucumber slices, broccoli or cauliflower florets. But also try it with produce never seen at a '50s party, such as endive spears, grape tomatoes, French breakfast radishes and sugar snap peas, raw or barely steamed.
The one dip that refuses to come into the 21st century is the one some historians say was the original: California onion dip. The original recipe was a pint of sour cream mixed with a packet of Lipton Onion Soup mix -- and in every dairy case in America there's still some Big-Food twist on that for cooks too lazy to rip open a bag and get out a spoon. If you haven't had it in a while, it tastes like sour cream with MSG, lightly flecked with something salty if not oniony. It will keep you dunking your Ruffles unthinkingly, but it is what it is: a vehicle for sour cream.
Because it tastes so little like onion, it is virtually impossible to replicate, despite what you might read online. Caramelized onions mixed with sour cream taste more sugary than oniony; add miso to get that MSG kick and you lose the sour cream tanginess. Tamari won't help, and neither will Worcestershire sauce. A bouillon cube would, but you might as well rip open a packet of soup mix and call it California.
Better to set out a real dip and say it's the new salsa.
1
Heat the oven to 300 degrees. Spread the pecans in a cake pan and toast them until lightly browned, 10 to 12 minutes. Cool, then coarsely chop the nuts. Set aside.
2
Wash the spinach well in several changes of cold water. Drain the spinach and immediately transfer the damp leaves to a large pot set over high heat. Cover and cook until the leaves are just wilted, 3 to 4 minutes. Strain through a colander and let stand until the spinach is cool enough to handle. Squeeze the spinach first with your hands to extract most of the moisture, then in a couple of layers of paper towels to dry the leaves completely. Chop very fine and set aside.
3
In a saute pan, fry the bacon over medium-high heat until crisp, about 12 to 15 minutes. Drain on paper towels, then cut each slice crosswise into half-inch pieces. Set aside.
4
In a mixing bowl, combine the sour cream, cream cheese and mayonnaise, and mix with a wooden spoon until smooth. Add the spinach and jalapenos and mix well. Stir in the pecans and bacon. Add the Worcestershire sauce and salt and mix well. Taste and adjust the seasoning. Cover and refrigerate the dip for at least 1 hour. Bring it to room temperature before serving.
---
Get our new Cooking newsletter.
You may occasionally receive promotional content from the Los Angeles Times.