Spring vegetable stew with herbed ricotta gnocchi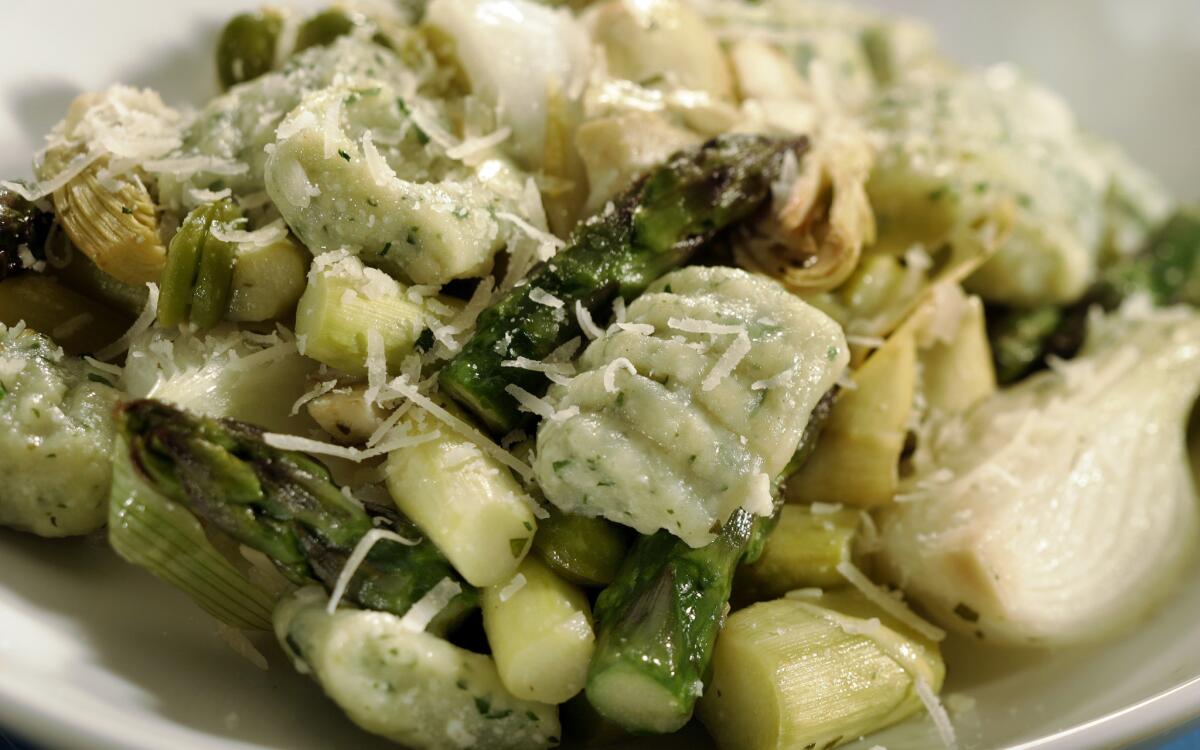 Print Recipe

Print Recipe
Go to a farmers market and your mind begins to race. Fava beans? What can I do with them? What about the asparagus? And look at those artichokes! Strawberries, mmmm. There are so many terrific ingredients just begging for you to buy them at this time of year that it can seem impossible to decide what to cook.
Some people try to solve the problem by eliminating impulse altogether and shopping strictly from recipes -- they'll print out their favorites and then follow the ingredients list to a "T," regardless of what might be best that particular day. Others go the opposite direction -- they'll buy up everything they see and then when they get home spend the afternoon searching through cookbooks to find recipes to use it all up.
--
All about improv
Either approach is bound to be frustrating. When it comes to cooking from the farmers market, recipes are the enemy. Improvisation is everything.
That may seem funny coming from someone who writes recipes for a living. (And, have no fear, there are recipes with this article too!) Perhaps a more accurate way to put it is that the real problem with recipes is a slavish devotion to them.
Cooking from the farmers market is a bit like playing jazz (or so it seems to this tone-deaf, beat-deprived fan). Shopping straight from the recipe is like playing sheet music -- it might be acceptable, but it'll never be much more. On the other hand, buying up everything that looks good and hoping to find the recipe later is like one of those bebop players who throws out a gazillion notes in hopes of stringing together two or three that make a melody.
But to improvise successfully you still need a basic structure. Not one so rigid that you wind up hamstrung, but more like a theme that allows for variation -- general ideas you can go back to again and again, varying them to fit your mood, the season and what seems best.
Something like a vegetable stew, for example. Braise whatever vegetables you like with white wine and either a light chicken stock or just plain water. It won't take much -- probably three-fourths of a cup or less. When the vegetables are tender, raise the heat to reduce the liquid to a glaze.
The real art isn't how it's constructed, but what ingredients you choose and in what proportions. The technique just gives you a structure you can depend on.
Think about what flavors go together. Frequently -- but not always -- things that share seasons also share complementary tastes. For example, at this time of year, you might want to make the stew with asparagus or artichokes or fava beans . . . or maybe all three.
But even though they're plentiful in the market right now, you probably wouldn't want to add chard, kale or other braising greens. The flavors just wouldn't work together. Or maybe they would? You're the cook, you decide.
To make the stew into a main course, you could throw in some cooked dried pasta. But I've fallen in love with ricotta gnocchi. Making it is basically no harder than beating together well-drained ricotta, Parmigiano-Reggiano and eggs and then kneading in enough flour to make a soft dough. Vary the amount of the cheese as you like, and you can add chopped herbs if you like. The main tricks are not adding too much flour and not overworking the dough -- either one will make the gnocchi rubbery.
Once you have the structure well in hand, you might think a little bit about other auxiliary flavor riffs you might want to use. Staying with the artichoke, asparagus and fava bean theme, maybe some shredded basil right at the end? Or a little tarragon? Chervil?
And then there's the choice of cheese: Nutty Parmigiano-Reggiano is a natural, but you could push the envelope a little by trying pungent pecorino Romano, or maybe a milky-salty ricotta salata.
Before you commit with the whole dish, scoop up a little in a spoon and taste it with just a little bit of the herb or cheese you're thinking about adding. If it works, you can add more.
Crostata variations
This idea of riffing on a basic structure works just as well -- if not better -- with fruit. As far as I'm concerned, a good crostata dough is the culinary equivalent of Archimedes' lever: Given one, you can move the world.
My favorite crostata dough is one I learned years ago from Nancy Silverton. She uses a mix of three-fourths cup bread flour and 1 1/2 cups cake flour to get a combination of flaky structure and tender crumb. Because I'm usually short of bread flour, I generally mix three-fourths cup cake flour and 1 1/2 cups all-purpose and that works almost as well. Or you can go with only all-purpose if you like; it'll be good but not quite as tender.
Roll out the dough (not too thin; it should have some heft) and put it on a cookie sheet. Heap cut-up fruit in the middle; it'll take about 3 cups, sweetened with a couple of tablespoons of sugar, plus about a tablespoon of cornstarch to thicken the juices.
Fold over the edges of the dough -- it should be neat, but not too neat -- and then bake in a hot oven until the crust is crisp and brown.
Serve this with vanilla ice cream and see if your world doesn't move too.
Waste not, want not
Other themes for spring:
Fruit crisp: Cut together a half-cup of flour with a quarter-cup each of sugar and butter just until crumbly. Put fruit that's been sweetened as for the crostata (see recipe) in a baking dish and distribute the crumbs over the top. Bake at 400 degrees until browned and crisp and the fruit is bubbling. You can toss lemon or orange zest into the topping. Or add up to a quarter-cup of chopped nuts. A dash of cinnamon or a few drops of vanilla extract complements most fruits.
Fruit salad: Make a simple sugar syrup (boil about one-third cup sugar with 1 cup of water until dissolved) and flavor it with citrus zest, spices, even jasmine tea. Once it has cooled, cut up fruit, put it in a bowl and pour just enough of the syrup over the top to moisten and flavor the fruit.
Vegetable risotto: Clean and chop the vegetables (about 2 cups). Simmer with 5 or 6 cups of water or light chicken broth. Saute onions and garlic, add the rice (2 cups for six people) and toast it briefly. Bathe with a little wine and then ladle in the hot stock, one-half to three-fourths cup at a time. Finish with grated cheese.
Vegetable and grain salad: Cook vegetables until tender-crisp and then fold them into cooked quinoa or barley. Go heavy on the herbs and finish with olive oil and lemon juice. This makes a terrific hot-weather main course.
Roasted vegetables: Cut vegetables into pieces, toss them with olive oil, garlic and herbs, and then roast them at 400 degrees until they're tender and beginning to caramelize. It's amazing how flexible this technique is.
Herbed ricotta gnocchi
1
In a large bowl, stir together the ricotta, Parmigiano, parsley, salt and egg until the mixture is smooth and well-combined. Add three-fourths cup flour and continue stirring until it is fully incorporated. Continue to stir in the flour, a tablespoon or 2 at a time, until the mixture forms a soft dough that holds together but may feel slightly damp; this should take a total of about 1 cup of flour. Remove the dough from the bowl and knead it on a lightly floured board until the dough is smooth, pliable and a little sticky.
2
To shape the gnocchi, divide the dough into quarters. Flour your hands lightly (do not flour the work surface). Working with 1 piece at a time, use both hands to roll out the piece of dough with a light back-and-forth motion into a rope about one-half- to three-fourths-inch thick. Cut the roll into 1-inch pieces. Line a jellyroll pan with a lightly floured tea towel and transfer the gnocchi to it. Sprinkle lightly with flour and refrigerate for at least 10 minutes.
3
Hold a fork with its tines against the work surface, the curved part of the fork facing away from you. Starting from the bottom of the tines of the fork, press each piece of dough with your index finger firmly upward along the length of the tines, then let the gnocchi fall back onto the work surface. Repeat with the remaining dough until all the gnocchi have been formed. Return the gnocchi to the jellyroll pan and set aside until ready to use.
Spring vegetable stew and assembly
1
Clean the artichokes: Fill a large bowl with cool water and add the lemon juice. Trim away each artichoke's tough outer leaves, then cut off the top half-inch of the tip and peel the base and stem. Quarter the baby artichokes and cut the larger artichokes lengthwise into 8 pieces. Keep the artichokes submerged in the lemon water to prevent browning and set aside.
2
Place the shelled fava beans in a large bowl and pour boiling water over to cover. Let stand until the water is cool enough to touch. Use your thumbnail to cut a slit in the thin membrane surrounding each fava and squeeze the bright green bean halves into a bowl. Discard the membranes. Repeat with all the favas and set aside.
3
Cut the tough bases and tender tips from the asparagus and reserve the tips (discard the bases). Peel the asparagus and cut crosswise into 1-inch sections.
4
Trim the roots and most of the green stems of the bulbing onions and halve them lengthwise.
5
Melt 2 tablespoons butter in a large skillet over medium heat and add the shallots. Cook until the shallots soften, about 3 minutes. Add the artichokes, the white wine and water, cover tightly and cook until the artichokes are just tender enough to pierce with a paring knife, 5 to 15 minutes (the time will vary depending on the freshness and type of the artichoke).
6
Add the chopped asparagus stalks, replace the cover and cook until they are tender, about 3 minutes. Stir in the bulbing onions, the asparagus tips and the tarragon and cook until the tips are bright green and tender, about 3 minutes. Season to taste with salt and reduce the heat to low to keep warm.
7
Bring a wide pot of water to a rolling boil and salt generously. Reduce the heat to a slow boil and add the gnocchi to the pot (reducing the heat helps keep the gnocchi from breaking up). Stir gently to lift them from the bottom of the pot and cook until they float to the surface, 1 to 2 minutes, then cook them an additional 20 to 30 seconds and retrieve them with a strainer, transferring them directly to the vegetable stew.
8
Increase the heat under the stew to high and add the remaining 2 tablespoons of butter. Stir gently to coat the gnocchi with the glaze and divide among 6 heated pasta bowls. Sprinkle grated Parmigiano over the top and pass more at the table. Serve immediately.
This gnocchi recipe is adapted from one by Lidia Bastianich. Drain the ricotta in the refrigerator at least 1 hour before making the gnocchi, to remove any excess water. The dough can be made several hours in advance (once cut, the gnocchi can even be frozen and then cooked without thawing), but the gnocchi should be cooked at the last minute. Bulbing onions are a spring specialty that look like common scallions, but with swollen bases; they can be found at farmers markets and Mexican groceries.
---
Get our Cooking newsletter.
Your roundup of inspiring recipes and kitchen tricks.
You may occasionally receive promotional content from the Los Angeles Times.