Stout beer and mustard wings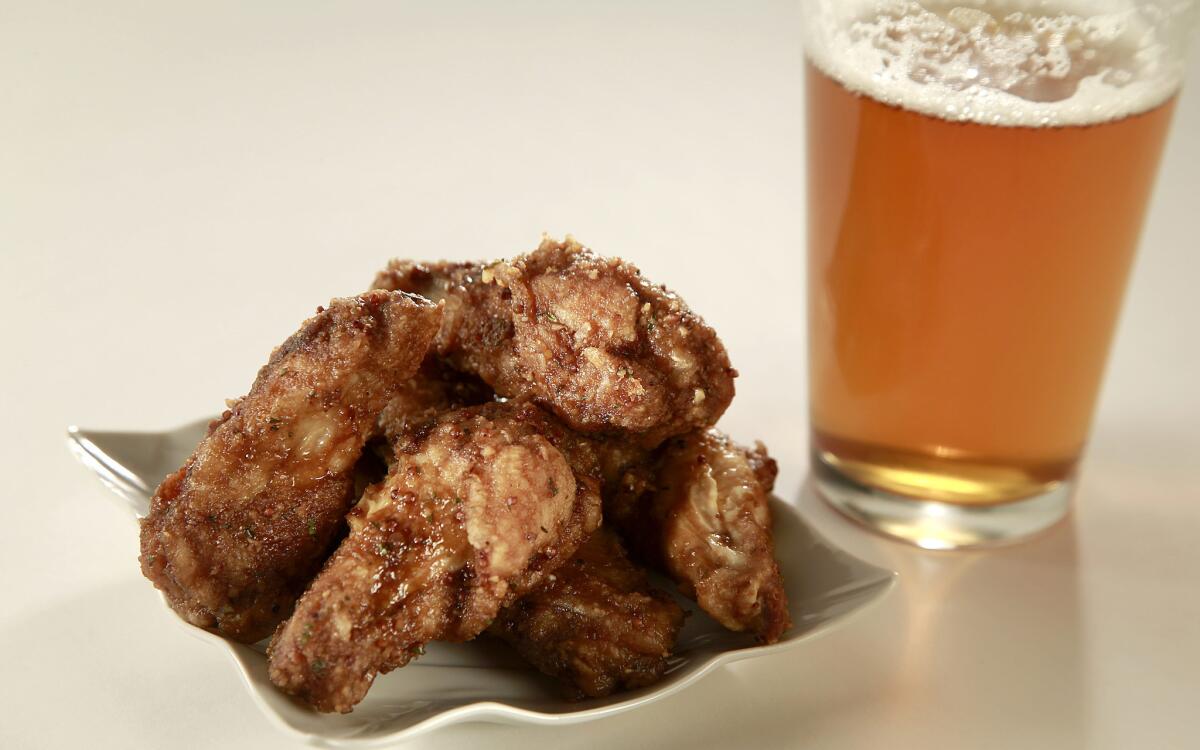 Print Recipe

Print Recipe
A complex stout beer is redolent with notes of molasses, coffee and roasted barley, which are more concentrated after heating and reducing the beer. Whole-grain mustard and chopped garlic, along with minced thyme, complement the flavors of the robust stout reduction. A little honey and malt vinegar offset the bitterness of the reduced beer, and grated Parmesan and soy sauce add a touch of umami to the glaze. Keep in mind that as the beer is cooked, most, if not all, of the alcohol will burn off.
From the story: Like the taste of that beer? Try adding it to your cooking too
1
Place the beer in a medium, heavy saucepan over medium heat. Gently simmer the beer until it is reduced to 2/3 cup, about 15 minutes (watch that the beer does not foam over the top of the pan while it is simmering). Remove from heat.
2
Whisk the butter in with the beer, then the mustard, thyme, garlic and cheese. Whisk in the honey and malt vinegar, followed by the hot sauce, soy sauce and several grinds of pepper. Taste and adjust the flavorings if desired. Place the sauce in a large bowl and set aside.
3
Fill a 4-quart pot with frying oil to a depth of 3 to 4 inches. Heat the oil to maintain a temperature of 350 degrees.
4
While the oil is heating, dredge each wing in cornstarch, tossing to coat the wing completely. Shake off the excess cornstarch and set aside. For a crunchier texture, dredge the wings a second time just before frying.
5
When the oil is heated, begin frying the wings, several pieces at a time. Fry the wings until the skin is golden and crisp, 4 to 5 minutes. Drain the wings on a rack and continue frying.
6
While the wings are still hot, toss them in the large bowl with the sauce until completely coated. Remove the wings, shaking off the excess sauce, and serve immediately.
---
Get our Cooking newsletter.
Your roundup of inspiring recipes and kitchen tricks.
You may occasionally receive promotional content from the Los Angeles Times.