Super Bowl white chili
Time
Active work time: 20 minutes Total preparation time: 50 minutes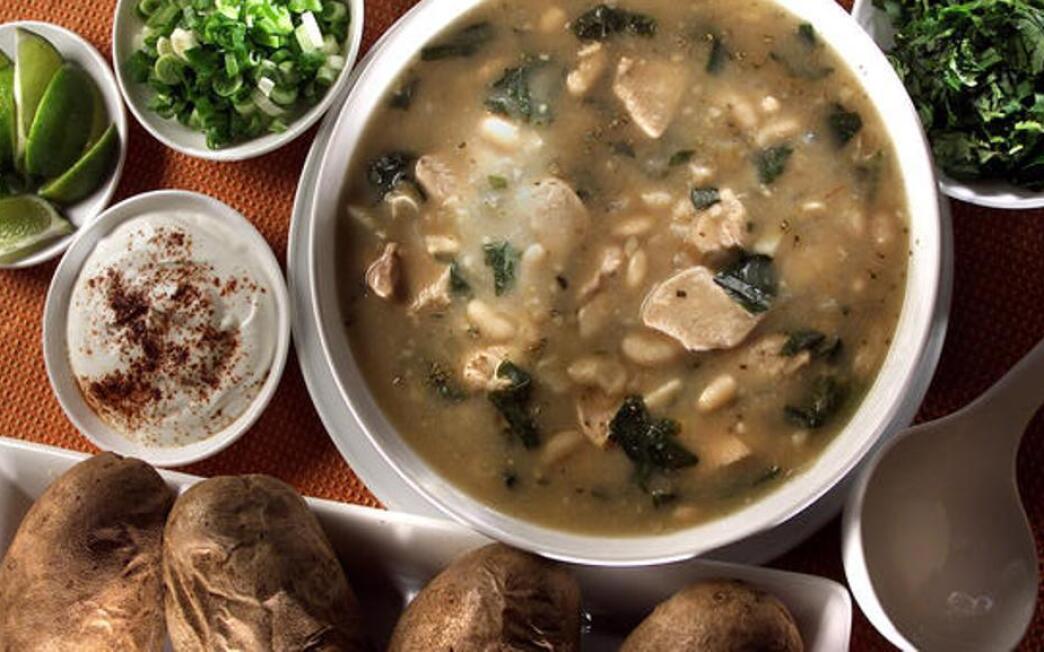 Print Recipe

Print Recipe
A hungry Super Bowl crowd usually likes chili. But given all the other stuff you'll eat that day, why not make a lighter version of the old standby? This one pairs lean chicken breast (instead of beef) with white beans for a white chili. Spooned over baked potatoes, it makes for a filling entree--just what football fans need.
To thicken the chili, use cornstarch and instant masa flour (sold under brand names such as Masa Harina). The instant masa adds a distinct corn flavor.
Let the fans shoulder their way to the table for an array of garnishes, a crispy salad and crunchy veggie sticks. No tackling in the house, though.
You can double or triple this recipe.
1
Spray a 4-quart saucepot with nonstick cooking spray, add the oil and heat over medium heat. Add the onions and garlic and cook over medium-low heat until the onions are tender but not browned, about 5 minutes.
2
Stir in the cubed chicken. Cook and stir until the chicken turns white and is cooked on the outside, about 5 minutes. Stir in the oregano and cumin. Stir in the chicken broth and beans. Heat to boiling. Reduce the heat to a simmer and cook about 10 minutes.
3
Blend together the cornstarch and 3 tablespoons of the water until smooth. Stir the mixture into the simmering chili until blended. Return the chili to a simmer and cook until thickened and clear, about 5 minutes. Blend together the masa and the remaining 3 tablespoons of water; stir into the chili to thicken. Stir in the spinach. Bring to a boil and simmer 1 minute. Stir in the vinegar. Season to taste with salt and pepper.
4
Serve the chili over the baked potatoes. Garnish with the cilantro, green onions, lime wedges and sour cream.
---
Get our new Cooking newsletter.
You may occasionally receive promotional content from the Los Angeles Times.