Thanksgiving bread
Time
2 hours 30 minutes plus rising
Yields
Makes 2 loaves, 32 slices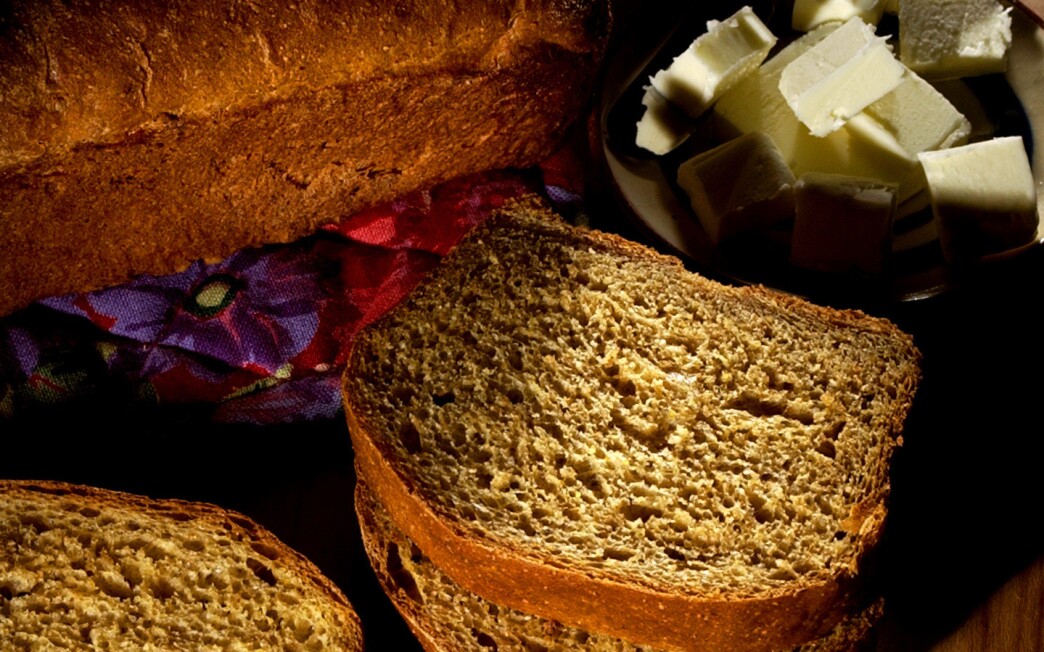 Print Recipe

Print Recipe
The night before Thanksgiving, my mother would get out her old aluminum kettle, its rounded sides dented from years of use. In would go bread for the turkey stuffing, one loaf of white bread and one of whole wheat, cut into neat cubes with an equally venerable serrated bread knife. The plan was to let the cubes dry slightly so they would not turn to mush once inside the bird.
The bread was always homemade, a tradition that I keep in a slightly different fashion. Instead of making stuffing, I bake bread that I take to Thanksgiving dinners at the homes of friends. Each year the formula changes, because I bake to inspiration rather than recipes.
This year I've come up with a brown bread that contains oatmeal and cornmeal as well as whole wheat and white flours. It isn't fancy. Sweet, fruity breads are nice, but not for a dinner that is already overloaded with rich food. The loaves are small, so the slices are easy for guests to manage.
For breakfast, you could toast the slices and spread them with jam or honey. That is, if any bread is left over. Genuine homemade, hand-kneaded bread is such a rare treat that people tend to eat a lot if it, enjoying the novelty.
There's plenty of good bread on the market these days, but a loaf designed just for the people who will eat it, mixed in a vintage blue crockery bowl, baked in a '50s oven that was a standby at a Pillsbury bakeoff, and brought to the table still warm is special. It's just what you need when breaking bread with friends on a day of thanks.
1
Place the oatmeal, cornmeal, brown sugars and salt in a large mixing bowl. Combine the 1/2 cup of milk, molasses, 1/2 cup of water and butter in a saucepan and heat until the butter melts (or combine in a microwave-safe bowl and microwave until the butter melts). Pour the hot liquids over the oatmeal mixture and let stand until cooled.
2
Stir the yeast and granulated sugar into the 1/4 cup of warm water and let stand until the yeast is dissolved and foamy. Add to the mixture in the bowl. Add 1 1/2 cups of the all-purpose flour and beat until smooth. Cover and let stand until the mixture is light and spongy, 1 to 1 1/2 hours.
3
Beat in the egg, then add the whole-wheat flour. Measure 1 cup of all-purpose flour and add just enough to make a stiff dough that can be kneaded (you will not use all of this flour). Turn the dough out onto a floured board and knead thoroughly, about 10 minutes, working in additional all-purpose flour if the dough is too sticky.
4
Clean and grease the mixing bowl. Place the dough in the bowl, turning to grease all sides. Let the dough stand until light and doubled in bulk, about 1 hour. Punch it down, turn it out and knead thoroughly.
5
Grease two 8x4-inch loaf pans. Divide the dough in half. Form each half into a loaf and place in the pans. Let the dough rise until doubled in size, 35 to 45 minutes.
6
Heat the oven to 350 degrees. Brush the loaves gently with the remaining 2 tablespoons of milk. Bake until the loaves are browned and sound hollow when tapped on top and bottom, 30 to 35 minutes. Turn the loaves out onto a rack to cool.
---
Get our new Cooking newsletter.
You may occasionally receive promotional content from the Los Angeles Times.