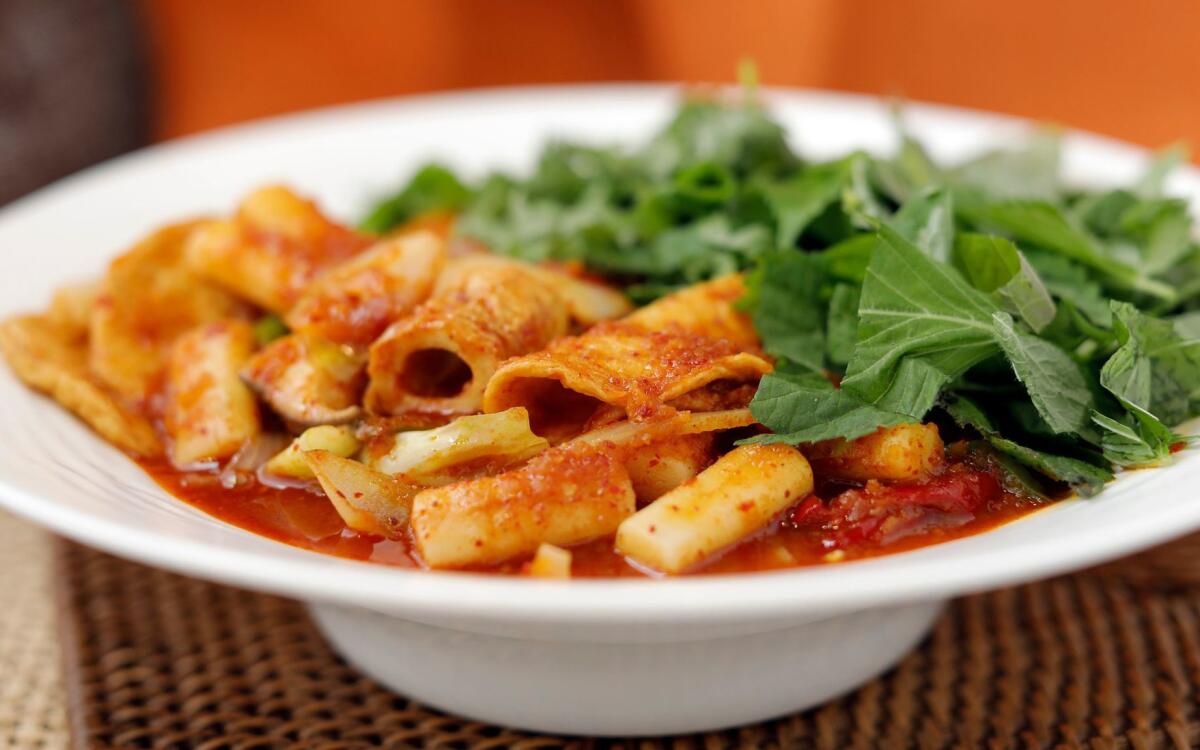 Spicy bulgogi sauce
1
Make the bulgogi sauce: In a large saucepan, combine the soy sauce, fish sauce, ginger, garlic, pepper, sesame seeds and 2 tablespoons sugar and bring to a simmer. Add the beef broth, pineapple juice and wine and bring to a boil.
2
To make spicy bulgogi sauce, stir in the hot red bean paste and chile pepper, along with the sesame oil and bring to a boil. Taste and adjust the sweetness and flavors if desired. This makes a generous 3 cups sauce.
Tteokbokki sauce
1
Heat a wok over high heat until hot. Add the oil, then the onion, and stir-fry until the onion is tender and begins to brown, 5 to 7 minutes. Remove from heat and place the onion in a blender. Add the beef broth, then the chopped squash and purée.
2
Place the onion and squash purée in the pan with the spicy bulgogi sauce and bring to a boil. This makes a generous quart tteokbokki sauce.
1
Bring the tteokbokki sauce to a simmer.
2
Heat a wok over high heat. Add a thin film of oil, then the chiles, stirring frequently. Add the onion, cabbage and broccoli, stirring constantly until the vegetables brighten in color and are crisp-tender. Stir in the fish cakes and mushrooms, then the rice cakes.
3
Ladle in the hot sauce, stirring to generously coat (for more of a soup-like dish, add additional sauce). Continue cooking, stirring frequently, until the sauce comes to a boil. Remove from heat and place in a large serving bowl, mounding the herbs on one side of the bowl so guests can garnish their servings as desired. Serve immediately.
Adapted from a recipe by Jai Nam Choi.
---
Get our Cooking newsletter.
Your roundup of inspiring recipes and kitchen tricks.
You may occasionally receive promotional content from the Los Angeles Times.