Vanilla Bean Buttermilk Ice Cream
Yields
Makes about 3 1/2 cups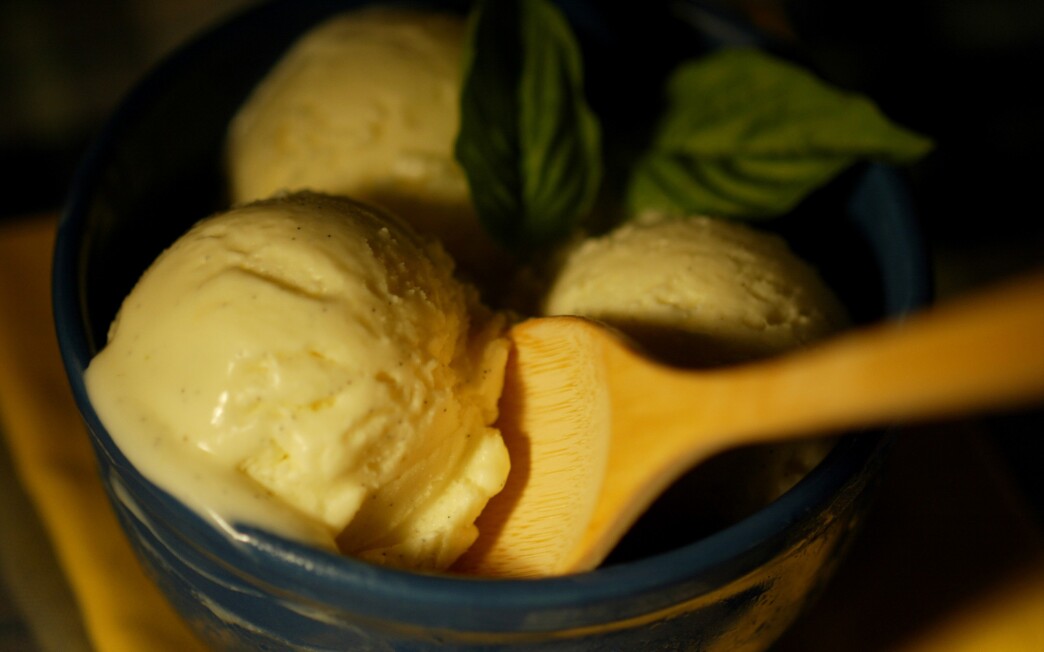 Print Recipe

Print Recipe
Buttermilk is understated--a quiet, old-fashioned ingredient that brings its own small delight to summer dishes. Yet a bit of buttermilk imparts a tangy and refreshing edge to cakes, salad dressings, even ice cream.
The secret is its sour taste, which adds a little acidity but also a homeyness. Originally, buttermilk was the leftover milk after churning butter from whole cream. It's now typically made from pasteurized skim milk, with a culture added to develop the flavor and produce a creamier texture.
You might not think of buttermilk as a flavoring for ice cream, but it works perfectly. This vanilla bean ice cream is not as sweet--but also not as bland--as scoops of vanilla; try it with summer berries or as a topping for fruit crisps and pies.
The lemon buttermilk muffins capture that old-time taste, and guess what--buttermilk marries well with lemon. Serve the muffins for breakfast or with afternoon tea or coffee.
The cake, included here from "The Cake Bible," is a wonderful warm weather dessert--the buttermilk enriches the cake's buttery taste. It's best served with whipped cream and fresh fruit.
Buttermilk is lower in fat and cholesterol than regular milk and comes in low-fat varieties. It will last up to two weeks in the refrigerator, but often will be fine for baking even after the expiration date.
You can create a buttermilk substitute when baking if you have none on hand: Add enough milk to one tablespoon of lemon juice or white vinegar to equal one cup. Stir and let the mixture stand about five minutes. Buttermilk should not be substituted for regular milk in recipes, however.
1
Split the vanilla bean in half lengthwise and scrape the seeds into a non-aluminum saucepan. Add the pod and cream. Gently heat over medium heat until hot, about 4 minutes.
2
Meanwhile, mix the sugar and eggs with an electric mixer until thick and yellow, 1 minute. Stir in some of the hot cream, then return the mixture to the pan. Cook over low heat, stirring constantly, until thickened slightly, about 5 minutes.
3
Immediately pour the mixture through a fine strainer to remove any lumps. Press on the vanilla bean to extract all the seeds and flavor. Discard the pod. Stir in the buttermilk. Chill the mixture thoroughly, at least 5 hours.
4
Freeze in an ice cream maker according to the manufacturer's directions. Store in a plastic container, covered airtight.
5
To serve, let the ice cream rest at room temperature until it softens slightly, about 15 minutes. Serve immediately.
---
Get our new Cooking newsletter.
You may occasionally receive promotional content from the Los Angeles Times.