Wild Mushroom Bread Pudding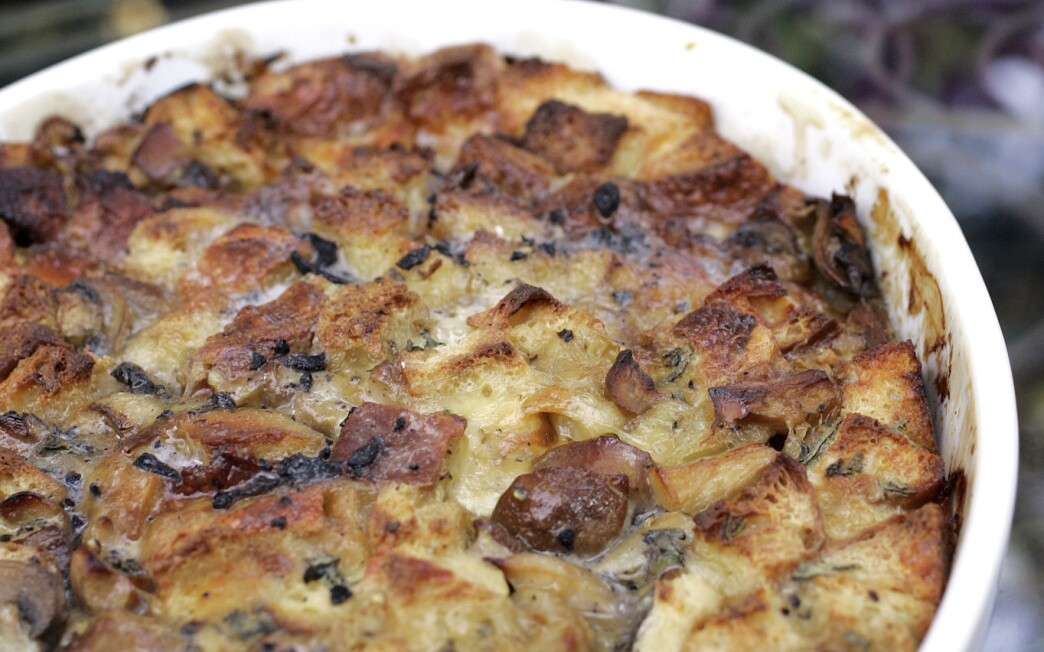 Print Recipe

Print Recipe
A variation of a favorite with his loyal regulars, chef Christian Shaffer's Wild Mushroom Bread Pudding is a simple, rustic dish with enormous depth — and it's a terrific stand-in for the bland, mushy stuffing that often shows up on Thanksgiving tables.
From the story: Alfresco in the canyon, it all comes together
1
Heat the oven to 375 degrees. Whisk together the cream, eggs, 1 teaspoon salt and one-half teaspoon black pepper and set aside.
2
Roast the mushrooms with one-half teaspoon salt, one-fourth teaspoon pepper, the garlic and olive oil until they are tender and have released their water (25 to 40 minutes, depending on the size of the mushrooms). Cool, then slice the mushrooms.
3
Place the mushroom mixture, cheese, bread and thyme into a large mixing bowl. Add the egg mixture and incorporate.
4
Transfer the mixture into a 13-by-9-inch baking dish and let stand 15 minutes, pressing down with a wooden spoon occasionally so the bread is submerged. Dot with truffle butter or salted butter and bake for about 35 minutes, or until a knife inserted into the center comes out clean.
From Christian Shaffer.

Truffle butter is available at well-stocked markets, or salted butter may be substituted.
---
Get our new Cooking newsletter.
You may occasionally receive promotional content from the Los Angeles Times.