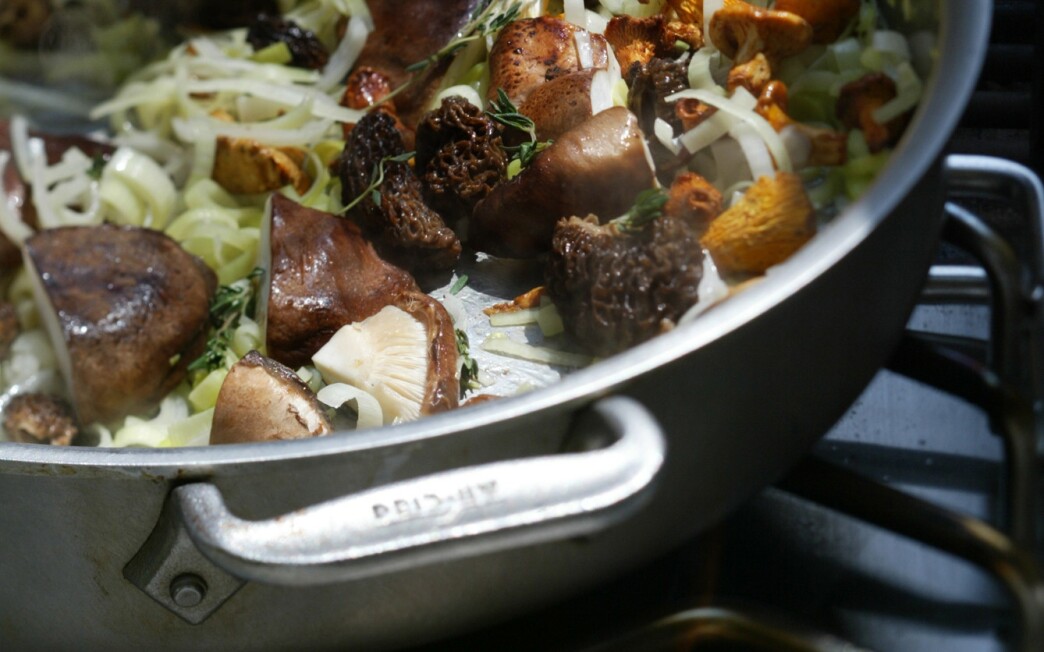 Print Recipe

Print Recipe
Like every other red-meat-eating American, I've swallowed the idea that the grill is the greatest innovation since fire itself. But ever since a friend subjected me to an entire meal cooked on one, I've been wise to its limitations. Grilled shrimp followed by grilled steak followed by grilled fruit is a recipe for char fatigue.
While the whole country has been slaving over a hot grid, though, a solution seems to have emerged. More and more grills are being sold with side burners, which are just what they sound like: dedicated burners off the grilling area that can accommodate not just chicken but pots, skillets, even woks. Although manufacturers tend to promote them only for heating sauces or melting butter, theoretically they can turn a basic grill into a backyard Garland.
The latest models of these new must-have accessories boast up to 15,000 BTUs, which is more powerful than my 1950s Wedgewood range, which is just a bit less powerful than some home Vikings.
Even the lamer ones are at least as blazing as a rental apartment's four-burner stove. With many of these side burners, you can cook anything you would indoors: curries, risotto, pudding, frittatas, pancakes and more. You can also stir-fry, steam and fry.
Side burners seem to have slipped onto the grill scene stealthily, though. When I flipped through a dozen or more recent grilling cookbooks the other day, from bibles to dummy manuals, not one had more than a mere mention of the things. The best reason any of them could suggest for buying one was being able to heat sauce -- and who needs that? The point of grilling is to dispense with sauce.
But with more and more Americans cooking outside year-round, it stands to reason that there would be a demand for an extension of the grill or, as it is increasingly called, the "outdoor cooking system." No one wants to be running back and forth between the steak on the deck and the potatoes on the stove. Now you can have your fish and make soup too.
In some ways a side burner is much like a Coleman stove. But side burners are both more powerful and more controllable than a camp stove.
They also have their own limitations, much as the Coleman stove did. Every dish made on them has to be pretty much one step, or several very similar steps, simply because you are cooking at a rudimentary level, sans blender or food processor, let alone counter space. You also need to limit yourself to one pot, or pan, or skillet.
The best choices involve placing ingredients in a pot or pan and cooking, nothing more. It's one step up from grilling, which is exactly the point. But with a little more imagination, you can make some things that bring out the other allure of grilling: showmanship. Cooking for an audience always seems less daunting when coals are involved.
Even with those considerations, there are endless dishes that adapt to grill-side cooking. For starters, you could make something as simple as chile con queso or a fondue, which are both only slightly more complicated than melting butter, or something as relatively complex as a chowder. You could steam mussels, in coconut milk with Thai green curry paste, or with just garlic and wine.
For side dishes, you could make polenta or rice or, easiest of all, couscous. You could braise baby artichokes or green beans, or simmer carrots with a little sugar and water until they caramelize, or fry up potato or zucchini pancakes.
A side burner is even useful for dessert, if only to make you appreciate your oven. Not many sweets are at their best right off the fire and out of the pot. Some that are include rice or tapioca pudding (lightened up with diced mango), fruit compote or fruit soup and stewed rhubarb. With a little more effort and a lot more flash, you could make bananas Foster, flambeed with rum, or a big batch of zabaglione to spoon over fresh berries.
Thinking back to the shrimp-steak-fruit charfest, though, what appeals most to me is a mix of the showy and the simple. Baby crab cakes, fried in batches so they can always be served hot, would be my substitute for the shrimp. Any sauce -- salsa, tartar or just a puree or roasted red peppers -- would be preferable to cocktail sauce. To go with the steak, either a wild mushroom fricassee or creamy grits would have gone a long way to making that dinner more of a meal.
The mushrooms all need to be prepped in advance, along with leeks and herbs, but once they're in the pan, they almost cook themselves. And the grits just need stirring between moving around the meat on the grill.
As for dessert, a hot fudge sauce for ice cream, cake or strawberries strikes the right excessive but easy note. It's something that might seem ordinary indoors but has real panache made from scratch and in plain sight. It's also kid-simple and adult-pleasing, which is what grilling is really about.
1
Cut the shiitake caps into quarters. Cut the morels lengthwise into quarters. If the chanterelles are large, cut them to comparable size.
2
Melt the butter in a large, deep skillet over medium heat. Add the leeks and cook 2 minutes. And all the mushrooms and season with salt. Cook, stirring constantly, until the mushrooms start to soften. Continue cooking, stirring often, until the mushrooms give up their liquid, 10 minutes. Add the vermouth and continue cooking and stirring occasionally until almost all liquid has cooked away.
3
Add the stock and continue cooking, stirring occasionally, until it is mostly reduced, about 10 minutes. Add the cream and cook until the mushrooms are very tender and the liquid has thickened into a sauce. Add the herbs to taste and more salt if needed, then season with white pepper. Serve hot.
---
Get our new Cooking newsletter.
You may occasionally receive promotional content from the Los Angeles Times.