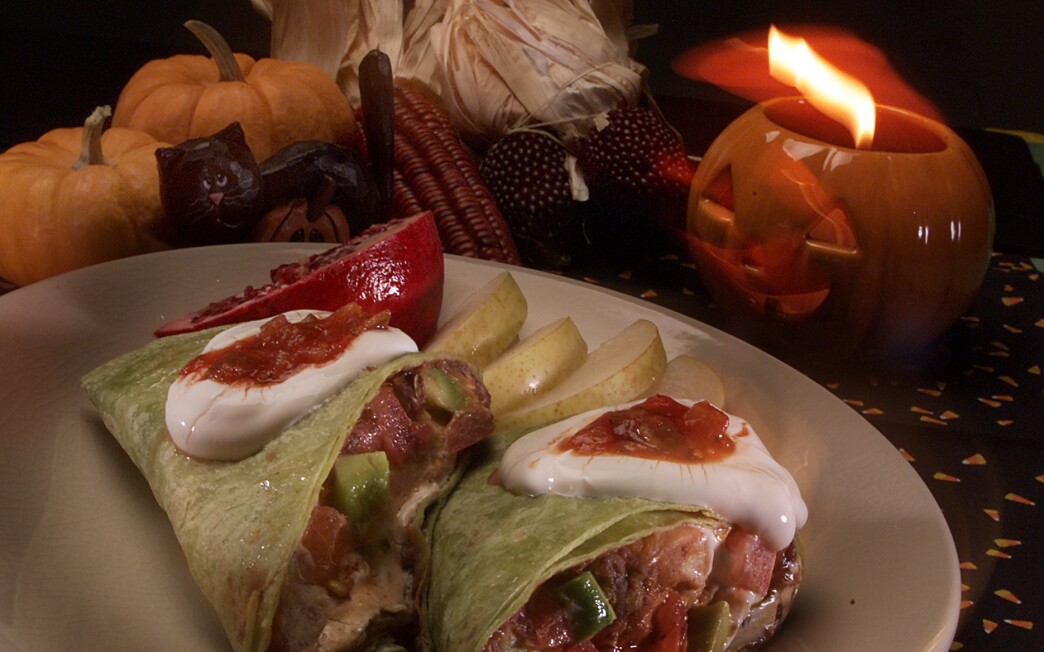 Print Recipe

Print Recipe
Luring your children to the dinner table before trick or treating can be a tough sell. So try creating a Halloween meal.
Witch's Brew Burritos? What kid could resist? A satisfying chicken burrito is just the thing to eat before making the candy rounds. And the little vampires will be thrilled to see that the pomegranate seeds from Pirate's Booty stain their fingers. Oooo!
This all comes together quickly, too, so you can be ready to help with costumes or sneak some candy on your own.
1
Slice chicken breasts into strips, and slice strips in half. Season with salt and pepper.
2
Heat oil in medium skillet over high heat. Add chicken and sprinkle with chili powder, lime juice and garlic. Cook until chicken is no longer pink inside, stirring occasionally, about 5 minutes.
3
Divide tortillas between 2 baking sheets. Spread each tortilla with 1/4 cup beans, 1/4 cup sliced avocado, 1/4 cup tomatoes and 1/2 cup cheese. Broil until cheese is melted and bubbly, 1 to 3 minutes.
4
Pour 2 tablespoons taco sauce over melted cheese on each burrito. Divide chicken among tortillas. Top with 1 to 2 tablespoons sour cream. Roll up tortillas by folding bottoms up 1/4 of the way, then sides so that they overlap each other.
You can use a spicy black bean dip instead of refried beans, if you prefer.
---
Get our new Cooking newsletter.
You may occasionally receive promotional content from the Los Angeles Times.