Wrinkly potatoes (papas arrugadas)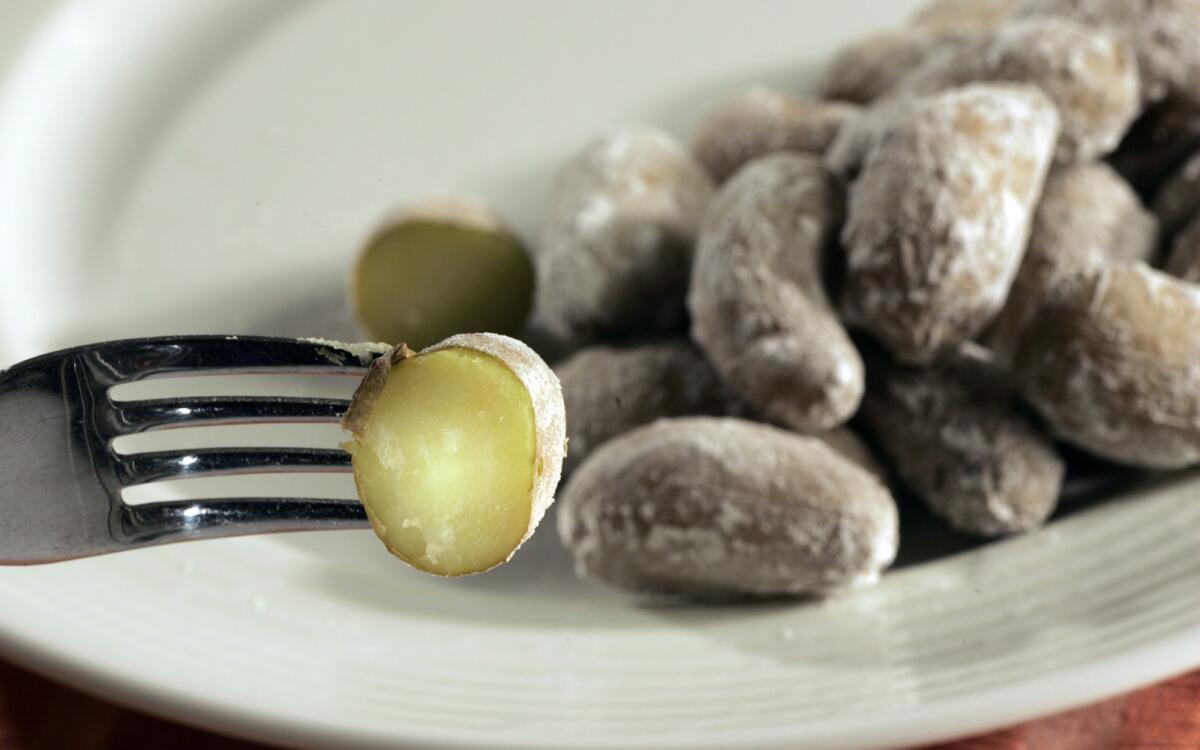 Print Recipe

Print Recipe
Put a new wrinkle in the way you cook potatoes.
In the Spanish Canary Islands they are called papas arrugadas, or wrinkly potatoes. Cooking in heavily salted water wrinkles the skins and leaves them with a light crusting of salt. The result is a concentrated potato flavor enlivened by a gentle seasoning that seems to go all the way through. They are delicious served with baked or grilled fish and Canary Island mojo sauces.
The Canary Islands are sort of Spain's Hawaii. The archipelago of seven volcanic islands is situated in the Atlantic Ocean about 600 miles southwest of continental Europe, and only 65 miles off the coast of western Africa. Although the islands are Spanish provinces, they are closer to Morocco than Spain.
Colonized by Spaniards in the 15th century, the islands proved a convenient jumping-off point for voyages to the New World. Columbus made a pit stop here, taking on fresh water and provisions. Explorers and conquistadors for the next century used the Canaries as a steppingstone between Europe and the Americas.
Not only gold, but potatoes and chile peppers came back from the New World. It was a two-way exchange, for Spaniards carried Canary bananas west to Latin America, where they thrived, while olive oil from mainland Spain found its way to the Canaries and on to the New World.
Befitting their position as steppingstone between three continents, the Canary Islands adapted foods from all. So, for example, the fiery chile pepper from the New World goes into Canary Island mojo sauces along with cumin and fresh green cilantro, so typical of nearby Morocco.
The Canary Islands' version of a Spanish cocido is a hearty meal in a pot chock-full of sweet potatoes, corn and squash with meat and sausage, more akin to Argentina than Madrid, while the dish of black beans and rice could be straight from Cuba. Corn meal and wheat replaced the native barley in making gofio, a cereal dish that replaces bread in Canary Island meals.
But potatoes from the New World were what really caught on in the Canary Isles. More than 45 types are grown here. They include 25 heritage varieties, including a black-skinned subspecies grown nowhere else outside the Andes. There are potatoes with red, purple, black or brown skins; yellow-fleshed and white-fleshed ones, and one sort that is exceedingly dry-fleshed. Once a principal food for the poor, potatoes have become a staple, added to thick vegetable potages or served alongside fish or meat.
But, of course, fish is traditional. The Canary Islands have a wealth of varieties, but the favorite is sama, a type of sea bream. Sea bass, striped bass, snapper or any firm-fleshed ocean fish can be used instead. Baking or barbecuing the fish makes for an attractive presentation, with the whole fish surrounded by the potatoes and dribbled with some of the sauce.
The potatoes make a good side dish with fish or grilled meats, but they also can be served as a party hors d'oeuvres. For this, use tiny new potatoes. Serve them hot or room temperature, speared with toothpicks and accompanied by mojo for dipping.
Bringing together potatoes and chile from the New World, spices from North Africa and olive oil from Europe, it's a dish that spans three continents.
1
Place the potatoes in a wide pan with the salt and water. Bring to a boil and cook on a high heat until all the water has evaporated, about 20 minutes. The potatoes should be tender, coated with white salt and their skins slightly wrinkled. They can be reheated by adding a small quantity of water and allowing it to boil off.
2
If using very small new potatoes, cook them in the water just until tender when probed with a skewer. Drain off the excess water and return the potatoes to the heat to dry them.
Use small (1 1/2 to 2 inch), waxy potatoes. Wash the potatoes but do not peel them.
---
Get our new Cooking newsletter.
Your roundup of inspiring recipes and kitchen tricks.
You may occasionally receive promotional content from the Los Angeles Times.