Opening day recap: Dodgers hit record eight home runs in 12-5 win over Diamondbacks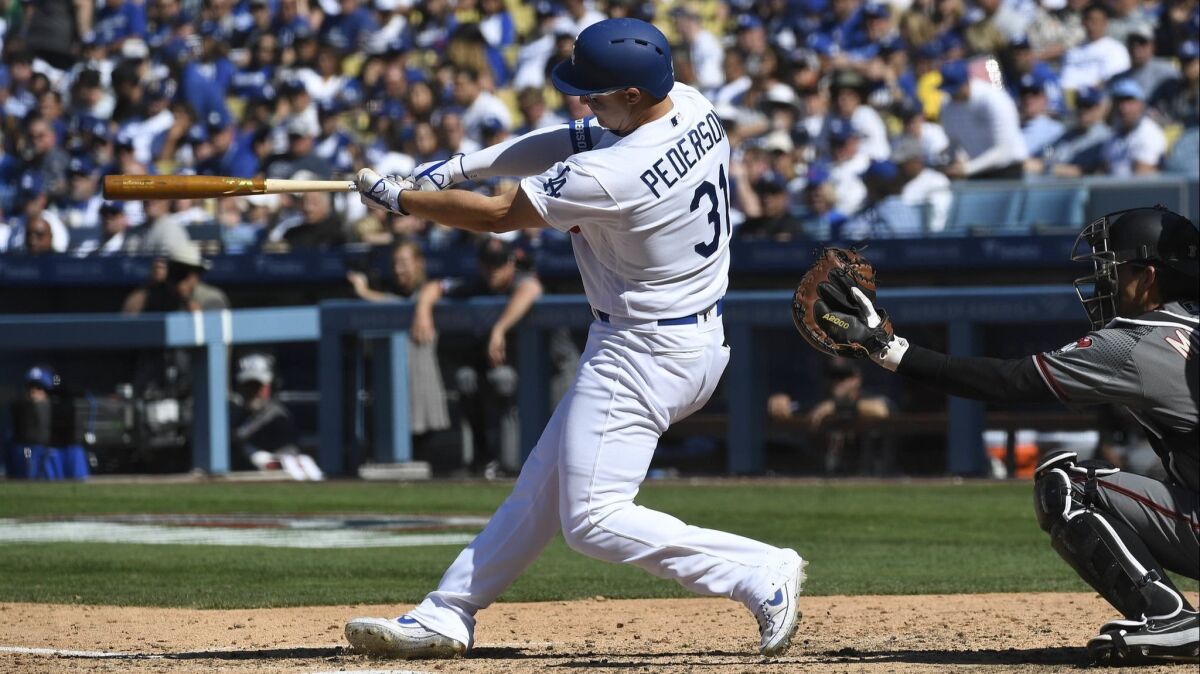 The Dodgers' season got off to a memorable start Thursday.
Behind an eight-home run barrage, the Dodgers opened the season with a 12-5 victory over the Arizona Diamondbacks in front an ecstatic Dodger Stadium crowd.
Check out veteran writer Mike DiGiovanna's inning-by-inning recap of the game below.
Dodgers defeat Diamondbacks, 12-5
The Dodgers arrived at Chavez Ravine for opening day understanding that their goal of a championship, already challenging in a vacuum, is a higher summit to climb coming off two World Series disappointments. But they assert they are talented and deep enough to run the marathon again and, for once, to finish on top. For weeks, they have maneuvered with a quiet confidence in preparation for the slog.
On Thursday, they offered a glimpse of their potential.
The Dodgers' pursuit of a seventh straight NL West title, third consecutive NL pennant, and first championship in over three decades began with a booming 12-5 victory over the Arizona Diamondbacks at Dodger Stadium.
The offense produced with two outs to ignite the rout and slugged eight home runs to finish it off. Joc Pederson pounded two home runs and a double. Enrique Hernandez also hit two homers, Diamondbacks ace Zack Greinke was chased after 3 ⅔ innings. The eight home runs tied a franchise record set in May 2002. No team has ever hit more on opening day.
Dodgers lead Diamondbacks, 12-2, behind opening-day franchise record eight homers
The Dodgers are making history on their way to an opening-day blowout of the Arizona Diamondbacks.
Max Muncy, Cody Bellinger and Enrique Hernandez each hit solo home runs off reliever Matt Koch in the seventh inning, giving the Dodgers a 12-2 lead and an opening-day record eight homers in the game.
The power display also tied a Dodgers franchise record for homers in a game, set on May 23, 2002, the game in which when former Dodgers right fielder Shawn Green hit four homers and had 19 total bases.
Muncy's shot went to right field, Bellinger's went to center, and Hernandez's went to right-center, his low line drive giving him the fourth multi-homer game of his career. The eight homers allowed were a franchise-high for the Diamondbacks.
-- Mike DiGiovanna
Dodgers lead Diamondbacks, 9-2, in seventh inning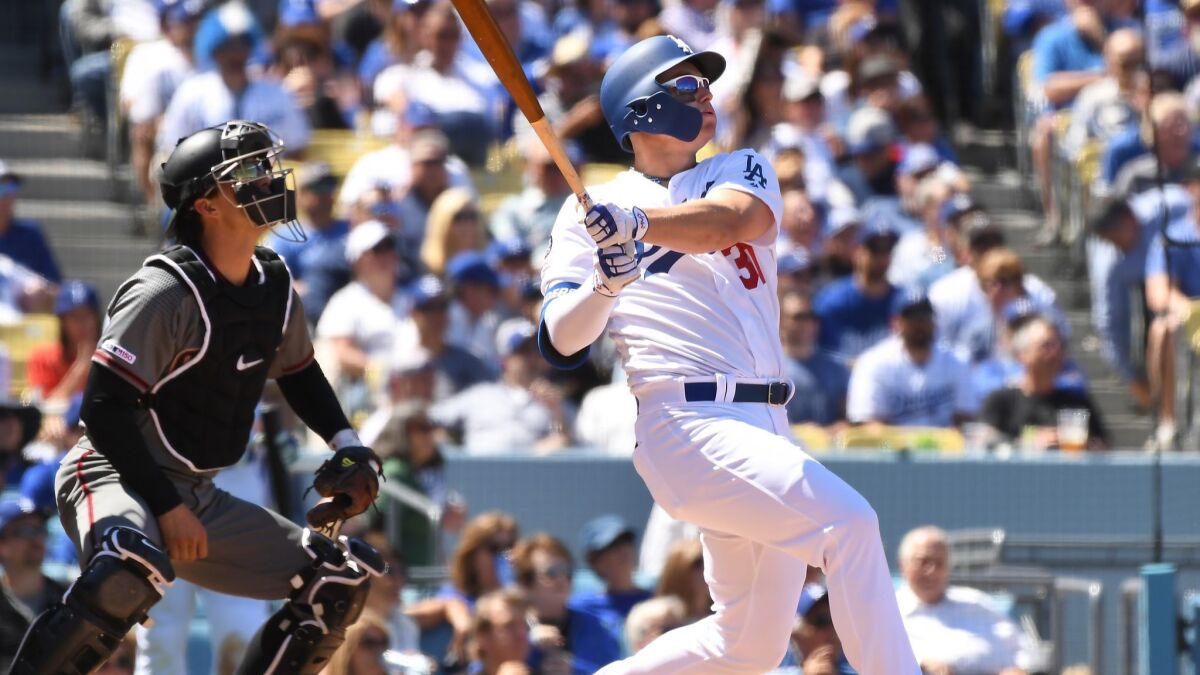 Joc Pederson, the subject of heavy trade speculation but no deal last winter, has been the Dodgers' most valuable asset on opening day.
The left fielder and leadoff batter hit his second home run of the day, lining a two-run shot deep into the right-field pavilion—the ball traveled 417 feet according to Statcast—to give the Dodgers a 9-1 lead over the Diamondbacks through six innings.
Pederson also doubled and scored in the first inning and hit a two-run homer to center in the second, highlighting an afternoon on which the Dodgers hit a franchise-record five homers on opening day.
Christian Walker led off the seventh inning with a homer to center field off Dodgers reliever Yimi Garcia to pull Arizona to within 9-2. Dodgers starter Hyun-Jin Ryu went six innings, allowing one run and four hits, striking out eight and walking none to put himself in line for the win.
-- Mike DiGiovanna
Dodgers lead Diamondbacks, 7-1, in sixth inning
Dodgers starter Hyun-Jin Ryu's clean sheet was spoiled in the sixth inning when Adam Jones drove a first-pitch curve from the left-hander over the left-field wall to pull the Diamondbacks to within 7-1 of the Dodgers.
Eduardo Escobar followed with a double down in the line in left, but Ryu got Wilmer Flores to pop out to shortstop Corey Seager, who made a nice catch after a long run into foul territory, and David Peralta to pop out to first to end the inning.
-- Mike DiGiovanna
Dodgers lead Diamondbacks, 7-0, through five innings
The Dodgers allowed slugging catcher Yasmani Grandal to leave as a free agent last winter believing Austin Barnes would bounce back from a brutal 2018 season in which he hit .205 with a .619 on-base-plus-slugging percentage, four homers and 14 RBIs in 100 games.
Barnes, who will share catching duties with Russell Martin, is off to a good start, following his second-inning single up the middle with a solo homer to left-center field in the fourth inning that gave the Dodgers a 6-0 lead over the Diamondbacks.
Cody Bellinger led off the fourth with a single to center, and Enrique Hernandez followed with a two-run homer to left, which came on a 72-mph hanging curve from Arizona starter Zack Greinke and gave the Dodgers a 5-0 lead.
Barnes, whose first Dodger Stadium homer last season came in September, drove an 88-mph changeup over the wall in left-center for a 6-0 lead.
Two outs later, Corey Seager, the shortstop who missed most of 2018 because of elbow and hip injuries, drove a solo homer half-way up the pavilion in right-center field to give the Dodgers a 7-0 lead and knock Greinke out of the game. The former Dodger was booed as he walked off the field.
According to Inside Edge, it marked only the fifth time in Greinke's career that he has allowed four or more homers in a game. This was Greinke's 415th career start.
With the one-touchdown lead, stadium organist Dieter Ruehle fittingly played the old theme from ABC's Monday Night Football while Justin Turner was batting.
Dodgers starter Hyun-Jin Ryu cruised through four innings, allowing one hit — Eduardo Escobar's infield single in the first — and striking out six. Only one Diamondbacks batter has hit a ball out of the infield.
-- Mike DiGiovanna
Photos from opening day at Dodger Stadium
Dodgers take 3-0 lead over Diamondbacks in second inning
Joc Pederson has achieved two hits of a cycle just two innings and two plate appearances into the season. The left fielder crushed a hanging curve from Zack Greinke 420 feet over the center-field wall with two outs in the second inning to give the Dodgers a 3-0 lead over the Diamondbacks.
Austin Barnes sparked the rally with a one-out single to center and took second on Hyun-Jin Ryu's sacrifice bunt. Pederson, who doubled and scored in the first inning, jumped on Greinke's first pitch, which arrived at 72 mph and over the heart of the plate, to extend the Dodgers lead.
-- Mike DiGiovanna
Dodgers lead Diamondbacks, 1-0, after first inning
Joc Pederson jump-started the season with a double to left field and later scored on Max Muncy's groundout to give the Dodgers a 1-0 lead over the Diamondbacks in the first inning.
Pederson slammed a high-and-away changeup from Zack Greinke over the head of Arizona left fielder David Peralta, who turned one way and then the other in an awkward route to the ball, which hit the base of the wall.
Corey Seager walked, and both runners advanced on Justin Turner's check-swing tapper to third. Muncy grounded out to first, Pederson scoring, and A.J. Pollock walked. The inning ended when Cody Bellinger grounded out to first, but the Dodgers ran Greinke's pitch count up to 30.
Dodgers starter Hyun-Jin Ryu struck out three of four batters during a 22-pitch first inning, Adam Jones and Wilmer Flores with cut-fastballs and Peralta looking at a changeup.
-- Mike DiGiovanna
Tough question for Dodgers fans
We asked Dodger fans the hardest Dodgers question ever: Would they rather the team lose a third World Series in a row, or miss the playoffs?
Do the Dodgers have a chance at another World Series? Absolutely maybe
Dodgers beat writer Jorge Castillo and Times sports columnist Bill Plaschke discuss the team's chances of making the World Series for a third consecutive year — and whether they'll end the team's championship drought.
Starting lineups for Diamondbacks, Dodgers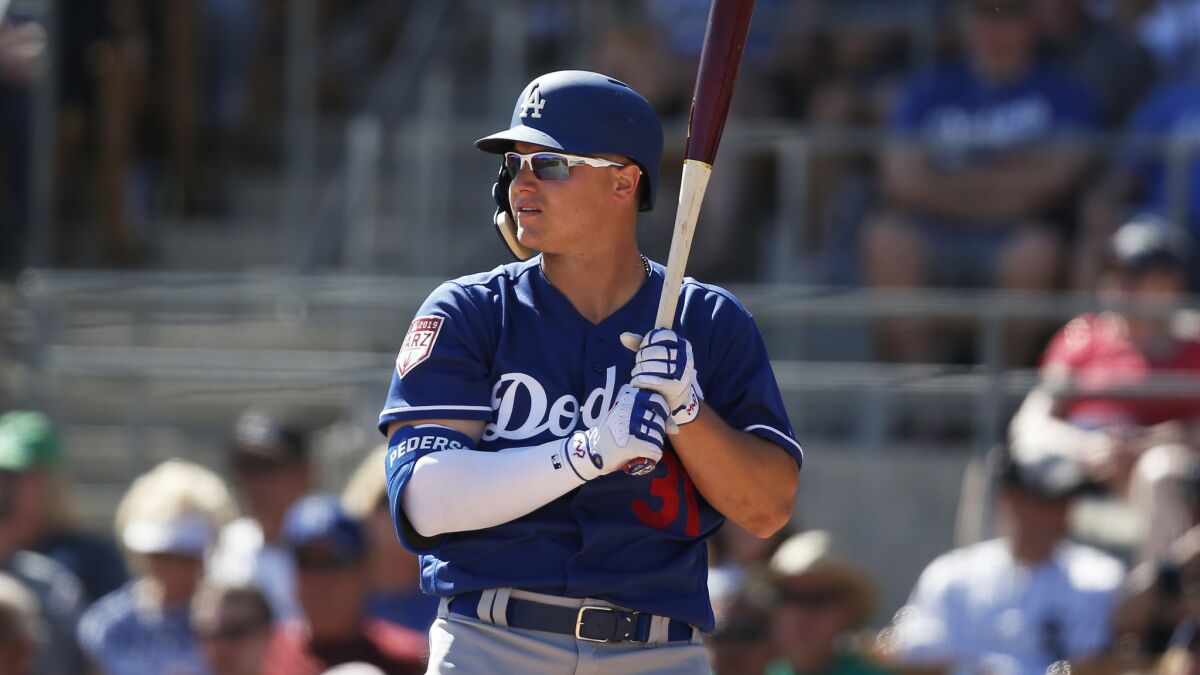 No surprises in the Dodgers lineup for Thursday's season opener. The left-handed-hitting Joc Pederson is leading off against Diamondbacks right-hander Zack Greinke, and new center fielder A.J. Pollock is batting fifth. Pollock, the former Arizona outfielder, will lead off against left-handers.
Left-hander Hyun-Jin Ryu will make his first opening-day start for the Dodgers in place of the injured Clayton Kershaw, whose streak of eight consecutive opening-day starts came to end because of shoulder inflammation. Kershaw, on the injured list to open the season, could return by mid- to late-April.
There was one notable absence in the middle of Arizona's order after slugger and noted Dodgers killer Paul Goldschmidt, a six-time All-Star, was traded to the St. Louis Cardinals in December.
Batting third for the Diamondbacks is Wilmer Flores, the former New York Mets infielder who signed as a free agent in January. Flores has 68 career homers and a .727 on-base-plus-slugging percentage in in five-plus big-league seasons.
Adam Jones, the 33-year-old outfielder who was signed on March 11, will start in right field in place of the injured Steven Souza Jr., who tore three knee ligaments when he slipped and skidded across the plate in an exhibition game Monday night and will undergo season-ending surgery.
-- Mike DiGiovanna
Brock Stewart gets final spot on Dodgers' opening-day roster
A few hours before they took the field at Dodger Stadium to begin the 2019 season against the Arizona Diamondbacks, the Dodgers on Thursday morning announced their opening-day roster — and Brock Stewart is on it.
Stewart will occupy the only vacancy that had been up for grabs over the final few days of spring training. The right-hander will begin the season serving as a long man in the Dodgers' bullpen. The Dodgers wanted someone who could pitch multiple innings in that spot because Julio Urias and Walker Buehler, two-fifths of the starting rotation, will be limited in the early going.
Dodger Stadium ready for opening day
Lighter and healthier, Dodgers closer Kenley Jansen brimming with confidence
Kenley Jansen remains confident. He might have given up more home runs last season than the previous two combined. He might have stumbled in the World Series two years in a row. His velocity might have dropped off for good. But he learned that unyielding confidence was mandatory from his time as a light-hitting catcher in the minors, back when slumps were standard and he let them snowball.
"Always confident," Jansen said outside the tunnel to the clubhouse at Dodger Stadium. "That's something that never goes away for me. Even if things aren't going great, I'm still going to be confident. That's what keeps you here in the big leagues."
Sign up for our Dodgers newsletter »
The Dodgers begin their pursuit of a seventh consecutive National League West title, third straight National League pennant and first World Series championship since 1988 at Dodger Stadium on Thursday. Imagining a world in which they accomplish those feats without Jansen's cutter overwhelming hitters for the next seven months is difficult. He is the linchpin of a bullpen that added setup man Joe Kelly and will rely on Pedro Baez picking up where he left off last fall. If Jansen reverts to his 2018 form, the bullpen could emerge as an obstacle in their quest.
Podcast: A look at the Dodgers and the rest of MLB as season gets underway
Dodgers beat writer Jorge Castillo, Angels beat writer Maria Torres and Times national baseball columnist Andy McCullough break down what to expect from the 2019 baseball season.
Can Dodgers become first team since 1923 to win World Series after falling twice in a row?
Manager Dave Roberts does not hesitate when asked the question. After two heartbreaks, after two chances to win the Dodgers' first World Series since 1988, what makes him believe this year's iteration will end its season in celebration?
"We're a better ballclub than we were last year," Roberts asserts.
History is not on the Dodgers' side. They are vying to become the first National League club to advance to the World Series three straight seasons since the St. Louis Cardinals accomplished the feat in 1942, 1943 and 1944. And they are attempting to become the first team to win a World Series after consecutive defeats since the New York Yankees captured the 1923 championship after falling twice.
They'll strive to make history in an improved NL, where competition has stiffened in the East and Central divisions but the West remains theirs to lose. It was theirs to lose last season too, and the Dodgers almost lost it, needing a 163rd game to swat away the Colorado Rockies and claim their sixth consecutive division title after a miserable start.
Taste-testing Dodger Stadium's new food, including a brazen $21 sandwich
The Dodgers are upping their food game this season, adding eight new items to the snack bar roster, including an audacious 16½-inch sausage sandwich.
Six items are new, but two had a limited run in the 2018 playoffs, and proved so popular they made the regular-season lineup.
For years, Southern California ballparks failed to reflect the range and creativity of the region's food scene. They still don't. But they're creeping closer, one base hit at a time.
Dodgers Dugout: Why the Dodgers will win the NL West again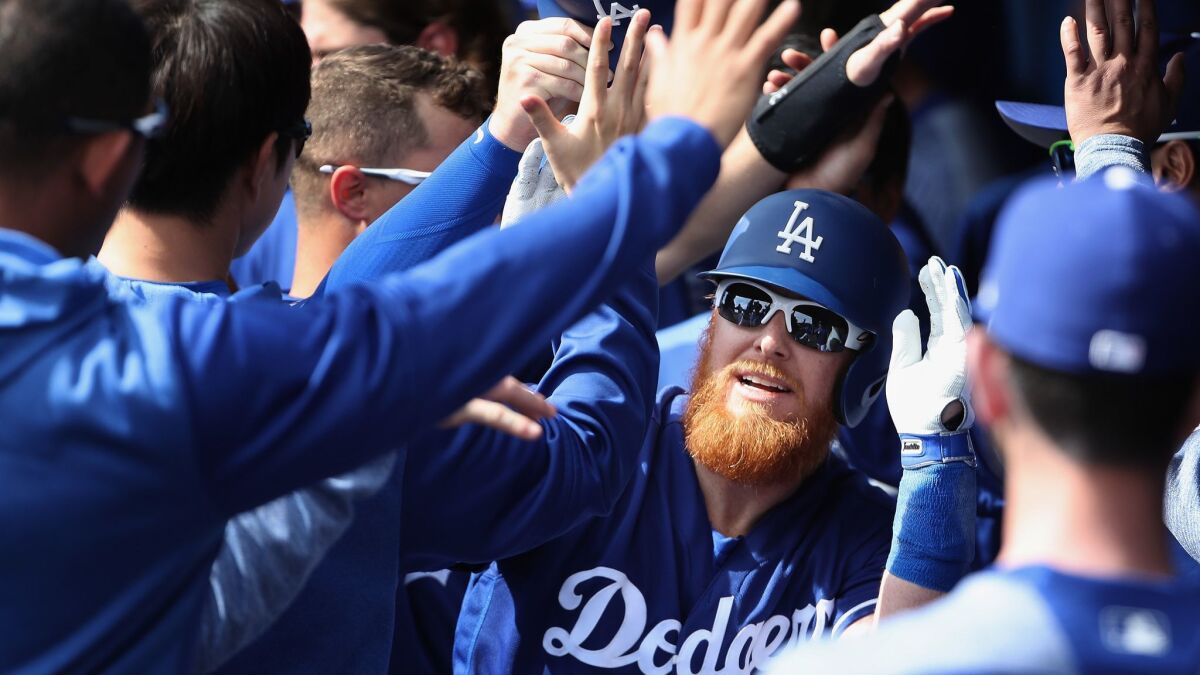 Houston Mitchell breaks down why the Dodgers will be the best team in the National League West this year:
-- The other NL West teams aren't that great. It's possible the Dodgers finish as the only team with a winning record in the division.
-- Full seasons from Corey Seager and Justin Turner will offset the loss of Manny Machado. Seager may be a bit rusty and may get off to a slow start, but he is too talented for any extended slump.
-- The Dodgers have the best pitching in the division, even with Clayton Kershaw and Rich Hill on the shelf. Walker Buehler, Kenta Maeda, Hyun-Jin Ryu, Julio Urias and Ross Stripling are the best rotation in the division.
Beautiful day for Dodger Baseball
Get our Dodgers Dugout newsletter for insights, news and much more.
You may occasionally receive promotional content from the Los Angeles Times.