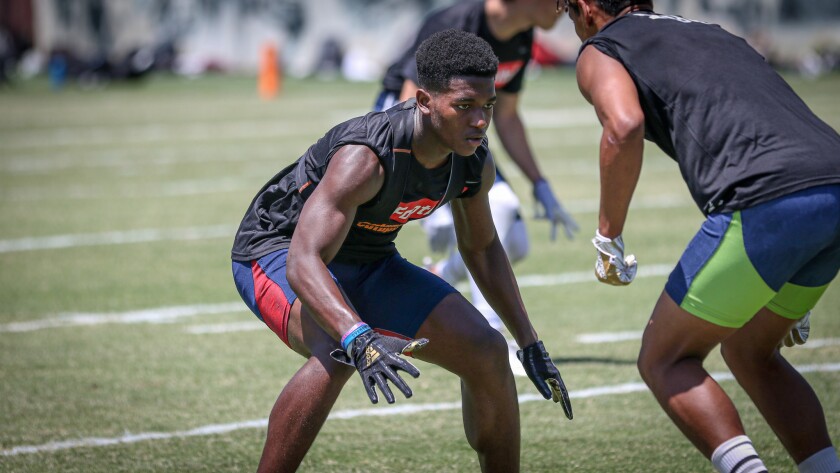 Brandon Jones estimated it was his sixth time making the trek up to Northern California and then cutting across to Palo Alto to visit Stanford. The four-star cornerback had been impressed on each trip he had made. This time he was joined by the majority of his family.
Jones wanted to see their reaction to the campus and the plan the Cardinal coaches had for him athletically and academically. His family provided the approval he was looking for.
"They pretty much said I'll be an idiot if I didn't go there," Jones said.
It was the reassurance he sought.
"We all bonded together," Jones said. "We could just see me going there to better myself academically and on the field. I felt like this was it. This is where I grow into the person that I'm going to be. It felt like a place I could really call home."
Jones committed to Stanford during the visit. The Cardinal coaches were excited to add the Harbor City Narbonne High prospect to their recruiting class. Jones said he received congratulations throughout the rest of the visit.
The commitment gave the Cardinal a natural cover cornerback who is experienced, having started all three years of his high school career. Jones is an instinctual and intellectual player who knows when to break on the ball versus when to hit the receiver to create a pass breakup.
He sees himself as a versatile defender who can play any of the defensive back positions in the mold of one of his favorite players, former Louisiana State star defender Tyrann Mathieu, who lined up all over the field for the Tigers. It's an asset that has bonded him with Stanford defensive backs coach Duane Akina, particularly after Jones attended a Cardinal camp last summer and got the opportunity to be under Akina's wing.
"We talked about DBs and what we should call ourselves. He told us we should never be just OK with being a cover corner," Jones said. "If you're a DB, you're a DB. That means you can play nickel, safety, corner, in the box, outside the box. You can do it all. You can be versatile."
Akina told the 5-foot-10, 165-pound Jones he has the potential to play six different defensive back positions in Stanford's scheme. Jones could get a trial run at hopping around the secondary this season for Narbonne after the Gauchos added four highly touted defensive back transfers.
Cornerbacks Darion Green-Warren and Macen Williams join safety transfers Jared Greenfield and Anthony Beavers to provide one of the deepest defensive backfields.
Jones expects all five to grind every day in practice to see who is best suited for each spot and then for the coaches to make some adjustments and possibly move players around as the fall progresses.
"I told the coaches that I'll be perfectly fine with playing nickel, safety or in the box," Jones said. "It doesn't matter to me because I know I have to be prepared [for Stanford]."
Jones has a close relationship with Akina, but he's not the only coach Jones has created a bond with. The totality of the staff coach David Shaw has compiled made its mark on Jones as well. He expects the program to accomplish many goals in the upcoming years.
"The whole coaching staff is great," Jones said. "If you would just spend about one day with them, you could tell why they're at where they're at right now 'cause the coaches are just great. The people they hire, the faculty members are just great. They just know what they're doing, and they have well-experienced coaches, so we're bound for greatness. I'll just say that."
Jones said he's done with the recruiting process "until further notice" and only plans to use one of his five allowed official visits — to take in a game at Stanford in the fall. But he did keep the door open for a possible return to the Bayou to visit LSU. He's watched a lot of LSU film while studying Mathieu and visited during his sophomore year, calling it a "remarkable place."
---