High-powered Calabasas has been getting defensive during its 4-1 start this football season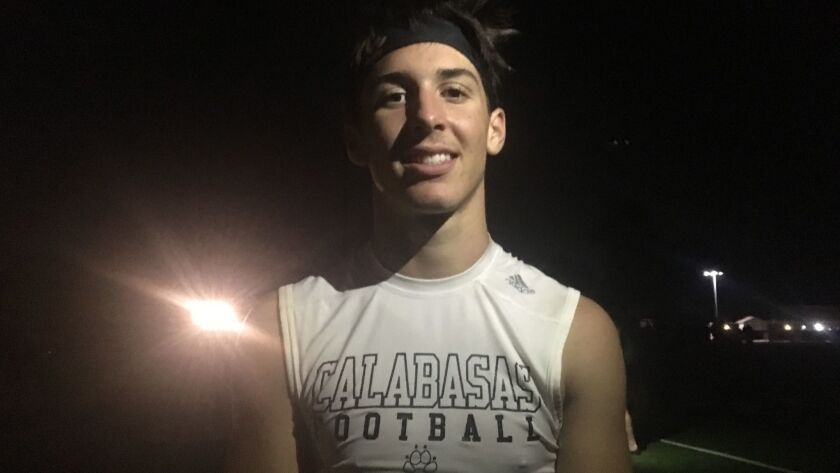 In a football season in which there have been some impressive performances by first-year head coaches, don't forget what former USC and NFL linebacker Chris Claiborne has pulled off at Calabasas, which is now 4-1.
Casey Clausen rebuilt the program behind a high-scoring offense, but as the Coyotes moved up in competition, they had trouble stopping teams, such as the 60-53 overtime loss to San Diego Madison in 2016.
Claiborne has changed the defensive culture, as shown by a 21-20 overtime defeat of Valencia on Friday night when the defense rose up to stop a two-point conversion attempt on the game's final play.
"I think the coaches are doing a good job coaching the kids," Claiborne said. "They're learning to play defense here. Nothing against the last guys, but we put a big emphasis on it. We asked them to get better."
Calabasas still has a terrific offense, led by quarterback Jaden Casey, but the Coyotes have been facing their toughest competition yet and are more than holding their own with challenging games still ahead against Westlake Village Westlake and Westlake Village Oaks Christian.
Defensive end Robert Roguero and defensive back Keithan Gooden have been making the biggest impact on defense.
As for first-year head coaches, Chad Johnson is 6-0 at Mission Viejo and Charles Collins is 6-0 at Oaks Christian.
Friday upsets: Romoland Heritage knocked off the No. 1-ranked team in Southern Section Division 3, Cajon, with a 41-36 victory. Carlos Ruelas came up with a decisive interception while Ika Tuatala and Kenny Teter each rushed for more than 100.
Palmdale Highland defeated the top team in Division 5, Lancaster Antelope Valley, 28-14.
Big-play defenders: Lavon Bunkley of Gardena Serra intercepted two passes in the Cavaliers' 21-19 win over L.A. Cathedral.
Villa Park had five interceptions, returning two for touchdowns, in a 56-6 win over Lake Forest El Toro.
Top performance: Myles Herrera of Redlands East Valley passed for 408 yards and four touchdowns in a 48-14 win over Ontario Colony.
A well-earned rest: Mission Viejo Capistrano Valley is 6-0 and finally gets to take a week off after a 49-30 win over Alhambra Keppel. Nathan Manning had four TD passes in the victory Friday night.
Cool Hand Luc: Quarterback Lucas Diamont rallied Venice to a 37-34 win over Paramount, throwing four touchdown passes. The Gondoliers fell behind 20-0.
Trinity League begins: The weekly grind begins this coming week in the Trinity League, where two of the top teams in the nation, Bellflower St. John Bosco (5-0) and Santa Ana Mater Dei (4-1), reside. Depth is key.
"Without question," St. John Bosco coach Jason Negro said. "We've had an opportunity to play a bunch of guys."
"You have to practice smart and get guys healthy as you can during the week," Capistrano Valley JSerra coach Pat Harlow said.
Friday's openers have JSerra (5-0) at St. John Bosco, Anaheim Servite (3-1) vs. Mater Dei at Santa Ana Stadium and Santa Margarita (2-3) vs. Orange Lutheran (3-2) at Orange Coast College.
Twitter: @latsondheimer
---
Get the latest on L.A.'s teams in the daily Sports Report newsletter.
You may occasionally receive promotional content from the Los Angeles Times.