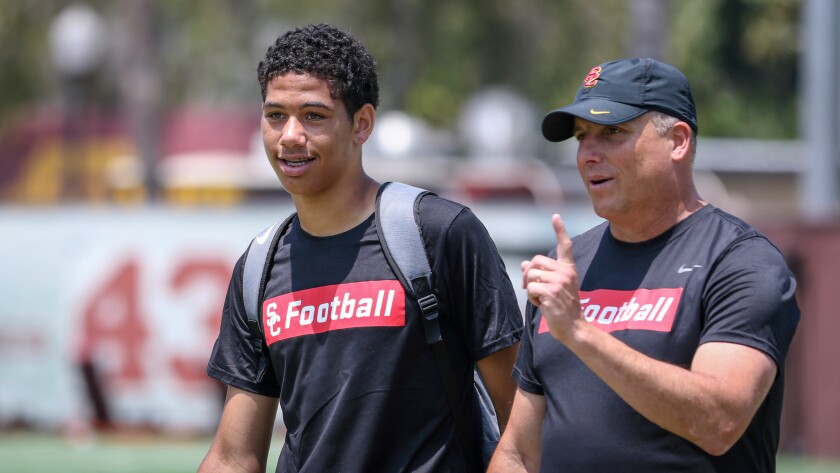 Mission Viejo High quarterback Trilian Harris isn't waiting around for his recruitment to pick up.
The rising junior is making an active effort to get out to see as many schools and college football programs as he can this offseason. He stopped by USC to watch the Trojans practice this week and recently took a trip to Florida to check out the Gators and Central Florida.
Harris said he immediately fell in love with Florida as soon as he stepped on campus. He was enamored with their football facilities. "You walk in and you're underground. You're looking up, you're looking at fans. Coming from Texas, that is big," Harris said. "I loved the coaching staff. They were cool. They sat down and watched my tape, so hopefully the offer is coming soon."
Nevada is the only school that has extended a scholarship offer to Harris, but his recruitment should soon pick up. He's hoping to entice coaches during his visits. Harris takes the trips very seriously. This isn't a typical teenager's college visit. Harris wants to break down film and pick the brain of coaches.
"I want to talk to a head coach, see what a coach can teach me and what I can teach a coach," he said. "I want to build relationships with coaches. I can go and not get the offer as long as I got better that day and I got a coach better. That's what I like."
Harris wants to know what is expected from each school's quarterbacks on and off the field. How do teams try to attack a Cover-2 or Cover-3 defense? What kind of route concepts do they use? How do people on campus treat the quarterbacks? Are there extra responsibilities that come with being a starting quarterback?
He said some coaches have been surprised by his pointed questions. They don't expect such a young player to be seeking that information. But Harris loves the mental side of playing quarterback.
Harris credits Mission Viejo coach Chad Johnson and Joey Yellen, the previous Diablos quarterback who is a freshman at Arizona State.
"I looked up to Joey. I came in, sat under him for a whole year and I looked up to him," Harris said. "That's where I got my smartness from and I give credit to Joey too because Joey is very, very smart when it comes to football and football is not about talent. You can be slow and still be the best receiver in the game. That's how I look at it."
It's going to be a long offseason for Harris. The 6-foot-4, 190-pound left-hander has trips planned to Texas, Louisiana State, Alabama, Tennessee and Louisville. He might also attend Oregon or Oregon State's spring game.Harris went to camps at USC and UCLA' last summer and continues to build a relationship with both head coaches.
"Chip Kelly talks to me, but you know they're late. They come late in the recruiting [process]," Harris said of the Bruins. "Chip Kelly, I went to the camp last year. He loved me. He knows my head coach, so UCLA is going to come, but they come late.
"USC, same thing," he added. "They're late in recruiting, but I'm going to be back up at SC. SC is a big one. SC is just home and my mom is close, family is close. SC is going to play a big role in recruiting."
Betiku commits to Illinois
Former Gardena Serra five-star prospect Oluwole Betiku Jr. announced Thursday that he has committed to Illinois. The defensive end is transferring from USC after three seasons. He had two tackles in limited time his first two years and missed the 2018 season following hip surgery. Betiku is expected to be immediately eligible and have two years to use his remaining two years of eligibility.
---