Column: Steve Smith is finding purpose after football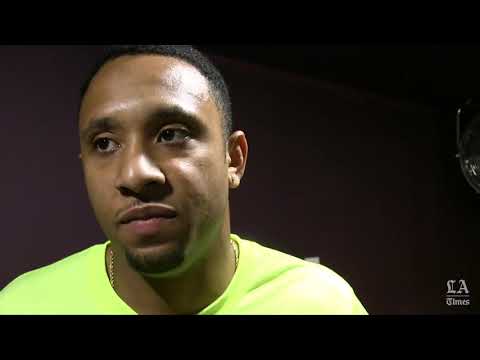 <p>Former Taft, USC and NY Giants WR moves on without football</p>
Los Angeles City Section runner-up at Woodland Hills Taft High, national champion at USC and Super Bowl champion with the New York Giants, receiver Steve Smith has experienced sports competition at its highest level since his teenage years.
He caught 107 passes in a season for the Giants. He set a high school state record for career receptions with 271. He caught three touchdown passes from Matt Leinart in the 2005 Orange Bowl.
His football career ended in 2013, a knee injury forcing him to retire at 27 after six years in the NFL.
He had to face the warnings heard for years from mom, dad and his coaches — be prepared for the day sports comes to an end.
"It's been a struggle at times moving on and moving into the next phase of life," Smith said. "I tell people I feel one part of me died and another part of me is birth, because football was my life, my love. I worked so hard. Transitioning was definitely tough. I feel you have to get into something you love and enjoy so you can have that passion in the next phase."
Smith has found his new focus. He's a business partner in the Xplode Training Center in Chatsworth.
According to his mission statement, "The philosophy of Xplode Training Center is to create a positive influence for the development of character in today's youth. We train all athletes from youth to the professional level."
His indoor facility has a boxing ring, fitness bicycles, a speed track, an outdoor sand pit and just about everything someone needs to work on getting better physically for whatever sport they compete in. Smith has brought in several of his former teammates to work as trainers, such as former Taft defensive back Paul Pratt, who once ran 40 yards in 4.27 seconds.
Even his famous younger brother, Malcolm, the most valuable player of Super Bowl XLVIII and now a linebacker with the Oakland Raiders, has been known to drop by.
The training center is a business venture for Smith, but he clearly has his heart in the right place. He loves the San Fernando Valley, his old stomping grounds. At Taft, he was one of the best athletes to come out of a school that produced Hall of Fame member Robin Yount in baseball and Olympic champion Quincy Watts in track.
"He would have been a Hall of Famer if not for the knee injury," his former coach, Troy Starr, said.
Smith's good times in high school are what motivate him to try to help others.
"I just want to get into the community," he said. "It's a great opportunity to give back. I want to give kids some of the tips I feel somebody could have given me growing up."
So much has changed since Smith graduated from Taft in 2003. Private coaching and year-round focus on sports training are the rage of youth and high school sports.
"I think it's remarkable how kids are able to get out and be seen at such a young age," he said. "I like how intense it is. I like how you can play as a freshman. I feel like my records would never had been touched."
Smith was a football and basketball standout at Taft, and as the years go by, his memories hardly fade.
"My years at Taft were up there with some of the best years of my life," he said. "It was so much fun. You didn't have any real worries in life. You just go play and have fun."
Reality has sunk in. There's no more football. He has to create a new path, and that's what he's doing.
Get our high school sports newsletter
Prep Rally is devoted to the SoCal high school sports experience, bringing you scores, stories and a behind-the-scenes look at what makes prep sports so popular.
You may occasionally receive promotional content from the Los Angeles Times.