Top high school football games on Saturday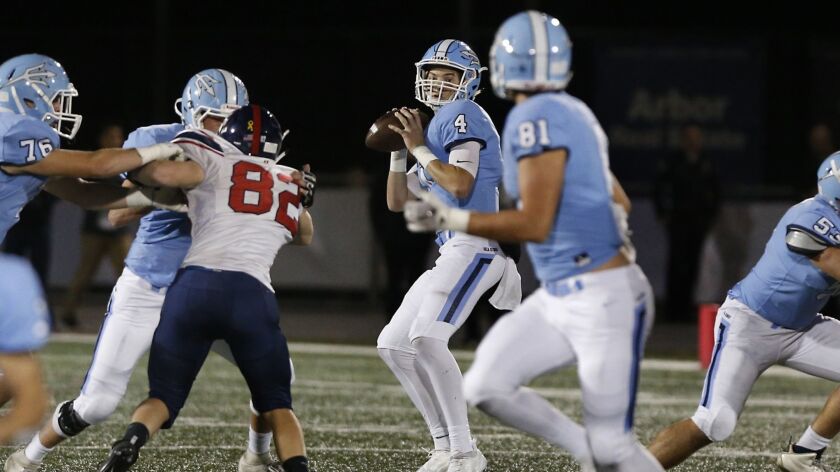 A look at the top high school football championship games on Saturday:
Southern Section
Division 2: Upland (11-2) at Moreno Valley Rancho Verde (13-0), 7:30 p.m.
Upland was considered a cinch to win last season's title but was stunned in the semifinals by a last-second interception returned for a touchdown. The Highlanders have stayed focused behind junior quarterback Evan Rowe and running back Cameron Davis, who is close to surpassing 2,000 yards rushing. Rancho Verde has been hampered by injuries but keeps finding ways to win. The best player is two-sport standout Jaxen Turner, who could be playing some quarterback in this finale. The pick: Upland.
Division 4: Newport Beach Corona del Mar (11-2) vs. Simi Valley Grace Brethren (11-2) at Royal, 7 p.m.
This is a vintage matchup of passing versus running. Corona del Mar has plenty of offensive weapons with quarterback Ethan Garbers and receivers John Humphreys and Mark Redman. All are top college prospects. Grace Brethren counters with running back Lontrelle Diggs, who has four consecutive games of more than 135 yards rushing. Sophomore quarterback Mikey Zele played well last week, giving the Lancers a passing option. The pick: Corona del Mar.
Division 6: Oxnard (11-2) vs. West Covina South Hills (13-0) at Covina District Field, 7 p.m.
Oxnard coach Jon Mack used to win CIF titles routinely at Ventura St. Bonaventure. He knows he must get his two star athletes, running back Zavier Harris and defensive back Dom Brown, involved early. South Hills does best when versatile quarterback Khalil Ali is making plays. The pick: South Hills.
Division 7: Culver City (11-2) at San Jacinto (12-1), 7 p.m.
Culver City is on a roll and upset No. 1-seeded Covina Northview in the semifinals. Sophomore quarterback Zevi Eckhaus has passed for 42 touchdowns, including 14 to star receiver Kevin McGuire. San Jacinto has its own outstanding passer in Kajiya Hollawayne, who has 3,017 yards passing. The pick: Culver City.
Division 10: Palmdale Highland (13-0) at Rialto Eisenhower (13-0), 7 p.m.
Two schools that had losing records last season will try to complete major turnarounds. Senior linebacker Darion Dorris leads the Highland defense. Quarterback Isiah Escobar has passed for 18 touchdowns. Eisenhower, the 1993 Division 1 champion, is led by junior running back Jordan Goodloe, who is nearing 1,000 yards rushing. The pick: Highland.
Division 12: Artesia (10-3) at Temecula Linfield Christian (12-1), 7 p.m.
No. 1-seeded Linfield Christian is led by running back Kenric Jameison, who has gained 1,788 yards rushing. Artesia has its own standout in quarterback Heder Gladden, who has passed for 1,042 yards and rushed for 2,326 yards. The pick: Linfield Christian.
City Section
Division I: Dorsey (8-5) vs. San Pedro (7-6) at El Camino College, 7 p.m.
These two teams have 10 City titles between them. Both have played well in the playoffs. Dorsey is on an eight-game winning streak after losing its first five games to top teams. Linebacker Tylor Morrison leads an aggressive defense. San Pedro has been running the ball successfully while relying on Josh Ward. The pick: Dorsey.
Division III: Santee (12-1) vs. Fremont (7-5) at El Camino College, 3 p.m.
It's all about stopping All-City running back Joseph Todd of Santee. He comes in with 2,778 yards rushing and 40 touchdowns. Fremont needs its leading tackler, Joseph Derouen, to come through with lots of tackles. The pick: Santee.
Twitter: @latsondheimer
---
Get the latest on L.A.'s teams in the daily Sports Report newsletter.
You may occasionally receive promotional content from the Los Angeles Times.