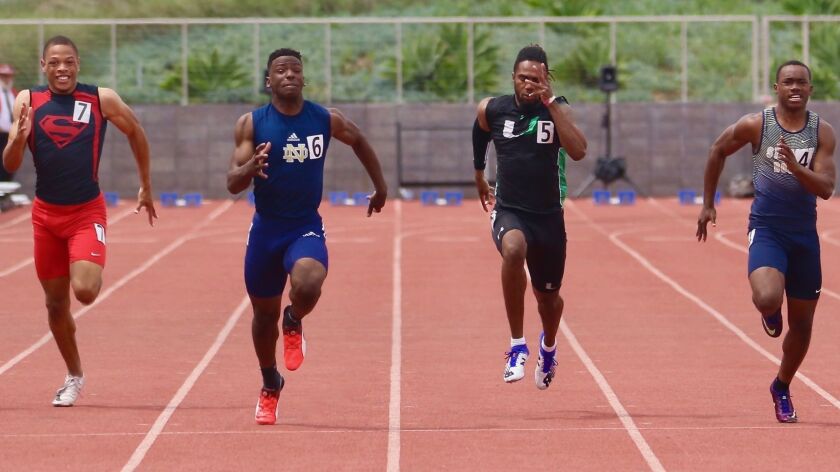 Christian Grubb did not quite match his state-best times in the 100- and 200-meter dashes, but the Sherman Oaks Notre Dame senior won both sprints at the CIF Southern Section Masters Meet on Saturday afternoon at El Camino College to lead a talented field of qualifiers into next weekend's state championships in Clovis.
Grubb clocked 10.58 seconds to win the 100 (his personal best of 10.40 is the 10th-fastest in the nation this year), then doubled back 45 minutes later to win the 200 in 20.93 — .31 of a second off his state-leading time, which is seventh nationally.
One of the most highly anticipated events of the day was the boys' 1,600 and it didn't disappoint, as UCLA-bound Peter Herold of San Juan Capistrano JSerra used a late kick to beat state leader Noah Hubbard of Arroyo by 61-hundredths of a second in 4:11.99. National leader Nico Young from Newbury Park won the 3,200 in 8:56.46 and state leader Kai Wingo of Valencia won the 800 in 1:54.87.
Another loaded field lined up for the boys' 110 hurdles and Palos Verdes Peninsula junior Aiden Lieb won in 14.48 seconds, edging Abraham Lofty (14.50) of Los Alamitos. SoCal leader Anthony Taylor from Los Cathedral was fifth in 14.66 followed by Southern Section Division I champion Liam Anderson of Long Beach Poly (14.67).
Long Beach Wilson's Andrew Richards, Seaver Cardoza, Jordan Weiman and Armando Bryson clocked a stellar 3:13.86 to take over the state lead in the 1,600-meter relay, bettering the 3:13.93 run by Poly at the Moore League finals.
Valencia West Ranch junior Solomon Strader won the boys' 400-meter dash in 47.04 and Reyte Rash from Riverside King won the 300 hurdles in 37.89.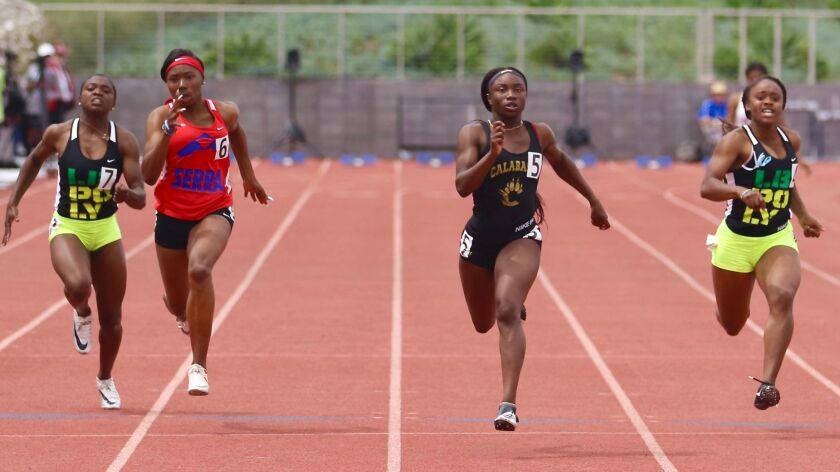 In other events, Los Angeles Loyola senior Will O'Brien won the boys' pole vault at 15 feet, 3 inches, Jack Wiseman from Huntington Beach and Jaydn Mata of San Marcos each cleared 6-10 in the high jump, Kamari Maddox of Elsinore won the long jump in 23-5 ¼, Trevor Harris of Etiwanda won the triple jump at 47-9 1/2; Aidan Elbettar of Newport Harbor won the discus with a distance of 189-10, and Jeff Duensing of Esperanza won the shotput with a throw of 64-11.
Poly opened the meet by sweeping the 400 relays, as the girls' foursome of Saundria Martin, Lauren Reed, Queen Okoh and Sarah Ayer won in 46.70 and the boys' foursome of DeAngelo Chester, Keon Markham, Keyon Reed and Anthony Johnson prevailed by one-hundredth of a second in 41.13.
Sign up for our daily sports newsletter »
Calabasas senior De'Anna Nowling (11.69) was first in the girls' 100-meter dash, followed by Jazmyne Frost (11.91) of Gardena Serra, and Poly's Saundra Martin (11.93) and Queen Okoh (12.13). Martin rebounded to win the 200 in 24.03, with Nowling was second in 24.10 and Frost was fourth in 24.37.
Long Beach Millikan freshman Samarra Monrroy won the girls' 400-meter dash in 54.16, Ash Atkinson from Long Beach St. Anthony won the 100 hurdles in 14.08, and Long Beach Wilson junior Rachel Glen won the 300 hurdles in 41.01.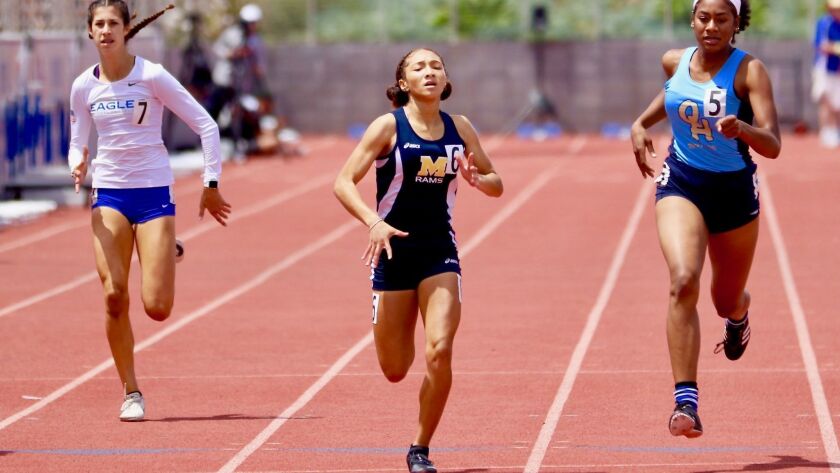 Pasadena Mayfield sophomore Audrey Suarez passed runner-up Fatima Cortes from Temecula Great Oak in the final strides to take first place in the girls' 1,600 in 4:45.04, sophomore Makayla Browne from Riverside North won the 800 in 2:11.30, and senior Sarah Shulze of Oak Park clocked 10:26.62 to win the 3,200.
Westlake sophomore Paige Sommers cleared 13 feet to win the girls' pole vault, Glen won the high jump at 5-8, Upland freshman Caelyn Harris won the long jump in 20-5.25 (she entered with the third-best mark in the nation this year), and Great Oak sophomore Summer Stevenson won the triple jump in 40-02, and Natalie Ramirez of West Ranch won the girls' discus at 153-07 and the shotput at 44-11 1/4.
---