Great Oak's boys and girls win team titles at state cross-country championships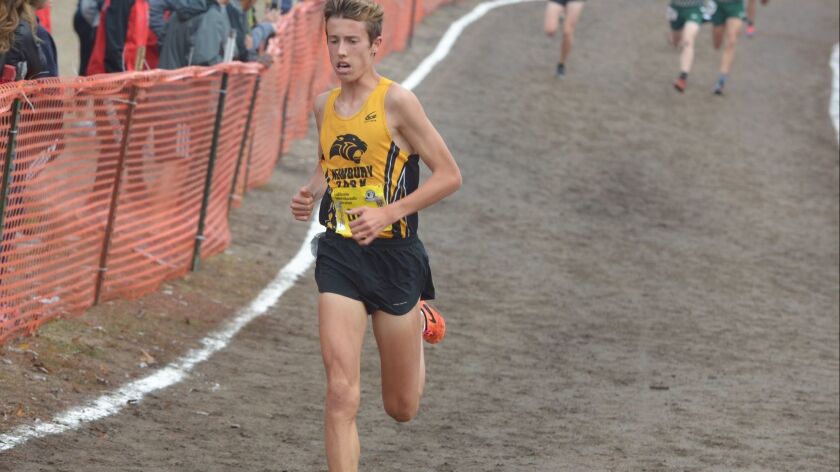 Temecula Great Oak became the first California team to win five consecutive Division I boys' titles, with a victory at the state cross-country championships Saturday at Woodward Park in Fresno.
Then, the girls' team from Great Oak won its seventh straight championship, edging league rival Vista Murrieta 79-83 in Division I. The boys' and girls' teams have won a combined 13 state titles under coach Doug Soles.
"I'm so proud of our kids," Soles said. "The key is to get them to buy in to working hard."
Junior Tori Gaitan of Great Oak won the Division I girls' race in 17:19.4
Santa Clarita West Ranch's Evan Bates (15:05.3) finished second to Carmichael Jesuit's Matt Strangio (15:04.5) in the Division I boys' race. Sophomore Mateo Joseph of Great Oak took fifth place. West Ranch took second place in the team standings.
"It was a close one," Soles said. "West Ranch and Vista Murrieta gave it a heck of a go."
Nico Young of Newbury Park won the Division II boys' race in 14:59.2 to lead the Panthers to the team championship.
Sophomore Audrey Suarez of Pasadena Mayfield won the girls' Division IV title in 17:44.68. Anthony Grover of San Juan Capistrano JSerra won the Division IV boys' race in 15:21.8.
Other team champions: Claremont in Division II girls; Laguna Beach in Division IV boys; St. Margaret's in Division V boys.
Twitter: @latsondheimer
---
Get the latest on L.A.'s teams in the daily Sports Report newsletter.
You may occasionally receive promotional content from the Los Angeles Times.