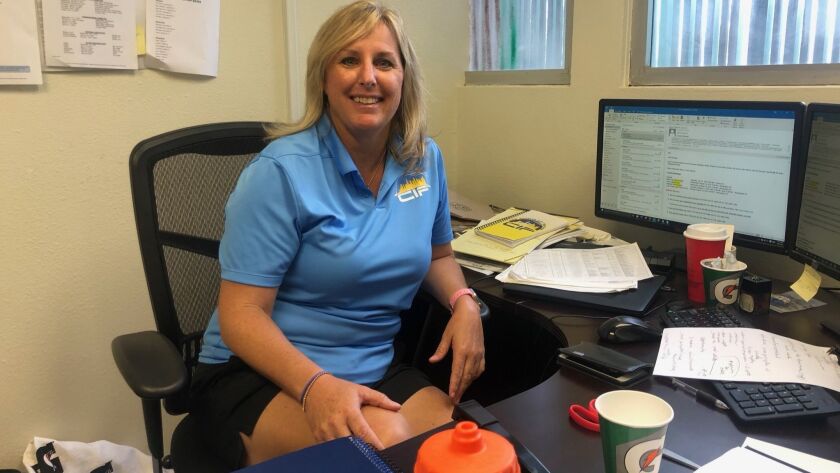 History will be made Monday in the Los Angeles City Section. For the first time since its inception in 1935, all three top administrative positions will be held by women.
Vicky Lagos takes over as commissioner, Alexa Berg will be the assistant commissioner and Neezer McNab will be president of the Board of Managers. The City Section has 156 high schools with sports programs, including 88 in the Los Angeles Unified School District.
Lagos worked as an assistant under former commissioners John Aguirre and Barbara Fiege before her promotion. She played soccer and ran track at Mission Hills Alemany, earned a sociology degree from Cal State Hayward before she went into teaching and coaching.
Earlier this week, Lagos discussed the issues she'll be focusing on and her hope of bringing a new perspective to overseeing high school sports in Los Angeles.
What are your priorities and concerns?
I feel the last 10-plus years has been an audition for this position. I think I'm ready to hit the ground running. I want to improve communication with the district and various charter associations to give more opportunities for student-athletes. Budget is always a concern and attendance was down for some of our sports championships. We want to make sure in the sport of football, the numbers don't keep declining. Our water sports are having trouble because of the lack of pool space.
What ideas do you have to improve football participation numbers?
I think getting the word out that our coaches are trained correctly, that this is a safe environment, and with the implementation of new rules, hopefully, parents won't be afraid to have their children play football.
What's prepared you to deal with the various personalities you'll be encountering?
The last five or six years, I've been in charge of transfers, so I'm either the person they love or the person they hate. My goal is to get to each sports advisory committee and make sure coaches are being heard.
Very few things are as controversial as the transfer issue. How will you handle that issue?
It needs to be known we're here for students to play. We just want them to play in the proper level or the proper school they're supposed to be at. We are only as good as the information given. Everyone wants us to do something, but we can only do what we're given. We need to make sure schools know the questions to ask students.
What lessons did you learn training under Barbara Fiege and John Aguirre?
Both of them are very calm. I've had to learn to be able to sit back and take things in before reacting. Barbara was a great mentor for me and someone I always tried to be when I was coaching. To be thorough and fair are the characteristics they have that I hope I can have as well.
Sign up for our daily sports newsletter »
City Section schools have been losing athletes to private schools and Southern Section schools. How can you help turn around that trend?
We need to be our own best cheerleaders. I truly believe high school is going to be what you make of it, no matter what school you go to. We need to promote ourselves, let parents and students know what activities we have. School sites are doing great things.
Why did you want this job?
I think I can make a positive impact on our student-athletes. I've been training for 10-plus years, so it was the next natural step in my progression. I think I bring a level of enthusiasm and maybe a little bit different perspective than we've had in the past, and it's challenging. I've always been about challenging myself academically and athletically through my career, and this is the newest challenge.
Twitter: @latsondheimer
---