Column: Birmingham High's Henry Aslikyan is a Mighty Mouse on the wrestling mat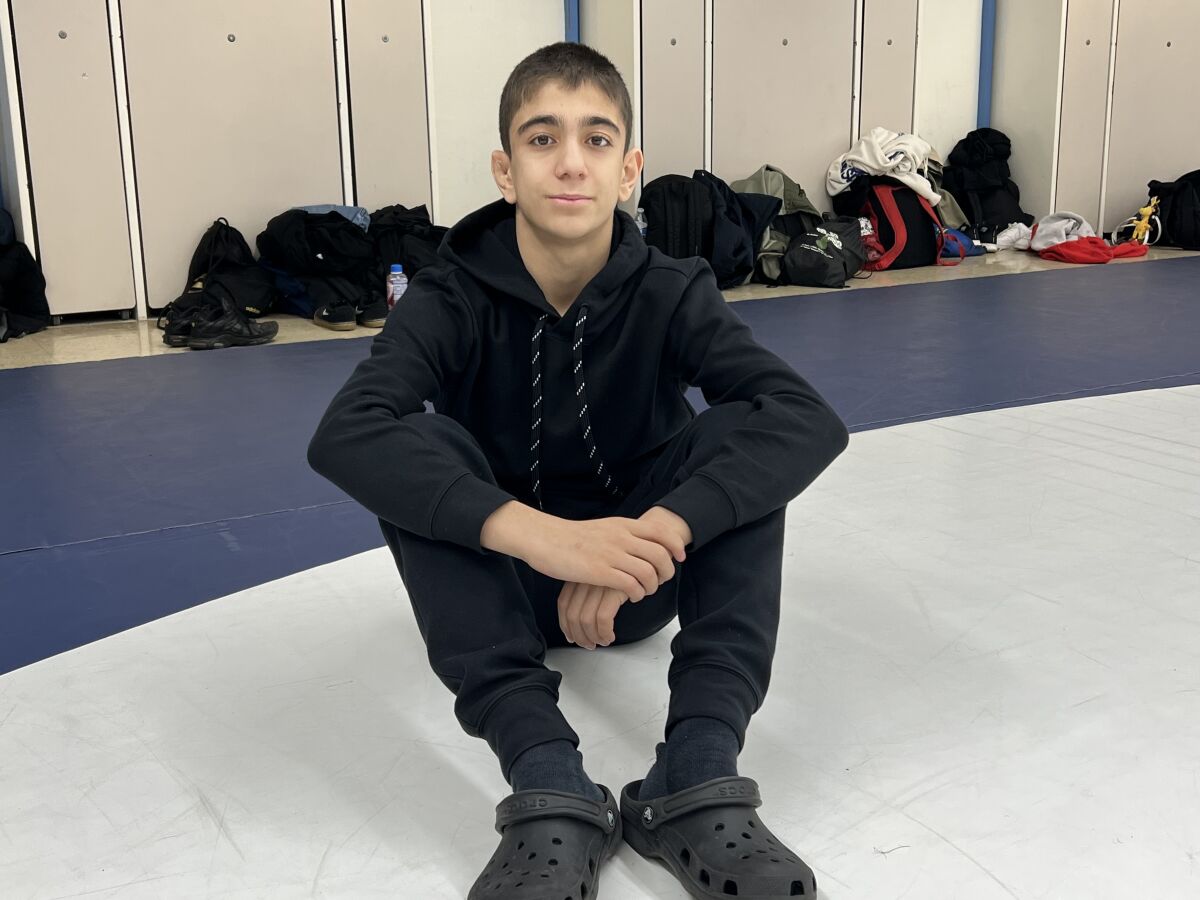 Wearing a black tank top and black sweat pants, 102-pound freshman wrestler Henry Aslikyan of Lake Balboa Birmingham High grimaced each time he pulled on the lat machine trying to lift 132 pounds of weights as a spotter provided support.
Already at a slight disadvantage facing wrestlers who weigh 106 pounds, Aslikyan, who is 5 feet 2 and 15 years old, has started trying to gain strength. Competing in the lightest weight class , Aslikyan is an aspiring Mighty Mouse moving at lightning-like speed around the mat.
"He's always trying to create new movements and opportunities," coach James Medeiros said.
Aslikyan will be the heavy favorite in his weight class to win a City Section championship on Feb. 11, but the real test will come at the state championships in Bakersfield Feb. 23-25. He has won four tournaments this season but also faced several defeats against top competition.
"I noticed matches I lost I made mistakes," he said. "I'm trying to fix them."
He has been wrestling much of his life thanks to his father, Meruj, a successful wrestler in Armenia who offers tips and advice.
Pairings for the CIF City and Southern Section dual-meet championships.
"The thing I like the most is he's one of the easiest kids to coach," said Medeiros, who used to wrestle Aslikyan's father in club competitions.
Aslikyan traveled to Colombia last year and won his weight class at the Pan American Games for under-15 wrestlers. He's a wrestling equivalent to a gym rat in basketball. He watches videos, goes for runs in the morning, trains with a club team during the week and waits for his growth spurt.
"I'm already getting taller every day," he said. "I'm trying to gain weight. I don't have much fat."
Yes, there are competitors who might weigh 120 pounds and gradually lose pounds to make lower weight classes. Aslikyan doesn't have that issue for now. He knows he's in the 106-pound class, which sometimes is the best class.
"When they're that small, they're really fast and a lot of times guys who wrestle at that weight are kids who wrestled all their lives. The real elite kids start off at that weight class and move up," Meideros said.
The 106-pound weight competition is usually the first of a dual match and can set the tone for a team. Aslikyan welcomes the challenge and spotlight.
"I know I work hard and am determined to keep on going nonstop," he said. "Sometimes it's scary when you know someone is better than you. Wrestling is a mental sport. As long as you know you can do it, you do your best and have fun."
Five great former Southland high school basketball players had their jerseys retired over the weekend.
It's Aslikyan's love for wrestling that comes out during competition and in the practice room.
"He has a great attitude," Medeiros said.
Even when a heavyweight wrestler decides to occasionally lift him up to test their own strength, Aslikyan laughs and doesn't flinch.
"It's a perfect example of skill and technique winning over size and strength," Meideros said.
One day the heavyweight could get some competition from the lightest one on the mat.
---
Get our high school sports newsletter
Prep Rally is devoted to the SoCal high school sports experience, bringing you scores, stories and a behind-the-scenes look at what makes prep sports so popular.
You may occasionally receive promotional content from the Los Angeles Times.