Letters: They are not happy with the Dodgers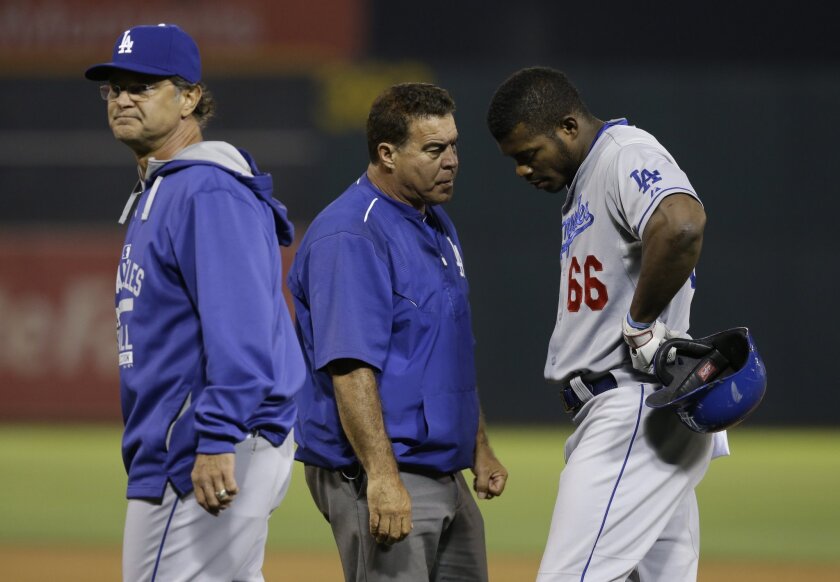 With all of their issues, the Dodgers' idea of addressing their problems is to bring on an aging second baseman hitting in the low .200s and change the third base coach. Who is making their decisions? Jim Buss?
Tom Krug
Playa del Rey
::
My wife and I cleaned out the junk in our garage this summer, and it's so much better now. Perhaps it's time for Andrew Friedman and Farhan Zaidi to do the same with the Dodgers' anemic bullpen.
Roy Reel
Culver City
::
I am a huge Dodgers fan and they will not make the playoffs. The Dodgers are out-CEO'd, out-presidented, out-GM'd and out-managed by the Cardinals and the Giants. Those teams do not have better players, but they perform better in big games. I don't know how much longer the Dodgers can play the P&P boys (Pederson and Puig) as they continue to slump. It appears the open wallet has disappeared and the recent management choices are poor at best.
I believe that Don Mattingly will take the fall, but the true culprit is further up the line.
Michael Anderson
Canyon Country
::
The Dodgers' acquisitions of Mat Latos, Jim Johnson, and Alex Wood at the trade deadline have been a disaster. Collectively, these Atlanta Braves rejects have an ERA of about 8.
The Guggenheim group has plenty of money, yet Dodgers management opted to preserve their prospects rather than acquire a proven winning pitcher such as Cole Hamels or David Price. I thought this losing attitude left town with Frank McCourt. The more things change, the more they stay the same.
Brian C. Gura
Redondo Beach
::
In Wednesday's paper, Dodgers General Manager Farhan Zaidi, commenting on the fact that the Dodgers rank near the bottom of the league in baserunning, called that part of their game "a major issue," and added, "Some of that has to do with us not having a lot of team speed."
So, on behalf of all Dodgers fans, I would like to ask Mr. Zaidi and Andrew Friedman, what were you thinking when you traded Dee Gordon?
Myron Kamisher
Los Angeles
::
Can Chase Utley pitch?
Sterling Buckingham
Canyon Country
::
Shame on the Dodgers and Time Warner Cable (and maybe DirecTV and others).
I can understand trying to make good business decisions and trying to make money. I can understand playing hardball in your negotiations
What I cannot understand is how the senior executives of all of these companies sleep at night knowing that their actions, and inactions, are willfully depriving Southern Californians from enjoying something all of us have been blessed with since 1958 — Vin Scully.
I am old enough to have listened to Vinny under the covers, past my bedtime, with a transistor radio. And I am old enough to know that Joni Mitchell's line that "You don't know what you've got till it's gone" applies to Hall of Fame broadcasters too.
I hope Vin never retires, but can we at least have a full season of listening to the greatest ever? Please?
Brian Winn
Fullerton
::
After viewing Mayor Garcetti hurling shade balls at a reservoir last week, I think he may have a future in the Dodgers' bullpen. Simply add tattoos, earrings, several gold chains and a ridiculously oversized uniform. Plus he speaks Spanish and will hold taxpayers responsible for any cost overruns.
It's a win-win.
Gary Wilson
Murrieta
::
Bill Plaschke's Aug. 12 article was spot on. With no disrespect to Don Mattingly the player, the Dodgers need a seasoned manager if they are going to succeed. Someone with minor league experience in the trenches. No surprise Bruce Bochy picked Mattingly for All-Star duty; he should want to keep him in L.A. because he knows he can outmanage him.
Donnnie Do-Wrong continues to make bad tactical on-field decisions, and two-plus years should be enough sampling to see a pattern. I'm a die-hard Dodgers fan and the eternal optimist. However, I'm wondering: When will the madness stop?
David J. Rosenblatt
Encino
::
The Dodgers should start using a trash truck to drive the relief pitchers from the bullpen to the mound.
Greg Hanson
Long Beach
::
Dodgers owners can shortchange their fans by selling TV rights to Time Warner Cable for $8 billion, but yet they pay an 11-year-veteran "clubhouse assistant" only $9 an hour? And they still use terms like batboy and ball girl? Please consider calling these essential workers by the respectful names they deserve (managers/retrievers/coordinators?) and definitely begin paying them a living wage, which in Los Angeles should be at least $15 an hour.
Patricia S. Jones
Hermosa Beach
::
Do not give up on Joc Pederson becoming a superstar. Mike Schmidt hit .196 with 18 home runs in his rookie year. Pederson is slumping, but he has 20-plus homers, and is a dandy fielder.
Hang in there with the kid. You never know.
Rodney Robb
Los Angeles (ex-Philadelphian)
Forget someone?
Regarding Mr. Trujillo's Aug. 15 letter to the editor, that as a Dodgers, Lakers and USC fan he would like to see another championship before he passes. Fair enough if he's a fan of those teams (and full disclosure, I'm a UCLA alum).
However, this town seems to be pining for the past. Yes, it's been a while since the Dodgers or Lakers have won a championship. But they have, in the past, won plenty.
What no one ever seems to be touting is that the Kings have won two Stanley Cups in the last four seasons. I would call that recently. Much more recent than those other pro teams. Baseball and basketball are not the only games in town.
Anita Mahler
Glendale
1-2 crunch
The 1948 Boston Braves had two future Hall of Fame starters (Warren Spahn and Johnny Sain) and not much else on their staff. Their classic lament went: "Spahn and Sain and pray for rain."
We Dodgers fans can relate. Something like: "Kershaw and Greinke and wave your hankie"
Alex Lakser
Marina del Rey
::
Greinke and Kershaw and "there ain't no maw"
Al Talbot
Los Angeles
::
Couldn't resist: Kershaw and Greinke and three days of stinky.
Craig L. Dunkin
Los Angeles
::
Clayton and Zack and be glad your TV is black!
Joe Sullivan
Tustin
Gamesmanship
If the IOC names LA as a candidate for 2024, Mayor Eric Garcetti's committee needs to raise $50 million. Is this the IOC's minimum bribery bid? Does the IOC give L.A. a list of bank accounts for deposits? The IOC learned well from the master, FIFA's Sepp Blatter.
Robert Bubnovich
Irvine
The League
How cool that an image of the Lombardi Trophy would be used as a focal point for the proposed Raiders/Chargers stadium in Carson. More impressive is that anybody associated with San Diego or Oakland even knows what the Lombardi Trophy looks like.
Monte Whaley
Redondo Beach
::
Jameis Winston's NFL debut has to be characterized as a success. He made it through without getting arrested.
Rich Rudy
San Diego
What's Bruin
So Bill Plaschke thinks that Jim Mora has turned the UCLA football program into a "national contender." Am I missing something? Haven't they lost 11 games in the past three seasons? 3.66 losses a season does not a national contender make.
I think that it's important for UCLA to do two things prior to being anointed a national contender — win a conference championship and play in a top bowl game — both of which have yet to be accomplished in that span.
Larry Herrera
Redondo Beach
::
Jim Mora can be thankful Josh Rosen's dad is not a rapper.
Wes Wellman
Santa Monica
::
The Los Angeles Times welcomes expressions of all views. Letters should be brief and become the property of The Times. They may be edited and republished in any format. Each must include a valid mailing address and telephone number. Pseudonyms will not be used.
Mail: Sports Viewpoint
Los Angeles Times
202 W. 1st St.
Los Angeles, CA 90012
Fax: (213) 237-4322
Email:
---
Get the latest on L.A.'s teams in the daily Sports Report newsletter.
You may occasionally receive promotional content from the Los Angeles Times.