Expectations are sky-high for Yankees newcomers Giancarlo Stanton and Aaron Boone
Reporting from Tampa —
Giancarlo Stanton was among the last to arrive at his locker on a recent spring training day.
Twelve carefully placed bats protruded from the top of his locker near a corner of the clubhouse, eight neatly ordered pairs of shoes bookended the bats at the bottom of his dressing cubicle. A few feet away was the space belonging to Brett Gardner, who in his 11th season with the team is one of the clubhouse leaders. He had already dressed, left and started his daily regimen.
Stanton stood by himself at the locker, no one greeting him, no one wandering over to say hello. Instead, he stood there with his face in his phone, a backpack strapped over his shoulders.
It would seem as if the man brought in as the missing piece of the New York Yankees' puzzle was an island.
But, much like an iceberg, there was a lot you couldn't see.
Stanton seems to be doing everything he can to be worth the $25 million the Yankees are paying after acquiring the current National League MVP in a trade with the Miami Marlins. He beat most of his teammates to camp, showing up a few days early to work at the minor-league complex. He says the right things and appears to listen.
But adding another star to a clubhouse where legends are made is not the simplest thing to navigate.
The fact that Stanton is not a large personality makes things easier. He is a man of few words and elaboration is not part of his repertoire.
"All the guys are great, easy to work with," Stanton has repeated several times since arriving.
He refers to his new baseball home as "a fun new ride," or a "great new chapter."
He's even been part of an experiment that would move him to left field so that Aaron Judge, last year's rookie of the year, can continue to play right field. So far, the results are, to be kind, inconclusive. The final outcome is unclear but the Yankees need to keep both Stanton and Judge in the lineup to realize the potential of this team. The most likely possibility that has been employed during spring training is having them alternate in the field and as designated hitter.
"We're all here for one common goal," Stanton said of his new team. "I'm a deer in the headlights. I'm asking questions getting to know how things work. I'm taking in all the information I can get."
It can't be understated how expectations are high for this team. After all, they fired manager Joe Girardi last year after he took a team that wasn't expected to do much to within one game of the World Series.
He had managed the team for 10 years and during that time had the best cumulative record in baseball, averaging 91 wins a year. But during that time the Yankees played in only one World Series (2009), which they won.
Rather than going for a veteran manager, the team looked to a former player who had television but no coaching experience.
Opening day will be Aaron Boone's first as a manager or coach on any professional level.
Still, he makes his case that working at ESPN was a great place to learn the basics.
"I went right from the playing field to the booth and to the studio," Boone said. "So. I'm living this game every day just like somebody that's been a coach or been in the front office or been scouting.
"A lot of our prep for ESPN … was analytically based, so I feel like I was prepared a little but in that way as well. It's maybe different preparation than is typical, but in some way, I feel absolutely the last seven, eight years have prepared me for this time."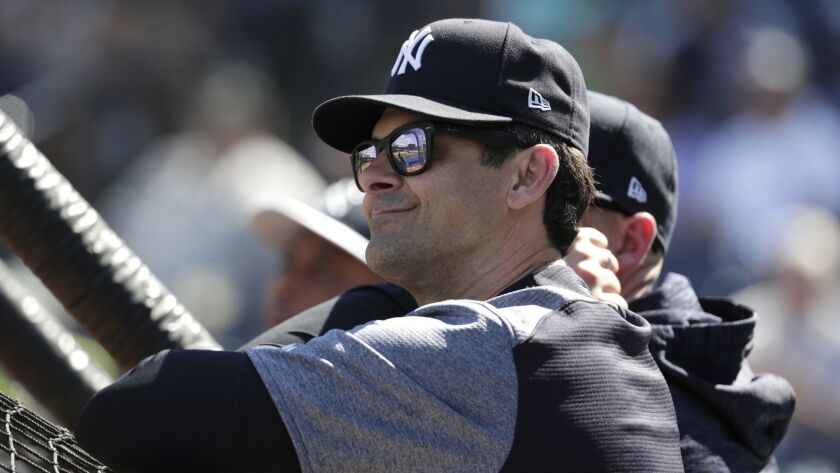 Boone has been handed a lot of tools besides Stanton, who hit 59 home runs last season, and Judge, who had 52.
Catcher Gary Sanchez has plenty of power, but needs to improve his defense.
First baseman Greg Bird is considered a potential star, but needs to be healthy to prove it. In 2016, he missed the entire season after labrum surgery. He had a great spring last year before fouling a ball off his ankle. It proved to be a harbinger as the ankle bothered him and hurt his performance until he had surgery. When he came back, his play returned to expectations.
The front of the pitching rotation, with Luis Severino (14-6), Masahiro Tanaka (13-12) and CC Sabathia (14-5), seems very strong. Tanaka had a very poor first half of the season last year and he's expected to regain the form he had in the second half. And, of course, they have Aroldis Chapman anchoring the bullpen.
"Last year was great," Boone said early in camp. "A lot of these guys came of age and viewed it as a very successful season. … The hunger is there and there's no satisfaction with what they are able to accomplish. We understand it's a very tough road. … Just because things look good right now or look good on paper and we have a great team [but] it's also very hard."
Ultimately, regardless of whether it's Stanton or someone else who puts them over the top, the success will be judged by Hal Steinbrenner and general manager Brian Cashman. And for them, success is defined as the World Series. No pressure.
---
Get our high school sports newsletter
Prep Rally is devoted to the SoCal high school sports experience, bringing you scores, stories and a behind-the-scenes look at what makes prep sports so popular.
You may occasionally receive promotional content from the Los Angeles Times.