Cody Bellinger is doing it on offense and defense, just like Mike Trout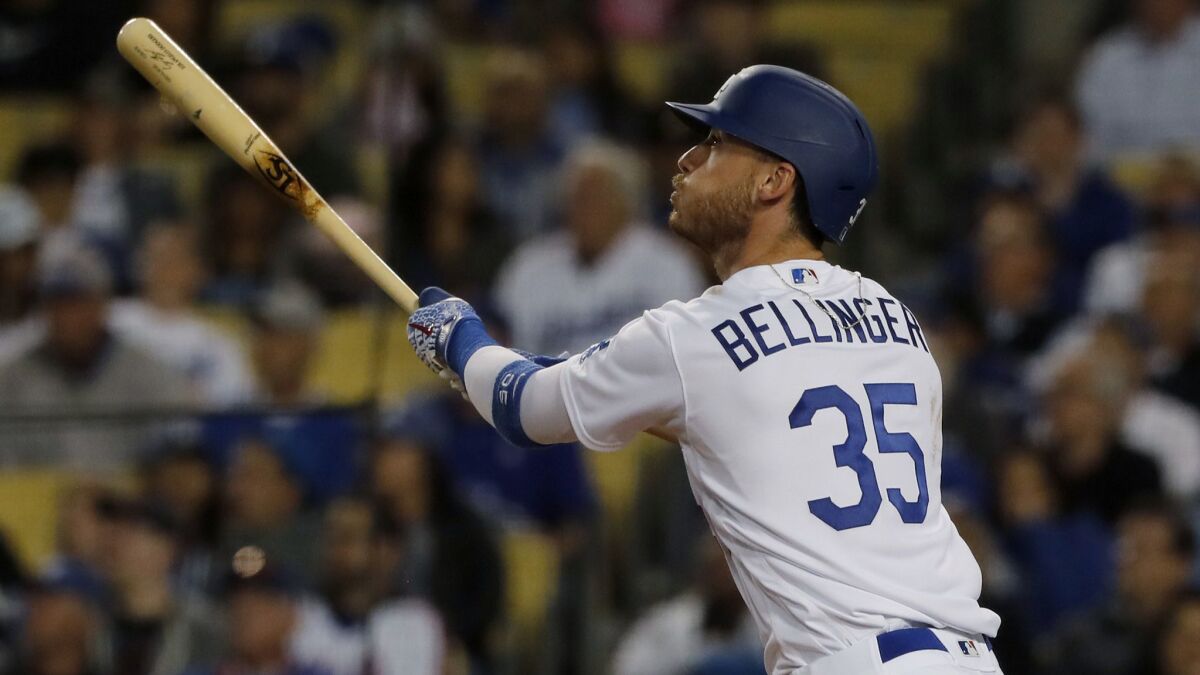 At nine minutes past 8 p.m. on Tuesday, the voice of Don Henley wafted over the bleachers at Dodger Stadium, the chorus of "Hotel California" heralding the arrival to the plate of baseball's most riveting attraction. The game between the Dodgers and the New York Mets had lasted 59 minutes without a highlight from Cody Bellinger. Within the confines of Bellinger's mesmerizing campaign, that was far too long.
There were two outs on the board and two strikes in the count when Mets pitcher Steven Matz let a curveball float toward the plate. Bellinger clobbered the mistake. His 20th home run of this season crashed into the right-field pavilion. Bellinger bounced around the bases as the ballpark roared with appreciation.
"Honestly, I think this is the tip of the iceberg," manager Dave Roberts said about Bellinger a couple hours earlier, inside his team's dugout before a 7-3 loss. "He's a young player. He's very athletic. There's nothing on the field he can't do."
On Tuesday, Bellinger became the first Dodger since Gil Hodges in 1955 to hit 20 homers in the first 55 games of a season. He will need only two more to match his total from 2018. The single-season franchise record of 49 homers held by Shawn Green will be under assault. Among his contemporaries, Bellinger leads the sport in batting average (.382), on-base percentage (.469) and slugging percentage (.770).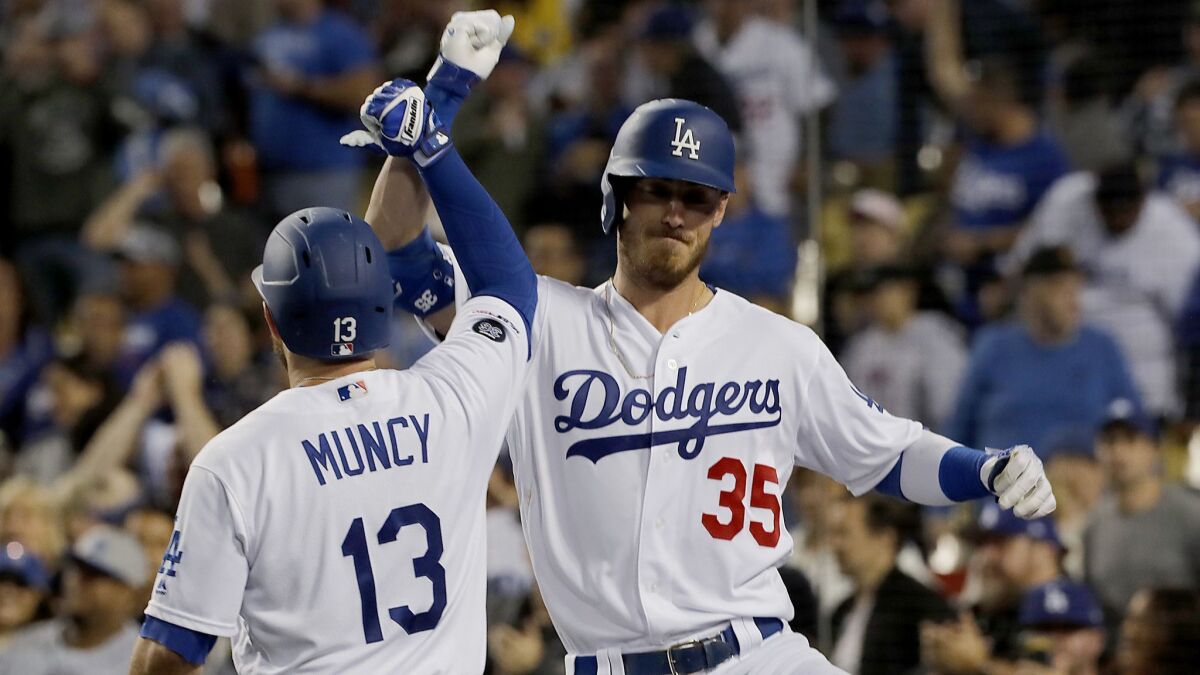 The gaudy production is only part of the package. A day earlier, Bellinger homered and made a pair of run-saving throws from right field. He unspooled the second throw in the eighth inning to protect a multi-inning save from Kenley Jansen. Mets manager Mickey Callaway marveled afterward that Bellinger had created a highlight that might linger for 30 years, and compared Bellinger to Hall of Famer Vladimir Guerrero.
"They're going to be playing that over and over," Callaway said. "It's just an unbelievable play."
After Monday's game, Bellinger was worth 5.2 wins above replacement, according to Baseball-Reference. He towered above his peers. Angels outfielder Mike Trout was tied with Minnesota Twins shortstop Jorge Polanco for second among hitters with 3.4 WAR. FanGraphs was slightly less effusive: Bellinger led the sport with 4.3 WAR, with Trout trailing at 3.4.
Sign up for our daily sports newsletter »
Bellinger cannot be considered the best player in baseball. Two months of pyrotechnics is not enough to override nearly a decade of brilliance from Trout. But Bellinger is playing at a level at which few can relate — even Trout. Bellinger entered Tuesday with a 1.229 on-base plus slugging percentage across the season's first two months. Since he debuted in 2011, Trout has completed only four calendar months with a higher OPS.
Before being hired as the Dodgers third base coach this winter, Dino Ebel spent more than a decade on the Angels coaching staff. He burst into a grin when asked about the commonalities between Bellinger and Trout.
"He's at the same level at how I saw Trout go about his business every day," Ebel said. "Trouty's prepared, same as Cody. Brings it on the field every day. Wants to be in the lineup every day. Plays the game hard every day.
"There's a similarity there, where the talent level is really good: Elite speed, elite arm, the power is elite. The tools and the numbers are there. Trouty has, obviously, been doing this for a few more years."
Trout separates himself from his peers with his consistency. Ebel noted how rarely Trout allows one bad game to flow into another. One recent 10-for-47 stretch from Trout classified as a calamity. He has rebounded to resume abusing pitchers and playing superlative defense in center field. His excellence feels inevitable.
Bellinger has yet to reach that rarefied air. He sputtered through an irritating 2018 season, in which he never found a rhythm and spent postseason games on the bench because of his .681 OPS against left-handed pitchers. Bellinger vowed to avoid that fate this season.
Early in the spring, Bellinger declared that he did not belong in a platoon. He sharpened his approach against left-handed pitchers, cutting back on chases outside the zone and trusting his strength to do damage. He entered Tuesday with a 1.090 OPS against left-handed pitchers — and that was before his homer off Matz, a southpaw.
"I just marvel at what this guy has done," Roberts said.
The usefulness of WAR is that the statistic attempts to measure the sum of a player's skills. So Bellinger gets rewarded for his speed, his slugging, his arm and his versatility. Outfield coach George Lombard suggested Bellinger could merit a Gold Glove at four positions: the three spots in the outfield plus his former home at first base.
Bellinger divided his time between first base and center field last season. When the Dodgers signed A.J. Pollock this winter, the team asked Bellinger to move to right field. He had appeared in only six games there in the majors. He accepted the assignment and transferred his athleticism into the corner.
"When you get around the game, and you're taught the right way at a young age, it's like playing in your backyard," Lombard said. "And that's what it looks like when he's out there. He's having fun. He just makes plays look so easy."
Bellinger is not infallible. At 9:45 p.m., "Hotel California" cranked for the fourth time on Tuesday. Bellinger represented the tying run as he stood in against Mets reliever Robert Gsellman in the seventh inning. Bellinger flailed at a changeup down the middle before popping up a fastball to end a rally.
In baseball, failure is not rare. It is constant. Failure undergirds the sport. But failure from Bellinger still looks odd in 2019, as he romps through game after game, racking up highlights and home runs.
"It's like every single day there is something new that he's doing to impact the game," Roberts said. "He's only growing."
Twitter: @McCulloughTimes
Get our high school sports newsletter
Prep Rally is devoted to the SoCal high school sports experience, bringing you scores, stories and a behind-the-scenes look at what makes prep sports so popular.
You may occasionally receive promotional content from the Los Angeles Times.