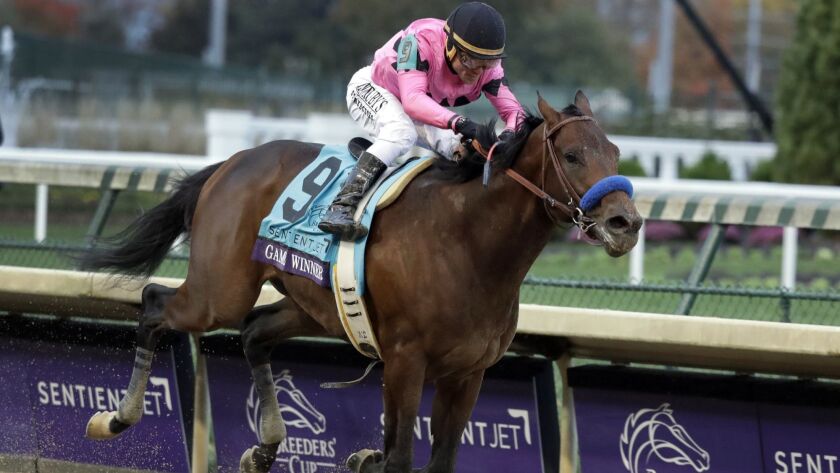 One would be hard pressed to find a trainer who has brought more great horses to run at Los Alamitos than Bob Baffert.
West Coast won the Los Alamitos Derby in 2017 before earningthe Eclipse Award for best 3-year-old male.
Arrogate ran his debut race at Los Alamitos as a 3-year-old and finished third before winning his next seven races and an Eclipse Award.
There are also McKinzie, Improbable, Mastery, Mor Spirit and Dortmund, all Grade 1 winners.
"All my good horses have trained here," including Triple Crown winners American "Pharoah and Justify, every good horse I've had has been through Los Alamitos," Baffert said.
But, for the first time, on Saturday he's bringing one of his super horses to race at Los Alamitos after the colt has won an Eclipse Award and Breeders' Cup race.
Game Winner is the 1-5 favorite in the Grade 3 $150,000 Los Alamitos Derby, which is likely to be little more than a 1 1/8-mile paid workout, especially with a field of only four horses. Game Winner, who won the Eclipse Award as best 2-year-old and the Breeders' Cup Juvenile, hasn't run since the Kentucky Derby, where he was awarded fifth place after the disqualification of Maximum Security.
Sign up for our horse racing newsletter »
Winning the Los Alamitos Derby will be nice, but not the end game.
Game Winner's next race? "I'm thinking of the Travers," Baffert said. "This gives us a little more time. We did this with West Coast."
The more challenging and lucrative move would have been to send Game Winner to Monmouth for next week's $1-million Haskell Stakes to run against Maximum Security, but Gary West owns both horses.
"If Gary West didn't own Maximum Security, we probably would have gone to the Haskell," Baffert said.
Baffert has always been a fan of Los Alamitos, back to when he trained quarter horses at the Cypress track.
"[Owner] Dr. [Ed] Allred has always been great to me, running quarter horses or thoroughbreds," Baffert said. "I like the community at Los Alamitos. When I was growing up in the business, it was the big time. If you had a horse that could make it to Los Alamitos, you had something special."
With all the talk about racing surfaces in the wake of horse fatalities during the winter-spring meeting at Santa Anita, Baffert said he likes the dirt at Los Alamitos.
"Horses are able to get over the track real well without getting tired," Baffert said. "All in all, it's very fair if you run off the pace. And it's a very safe track."
Last year, Los Alamitos had a fatality rate of 1.05 per 1,000 starts during its three meets. The national average is 1.68.
Los Alamitos has struggled with short fields during this meeting, canceling three of its scheduled 12 race days. It skipped the Thursday and Friday of the opening week and canceled Thursday's races this week because of a shortage of horses.
The track has not received a lot of respect from the committee that grades races. Its signature Los Alamitos Futurity was dropped from a Grade 1 to a Grade 2 this coming December.
"I think if they had done what they did at Calder [in South Florida] where they called it Gulfstream Park West it could have made a difference," Baffert said. "Call it something like Santa Anita South instead of Los Alamitos, which everyone associates with quarter horses. That could have made a difference. Or if Brad McKinzie were still alive."
McKinzie was the thoroughbred general manager and long-time Los Alamitos executive until his death in 2017. The horse McKinzie is named after him.
Despite the expected ease of the race, Joel Rosario, Game Winner's regular rider is coming in from Saratoga for this one race.
"I think we're going to see the Game Winner we saw at the end of last year," Baffert said. "He's got that spark back."
Click here (or type in this url: lat.ms/2wVt90g) to sign up for our free horse racing newsletter.
---