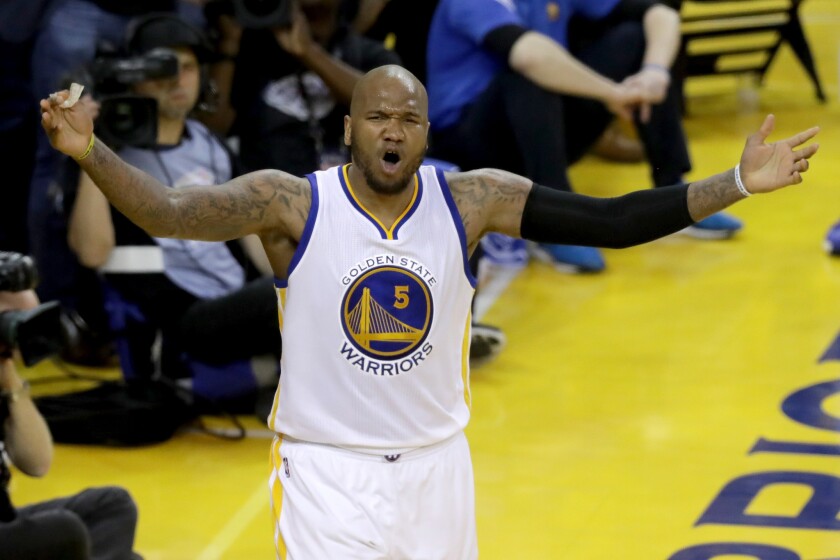 The Clippers added some championship pedigree to their bench Friday, agreeing with free agent Marreese Speights on a one-year deal for the veteran's minimum.
The move considerably softens the departure of center Cole Aldrich and serves as a bargain find amid the more than $3 billion that has been spent on NBA free agents in the last week.
The 6-foot-10 Speights will be able to back up both center DeAndre Jordan and power forward Blake Griffin, giving the Clippers some desired versatility.
Speights has added value as a big man who can lure defenders away from the basket because of his outside shooting touch. He made a career-high 38.7% of his three-pointers last season for the Golden State Warriors while averaging 7.1 points and 3.3 rebounds in 11.6 minutes per game.
Speights won a title with the Warriors in 2015 and was one victory away from a repeat last month before the Cleveland Cavaliers' epic comeback from a 3-1 deficit in the NBA Finals.
Playing for the Warriors also made Speights something of an archrival of the Clippers, though the tenor of the rivalry had gone from revulsion to resignation. Golden State has won seven of the last eight meetings after the Clippers defeated the Warriors in the first round of the 2014 playoffs.
The eight-year veteran, who turns 29 next month, has career averages of 7.8 points and 4.1 rebounds in 15.2 minutes per game. He has been primarily a backup at each of his four NBA stops — except Memphis, where he started 54 of 60 games during the lockout-shortened 2011-12 season.
The Clippers now have 12 players under contract for next season, not including their three draft picks from last month.
Coach Doc Rivers has said he expected all three players to be on the team, but the Clippers could open another roster spot if veteran forward Paul Pierce decides to retire. Second-year forward Branden Dawson has a non-guaranteed contract for next season.
---