Trending in the NBA: Brooklyn Nets rebuilding without the aid of draft picks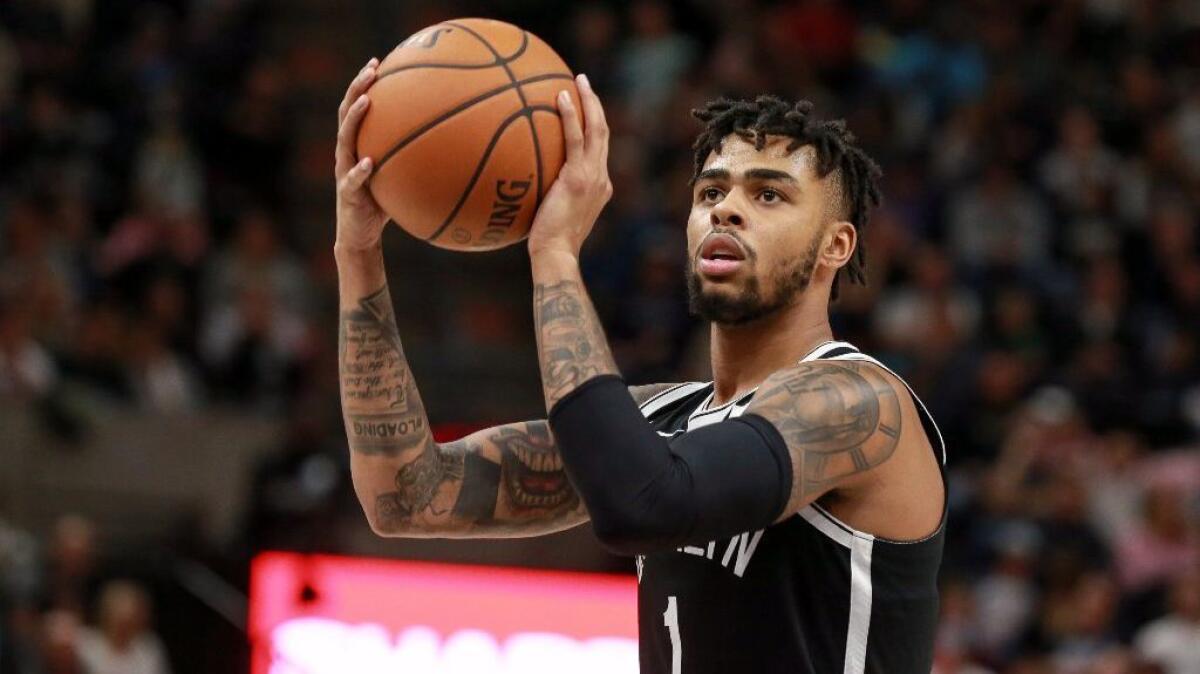 A look at what's trending in the NBA:
Building in Brooklyn
When Sean Marks took the Brooklyn general manager job less than two years ago, he inherited what seemed to be an impossible mess. He was charged with rebuilding one of the league's worst teams without losing's its biggest benefit — high draft picks.
The Nets' awful 2013 Boston trade for Kevin Garnett and Paul Pierce, the one with no protection on the dealt picks, left Brooklyn without its first-round draft choices in Marks' first three drafts (including 2018). The Celtics have turned the past two draft spots into Jayson Tatum and Jaylen Brown. Ouch.
Creatively, Marks still has landed top draft picks. He traded Thursday for Jahlil Okafor, the 2015 No. 3 pick, after trading in June for D'Angelo Russell, the 2015 No. 2 pick.
Russell, who was averaging 20.9 points and 5.7 assists in 12 Nets games before knee surgery, carries more long-term potential than Okafor, but the latter also carries no risk.
Marks gave up the expiring contract of veteran power forward Trevor Booker for the expiring contracts of Okafor and Nik Stauskas while also picking up one of the second-round draft choices that Philadelphia has stockpiled.
The ceiling for Okafor's low-post scoring forte, average rebounding and subpar defense is not high in today's style, but he at least comes with that traditional asset. And now he has a chance, after getting only 25 minutes of action in two 76ers appearances this season.
Okafor maintained himself professionally, although his father wore a "FREE JAH" shirt to a game last month, and is in better shape this season. He is less than two years removed from finishing an All-Rookie first team season with 17.5 points per game.
Okafor's 22nd birthday is Friday, but his present arrived early. Without a pick, his new team has no reason not to try him.
Oh my, Oladipo
Indiana moved to 2-0 against Cleveland this season by ending the Cavaliers' 13-game winning streak on Friday night, and the leading suspect in the assault is Pacers guard Victor Oladipo.
With improved shooting, physical shape, shot selection and ball-handling opportunities, Oladipo is making a rare jump for a player on his third team and fifth season.
The return to his college state has done wonders for Oladipo, who had 33 points, eight rebounds and five assists in Friday's win. After averaging 15.9 points for his first four NBA seasons, the 2013 No. 2 pick is averaging 23.6 points this season and asserts himself like an All-Star.
That has made Nate McMillan's Pacers much better than expected. Indiana has been tough at home (9-4) to move to 15-11 overall. Life after Paul George is going better than expected, giving the basketball-crazy locals more enjoyment than any recent season and a star pairing for the future in Oladipo and Myles Turner.
Sonic loom?
Seattle's city council agreed Monday to a "Memorandum of Understanding" with Los Angeles-based, Tim Leiweke-led Oak View Group for a privately financed $660 million renovation of KeyArena.
The deal will allow for work to be competed as early as 2020, in time for a potential NHL expansion or relocation that could be announced in July.
But Wednesday's announcement made it clear where the city's heart lies. Mayor Jenny Durkan revealed an original Seattle SuperSonics T-shirt beneath her jacket. Seattle lost the NBA franchise when owner Clay Bennett moved it to Oklahoma City in 2008.
A measure for a new Seattle arena was rejected by the city council in May 2016.
By the numbers
During Cleveland's 13-game winning streak, LeBron James averaged 27.3 points, 8.9 rebounds and 8.2 assists with 57.3% shooting from the field and 47.3% shooting on three-pointers.
Milwaukee's Giannis Antetokounmpo turned 23 on Wednesday. He is the only player in NBA history besides James and Tracy McGrady to reach 5,000 points, 2,000 rebounds and 1,000 assists before his 23rd birthday.
Golden State completed a 6-0 road trip on Friday night by winning at Detroit without Stephen Curry. That made the Warriors the first team to sweep a six-game trip since the 2009 NBA champion Los Angeles Lakers did it during a 65-17 season.
New York unicorn Kristaps Porzingis was shooting 51.3% from the field through the first 11 games. He was shooting 38.9% from the field in the past nine games, entering Saturday night vs. Chicago.
Looking ahead
PHILADELPHIA at MINNESOTA: Tuesday at 6:30 p.m. PT. TV: ESPN.
This center battle is not to be missed because it takes place only twice a year. Philadelphia's Joel Embiid, 23, and Minnesota's Karl-Anthony Towns, 22, might be the best two young centers in the NBA, although Utah's Rudy Gobert is worth a debate too. Each of the starting centers has another young co-star (Ben Simmons, 21, on the 76ers and Andrew Wiggins, 22, on the Timberwolves) to lead the franchises' breakthrough seasons, but Minnesota has the All-Star veteran, guard Jimmy Butler, to keep them afloat.
Get our high school sports newsletter
Prep Rally is devoted to the SoCal high school sports experience, bringing you scores, stories and a behind-the-scenes look at what makes prep sports so popular.
You may occasionally receive promotional content from the Los Angeles Times.