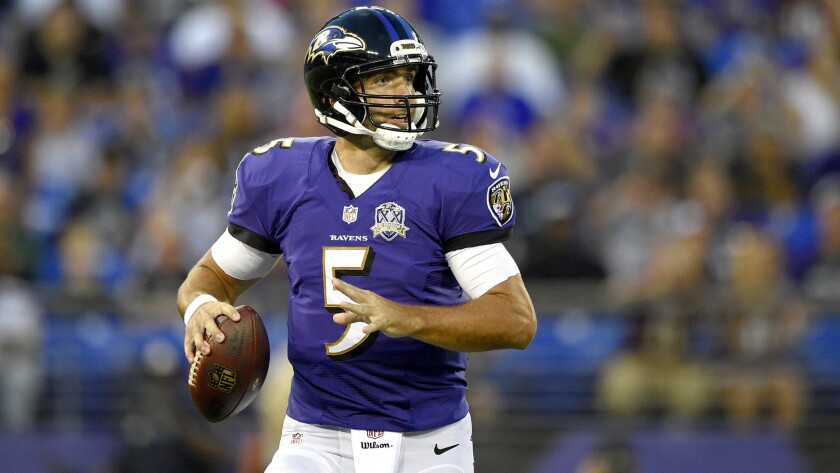 A preview of each AFC team. Listed in order of predicted finish.
WEST DIVISION
1. DENVER
2014 | 12-4, 1st in West
Last year in playoffs | 2014
Going all the way: Peyton Manning might be knocking on the door of 40, but it's foolish to count him out. He was playing at an MVP pace for the first half of last season, with 22 touchdowns and three passes for interceptions in seven games before being slowed by a quadriceps injury and his team's abrupt change to a run-based offense. Tight end Owen Daniels replaces Julius Thomas and should factor heavily into the passing game.
They're doomed: In the offense of new Coach Gary Kubiak, Manning will be under center, as opposed to back in shotgun, and he will do less directing of traffic at the line of scrimmage. The line is a big question mark, considering the center, left guard and left tackle have a grand total of zero NFL snaps.
Now hear this: "Would we like to be in the perfect play? Do we have the guy that can get us there a majority of the time? Yes, we do. But I don't want us to ever lose our tempo or our speed." — Kubiak
::
2. SAN DIEGO
2014 | 9-7, 3rd in West
Last year in playoffs | 2013
Going all the way: Quarterback Philip Rivers is the centerpiece of the franchise and has done a masterful job of masking some of the offensive weak spots. The team has a bolstered running game with the addition of first-round pick Melvin Gordon, and a healthy Danny Woodhead. On defense, the secondary was the most improved part of the team last year and figures to be better this season. Cornerback Jason Verrett is a budding superstar.
They're doomed: The offensive line remains a major work in progress. Center has been a revolving door. Depth at outside linebacker is an issue. Malcom Floyd is the only field-stretching receiver, and he's almost 34.
Now hear this: "You've got to calm down and keep telling yourself, 'It'll come to you.' I think that's what a lot of players and probably a lot of rookies have to learn. You want to be great so fast. Sometimes, it just doesn't happen that way." — Gordon, to the San Diego Union-Tribune
::
3. KANSAS CITY
2014 | 9-7, 3rd in West
Last year in playoffs | 2013
Going all the way: The Chiefs have gotten remarkably little production from their receivers in recent years, and the switch from Dwayne Bowe to Jeremy Maclin could have a big impact. Maclin is a playmaker, someone Kansas City can use in a variety of ways to complement running back Jamaal Charles and tight end Travis Kelce. It's time for quarterback Alex Smith to take some risks and take his team to that next step. Star safety Eric Berry is back, eight months removed from his Hodgkin's lymphoma diagnosis, and he provides an emotional and physical boost.
They're doomed: The Chiefs have problems along the offensive line, and that could spell problems for Smith. This season will be a test for the quarterback, who has been especially conservative in Kansas City so far. The addition of Maclin is a positive, but the Chiefs don't have a lot of receiving weapons beyond him.
Now hear this: "Fear nothing, attack everything." — Berry
::
4. OAKLAND
2014 | 3-13, 4th in West
Last year in playoffs | 2002
Going all the way: In Jack Del Rio, the Raiders have their most authoritative head coach since Jon Gruden, and quarterback Derek Carr is their most promising since Rich Gannon in his heyday. Not only has rookie Amari Cooper looked excellent, but also veteran receiver Michael Crabtree might have had a better training camp than anyone. Running back Latavius Murray should roll up a lot of yards, and second-year linebacker Khalil Mack will drag down a lot of quarterbacks.
They're doomed: The Raiders have had to reshuffle their offensive line, and now they've lost right tackle Menelik Watson to a torn Achilles' tendon. The secondary looks like it could be a problem, and that's especially bad news in a division that includes quarterbacks Peyton Manning and Philip Rivers. Cornerback D.J. Hayden, the team's top pick in 2013, hasn't panned out so far.
Now hear this: "Goal No. 1 is to win our division, and I don't see why not." — Del Rio
::
NORTH DIVISION
1. BALTIMORE
2014 | 10-6, 3rd in North
Last year in playoffs | 2014
Going all the way: Could it be that after all these years, and a Super Bowl ring, Joe Flacco is still underrated? He's ultra-reliable and durable and has pinpoint accuracy. Few quarterbacks can throw the deep out as well. The entire offensive line is back and is especially tough in the interior with guards Marshal Yanda and Kelechi Osemele. On defense, Terrell Suggs and Elvis Dumervil were the league's most productive sack tandem. In 2014, linebacker C.J. Mosley was the first rookie in club history to make the Pro Bowl.
They're doomed: The Ravens lost field-stretching receiver Torrey Smith and defensive stalwart Haloti Ngata. Depth at cornerback has been an issue.
Now hear this: "Joe Flacco is a great player, he's only going to get better. I think he's hitting his stride, hitting the peak of his career. And I wouldn't want any other quarterback in the National Football League. Period, end of story." — Coach John Harbaugh
::
2. PITTSBURGH
2014 | 11-5, 1st in North
Last year in playoffs | 2014
Going all the way: The offense broke club records for points, total yards, yards passing per game and first downs in a season. Quarterback Ben Roethlisberger has grown increasingly comfortable in coordinator Todd Haley's scheme. The Steelers have a superstar receiver in Antonio Brown, and a game-breaking running back in Le'Veon Bell. The team has a ton invested in four first-round linebackers.
They're doomed: The Steelers have swapped defensive coordinators, going from the legendary Dick LeBeau to the longtime assistant Keith Butler. The defense is younger and faster, but will need time to adjust. Normally at the top of the league, the Steelers slipped from 13th in yards allowed in 2013 to 18th last season.
Now hear this: "[The defense is] really starting to come along. They're a fast, physical group. It'll be neat to see what they do this year. But we still want to score 30 points a game because that is our goal." — Roethlisberger
::
3. CINCINNATI
2014 | 10-5-1, 2nd in North
Last year in playoffs | 2014
Going all the way: The Bengals have an outstanding young running back in Jeremy Hill, who led the NFL in rushing during the final nine games of last season. The Cincinnati secondary is as deep and talented as any in the NFL, and boasts four first-round cornerbacks: Dre Kirkpatrick, Leon Hall, Darqueze Dennard and Adam Jones. Reggie Nelson and George Iloka are two of the NFL's best coverage safeties. Defensive tackle Geno Atkins looks as if he's back to his old form a year after coming off an injury to a knee ligament.
They're doomed: Quarterback Andy Dalton still shrinks in big games, and his interception rate has increased in each of his four seasons. Still lots of questions on defense. They have reached the postseason four years in a row but have yet to win a playoff game under Coach Marvin Lewis.
Now hear this: "I want to hand Mike the trophy, then just walk away." — Lewis, on aspirations of winning a Super Bowl for Bengals owner Mike Brown
::
4. CLEVELAND
2014 | 7-9, 4th in North
Last year in playoffs | 2002
Going all the way: Spend too much time focusing on quarterback Johnny Manziel, and you could miss the heavy lifting the Browns have done on the offensive and defensive lines. The Browns added guard Cameron Erving and rookie defensive tackle Danny Shelton, and both could be impact players.
They're doomed: Typically, the problems for the Browns start at quarterback. Josh McCown doesn't set hearts aflutter and Manziel, currently nursing an elbow injury, was pretty much a disaster last season anyway. Despite adding receivers Dwayne Bowe and Brian Hartline, Cleveland has a tough time stretching the field. This team will be hard-pressed to match last season's 6-3 start.
Now hear this: "I think we're on the right track so we're not going to blow things up. I understand why people might ask that after a couple of bumps in the first couple of years, but we are not going to do that." — Browns owner Jimmy Haslam
::
SOUTH DIVISION
1. INDIANAPOLIS
2014 | 11-5, 1st in South
Last year in playoffs | 2014
Going all the way: The Colts didn't just dive into free agency this spring, they conducted a fantasy draft. They picked up a number of aging standouts, among them Houston receiver Andre Johnson, Philadelphia linebacker Trent Cole, and San Francisco running back Frank Gore — players with 14 Pro Bowls among them — to bolster a team that has steadily improved over the course of the Andrew Luck era.
They're doomed: Protecting Luck is paramount, and this offensive line has had its issues. The Colts need to turn up the heat on opposing quarterbacks too, and that won't be easy with an on-the-mend Robert Mathis watching from the sideline.
Now hear this: "There definitely could have been the mind-set of, 'Oh, we're really close. Maybe a few small adjustments will make the difference.' But I'm impressed that we went out and didn't play it safe. We went to the ends of the Earth to do what it takes." — Tight end Coby Fleener
::
2. HOUSTON
2014 | 9-7, 2nd in South
Last year in playoffs | 2012
Going all the way: Everything starts with defense and the outstanding line that's anchored by J.J. Watt and Vince Wilfork. Watt might be the most disruptive player in the game, and Wilfork was a longtime fixture in New England who brings winning experience to an organization that needs it. Defensive end Jared Crick is an underrated guy who could be a playmaker, and Houston has uncommon depth in the secondary behind corners Kareem Jackson and Johnathan Joseph. Receiver DeAndre Hopkins will have a big year if the Texans can get him the ball.
They're doomed: Brian Hoyer doesn't inspire huge confidence at quarterback, but he's had his moments. All-Pro receiver Andre Johnson is gone. There are problems with offensive line depth, and guard Xavier Su'a-Filo has had injury problems.
Now hear this: "All we need is consistent play out of our quarterbacks; they don't have to be superheroes." — Texans owner Bob McNair
::
3. TENNESSEE
2014 | 2-14, 4th in South
Last year in playoffs | 2008
Going all the way: We don't know how rookie quarterback Marcus Mariota will perform, but he's certainly an asset in the locker room. He has some good receivers in Kendall Wright and Harry Douglas, and a capable trio of tight ends in Delanie Walker, Anthony Fasano and Craig Stevens. The Titans have an excellent pair of outside linebackers in Brian Orakpo and Derrick Morgan.
They're doomed: The team has a rookie quarterback, and an unconventional one at that. The most experienced running back is second-year man Bishop Sankey, and the offensive line is shaky outside of left tackle Taylor Lewan.
Now hear this: "I think the element of him being able to extend the play and move adds a lot, so that's what we have to work through. You just don't want to get to a point where you're not allowing him to play fast because that's certainly one of his best assets." — Coach Ken Whisenhunt on Mariota
::
4. JACKSONVILLE
2014 | 3-13, 3rd in South
Last year in playoffs | 2007
Going all the way: In his second season, quarterback Blake Bortles looks remarkably improved and comfortable. He spent the off-season working with throwing coach Tom House, and clearly that has paid dividends. It helps that the offensive line is working like a far more cohesive unit after surrendering 71 sacks last season. The addition of tackle Jermey Parnell and center Stefen Wisniewski has given that line a boost, as has the coaching of Doug Marrone. Once Julius Thomas is healthy, Bortles will have a big and reliable target.
They're doomed: This is largely an untested group, one that has looked good against the vanilla schemes of the preseason. The Jaguars need to crank up their pass rush, and they are inexperienced although talented at receiver.
Now hear this: "It's more educated now. I'm knowing the matchup and situation better. Last year, it was like, let's chunk it. It's definitely more of an educated guess now." — Bortles
::
EAST DIVISION
1. NEW ENGLAND
2014 | 12-4, 1st in East
Last year in playoffs | 2014
Going all the way: Not only are the Patriots defending Super Bowl champions, but they have won 12 AFC East titles in 14 years. They remain the favorite mostly because they still have Tom Brady at quarterback and Bill Belichick as coach. Tight end Rob Gronkowski remains a dominant force, and cornerback Malcolm Butler looks like a rising star. New England picked up a good pass rusher in Jabaal Sheard, who can play linebacker or end.
They're doomed: Deflategate and the associated Brady limbo has been a distraction. Cornerbacks Darrelle Revis and Brandon Browner are gone, as is man-mountain nose tackle Vince Wilfork. Replacing multi-threat running back Shane Vereen won't be simple.
Now hear this: "I've just got to get caught up and get on the same page with everybody, and I'll be able to show what I can do. Whoever those naysayers are, just watch me work." — Newly signed receiver Reggie Wayne
::
2. MIAMI
2014 | 8-8, 3rd in East
Last year in playoffs | 2008
Going all the way: The Dolphins already could pressure the passer with defensive ends Cameron Wake and Olivier Vernon. This off-season, they added a beast in the middle in defensive tackle Ndamukong Suh. Quarterback Ryan Tannehill has looked like a different player in training camp and has shown an ability to throw an accurate deep ball, something that was missing last season. He has a better group of receivers to work with, including Greg Jennings and Kenny Stills. Lamar Miller has quietly become one of the league's more reliable backs.
They're doomed: Once again, the offensive line will be an issue. Left tackle Branden Albert is coming off a torn knee ligament, and both guards are question marks. Coach Joe Philbin hasn't had a winning season in three years.
Now hear this: "I don't have a problem saying this, but I think personally that we have more talent here than we had in the No. 1 defense last year in Detroit." — Suh3.
::
3. BUFFALO
2014 | 9-7, 2nd in East
Last year in playoffs | 1999
Going all the way: The Bills have the best defensive line in football, with Pro Bowl players Kyle Williams, Marcell Dareus and Mario Williams, and the guy who didn't make it, Jerry Hughes, hitting double digits in sacks. Coach Rex Ryan showed in his early years with the New York Jets a knack for turning around franchises. Buffalo has some playmakers at receiver, with Sammy Watkins, Robert Woods and Percy Harvin.
They're doomed: Buffalo hasn't had an unquestioned starter at quarterback since Drew Bledsoe. Tyrod Taylor is getting the Week 1 nod. Last year's offensive line was rated the league's worst by ProFootballFocus, and there's no reason to think it has improved.
Now hear this: "I think it just talks about giving people second chances. And maybe third chances, or whatever. But at the end of the day, when you get it, it's worth it." — Ryan, on signing players despite past transgressions
::
4. NEW YORK JETS
2014 | 4-12, 4th in East
Last year in playoffs | 2010
Going all the way: Like Buffalo, the strength of this team is the defensive line, led by Muhammad Wilkerson and Sheldon Richardson. Damon Harrison, the 350-pound defensive tackle nicknamed "Snacks" because he's so large, is surprisingly agile. Just like old times, Darrelle Revis and Antonio Cromartie are back at the corners. The Jets have good depth at running back too, with a respectable one-two punch in Chris Ivory and Bilal Powell. The offensive line is decent, anchored by tackle D'Brickashaw Ferguson and center Nick Mangold, both in their 10th seasons.
They're doomed: The quarterback situation is a mess, with Geno Smith nursing a jaw that was broken by a (former) teammate. It's unlikely either he or Ryan Fitzpatrick will take the team too far.
Now hear this: "We didn't win last year and there's really nothing to talk about other than us getting better. All the other outside stuff, you don't worry about." — Coach Todd Bowles
---