AFC North preview: Ben Roethlisberger gives the Steelers another year of hope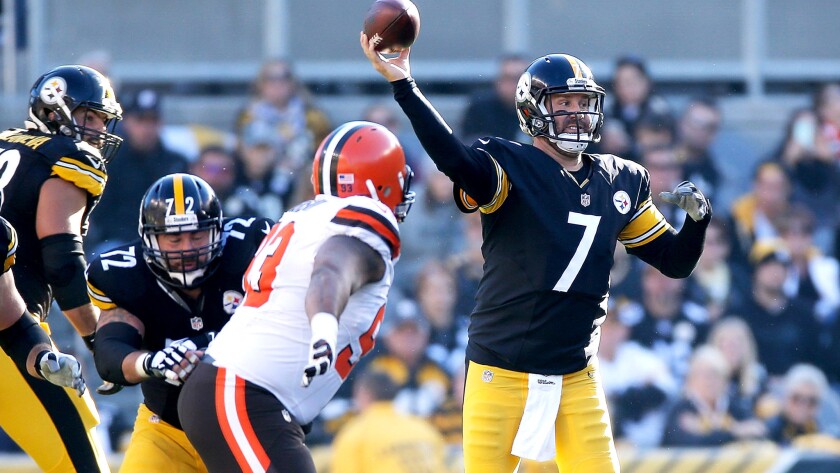 Now it can be told: Ben Roethlisberger's retirement rumba in January was nothing more than a hypothetical exercise, no reason for Pittsburgh Steelers fans to hit the panic button.
"It was just thoughts," the two-time Super Bowl-winning quarterback told a radio show in Pittsburgh of his retirement musings. "It was just, I think, a prudent thing to do. Maybe I should've worded it like,'Hey, I'm probably coming back, but I need to consider all my options.' It had nothing to do with the [loss to New England in the AFC championship] and this and that.
"It really was all about football, life and what's going on at my age."
Roethlisberger, 35, needs 3,186 yards to become the seventh player in NFL history with at least 50,000 yards passing. He also needs 196 completions to become the eighth player with 4,000.
"I hate to say that I'm going to play for 10 more years, and I've said this before: I want to focus on this year," he said. "I'm going to give everything I have to this year, and if I'm going to say, 'I'm definitely going to be here in three years,' well, then I'm cheating. I'm giving myself a timeline.
"I want to be right here, right now, and give everything I have to this. When I'm done, I'll know I'm done."
In Baltimore, the Ravens are waiting for Joe Flacco to return to health. He tweaked his back while working out this offseason, leaving him to rehabilitate this summer. The 10-year veteran has made it through nine full seasons.
"It's kind of a waiting game," Flacco said in July. "It's just one of those things where you have to be patient and not let your competitive nature get the best of you. I'm talking about everybody — myself, and really everybody."
During training camp, Ryan Mallett worked with the Ravens' first-string offense.
Andy Dalton of the Cincinnati Bengals had a career-best rating of 106.2 in 2015, but he took a small step back last season when his number dipped to a still-respectable 91.8 but the Bengals finished 6-9-1.
The Bengals added a couple of potent offensive players in the draft, with Washington receiver John Ross, a scorching speedster, and Oklahoma running back Joe Mixon.
As for Cleveland, the Browns have different quarterback options, none of them terribly appealing.
The team traded for Houston's Brock Osweiler, with the intent of turning around and trading him, while keeping the draft picks included in the exchange. The team has decided to go with DeShone Kizer, a rookie from Notre Dame who was drafted in the second round, but at this point has no quarterback who sends a chill down the spines of opposing teams.
The star quarterback in this division resides in Pittsburgh. Age and experience has given Roethlisberger a different perspective on the game and his mortality. He took himself out of a game last season after suffering a concussion and later said it's important for players to self-report head injuries.
"You can replace a lot of body parts, but you can't replace a brain," he said. "You see the effects of it from past players, players who have taken their lives, the [chronic traumatic encephalopathy], all that stuff and, you know, I'm thinking about my family and long term. I love this game and I love my brothers that I play football with, and I would encourage any player who has an issue with their brain to just report it properly.
"We are blessed to play this game but we also have a life to live."
Here is a capsulized look at each team in the NFC North in predicted order of finish:
1 | STEELERS
2016 | 11-5, 1st in North
Last year in playoffs | 2016
Going all the way: Martavis Bryant was suspended all last season for violating the NFL's drug policy. The 6-foot-5 receiver is back and that's huge for the Steelers. Outside linebacker Bud Dupree, a first-round pick in 2015, missed the first 10 games last season with a groin injury. He came back and had 4½ sacks in the final six games and will start on the left side. The Steelers' best defensive lineman, Cam Heyward, will be a welcome sight as he returns from a torn pectoral muscle. Pittsburgh has a great quarterback in Ben Roethlisberger and one of the league's best offensive lines.
They're doomed: The main area that needs improvement is the secondary. Their cornerbacks are a soft spot. At least back Le'Veon Bell isn't suspended to start this season, but he's in his fifth year and has made it through a 16-game season once.
Now hear this: "I want to win everything. I just won the dart tournament that they have in camp. I want to win in everything we do." — Roethlisberger.
2 | CINCINNATI
2016 | 6-9-1, 3rd in North
Last year in playoffs | 2015
Going all the way: The Bengals made a concerted effort this offseason to improve team speed. They drafted scorching receiver John Ross and running back Joe Mixon, who will bump them up on offense. On defense, they replaced slower linebackers Rey Maualuga and Karlos Dansby with the younger, quicker Kevin Minter and Nick Vigil.
They're doomed: This offensive line could be in trouble, with the departure of Andrew Whitworth to the Rams and guard Kevin Zeitler to the Browns. The group has looked OK in the preseason, but it's the preseason. Trey Hopkins, the starting right guard, has been activated for one game in his career. Coach Marvin Lewis is still looking for his first playoff victory. He's 0-7 in the postseason.
Now hear this: "He likes to run down that field like he is scoring a touchdown, and we are going to give him a lot of opportunities to do that. That's just part of his makeup, and that's good. He can never lose that." — Lewis, on controversial rookie Mixon.
3 | BALTIMORE
2016 | 8-8, 2nd in North
Last year in playoffs | 2014
Going all the way: Offensively, Baltimore has more speed on the outside than it has ever had, with receivers Mike Wallace, Breshad Perriman and Jeremy Maclin. They should be able to stretch the field more than the Ravens have in the past. On defense, they have the league's best safety combination in Eric Weddle and Tony Jefferson, who said the defense has a chance to be "legendary."
They're doomed: Quarterback Joe Flacco missed training camp with a back injury, and presumably the first time he'll step on the field for a game is in the opener at Cincinnati. The offensive line looks as if it will return just two starters from last season, left tackle Ronnie Stanley and right guard Marshal Yanda.
Now hear this: "This year it is a special unit. We feel it. I think the defense as a whole feels it. We know it, and like I said over and over, you have to prove it now." — Jimmy Smith, cornerback.
4 | CLEVELAND
2016 | 1-15, 4th in North
Last year in playoffs | 2002
Going all the way: There is hope in rookie quarterback DeShone Kizer, though the Browns have been a revolving door at that position. The team has built a solid offensive line with the addition of guard Kevin Zeitler (Bengals) and center J.C. Tretter (Packers). No. 1 pick Myles Garrett could provide a pass rush for a franchise that sorely needs it.
They're doomed: This team nearly lost every game last season (its only win came in Week 17 against the Chargers), so turning around the franchise is no simple task. The quarterback situation remains unsettled, even though there's a flicker of hope there. The Browns have not tackled well, particularly on the back end of their defense.
Now hear this: "I've never had a chance to draft the first overall pick ever, but I've had some pretty high draft picks. He's the one that has jumped out and fit in faster than any of the other ones, and I have had some really, really good ones." — Gregg Williams, defensive coordinator, on Garrett.
Twitter: @LATimesfarmer
---
Get our high school sports newsletter
Prep Rally is devoted to the SoCal high school sports experience, bringing you scores, stories and a behind-the-scenes look at what makes prep sports so popular.
You may occasionally receive promotional content from the Los Angeles Times.