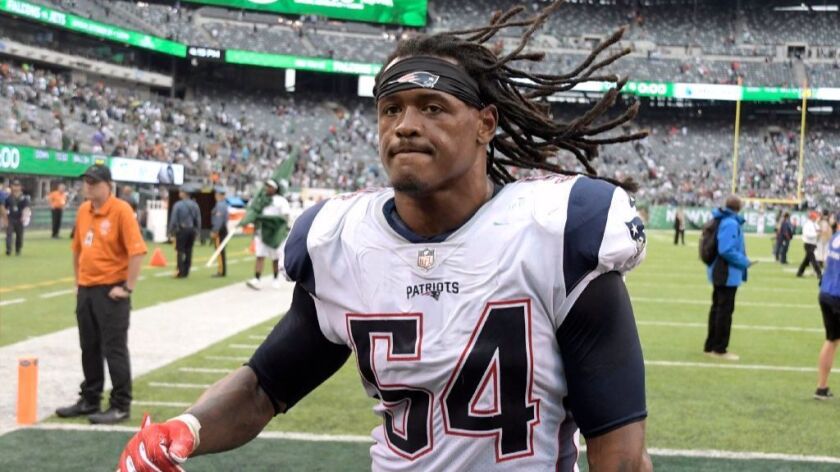 A person familiar with the situation says the New England Patriots linebacker Dont'a Hightower will miss Sunday's game against the Chargers and is facing season-ending surgery on his right shoulder.
The surgery will be for a torn pectoral muscle, the person told the Associated Press on the condition of anonymity Thursday because it has not yet been announced by the team.
Hightower left Sunday's win over Atlanta in the second half with the shoulder issue and sat out the first practice of the week Wednesday. He has missed two games this season with a knee injury.
It comes as a blow for a Patriots defense that has improved in recent weeks, but continues to rank last in the NFL in total defense, giving up 426.7 yards a game.
Hightower has 14 tackles and two sacks. In March, he signed a four-year deal worth $35.5 million.
With Hightower out, his snaps are expected to fall to Kyle Van Noy and veteran David Harris.
Van Noy has started all seven games this season and has 49 tackles and 3 1/2 sacks. Harris has appeared in four games with one start and has four tackles.
"For a guy like Hightower to go down with that injury, to be out for the year and what he means to this defense — he's one of the captains of this team," Harris said. "He knows this defense like the back of his hand. To lose a guy like that is a huge blow for the team. But as a linebacker group we gotta step up and try to take his place, which is gonna be tough to do."
Though Harris hasn't had much opportunity to contribute to date, coach Bill Belichick said Wednesday that he has been pleased with how Harris has adapted since he was signed in June.
Retired Boldin can pursue trade
Turns out receiver Anquan Boldin might not be done playing.
A person with direct knowledge of the decision has confirmed to the Associated Press that the Buffalo Bills have granted Boldin permission to explore the possibility of being traded.
The person spoke on the condition of anonymity because the Bills and Boldin have not announced it. ESPN.com first reported the development and posted a copy of the letter of permission the Bills issued to Boldin, who has 82 touchdown catches in his career.
The Bills hold the rights to Boldin after they signed him to a one-year contract Aug. 7. The 37-year-old player abruptly retired two weeks later by saying he wanted to focus on his charitable causes and social justice issues.
The timing of Boldin's decision comes with the NFL trading deadline set for Tuesday. Though Boldin has permission to speak to teams, the Bills would have to approve any trade offer.
Etc.
The Arizona Cardinals placed quarterback Carson Palmer on injured reserve after he underwent surgery for a broken left arm. The move means Palmer would not be able to play until the next-to-last game of the season, Dec. 24 at home against the New York Giants. ... Cleveland rookie defensive end Myles Garrett, who has played well when healthy, won't travel with the team to London because of a concussion and will miss Sunday's game against the Minnesota Vikings.
---