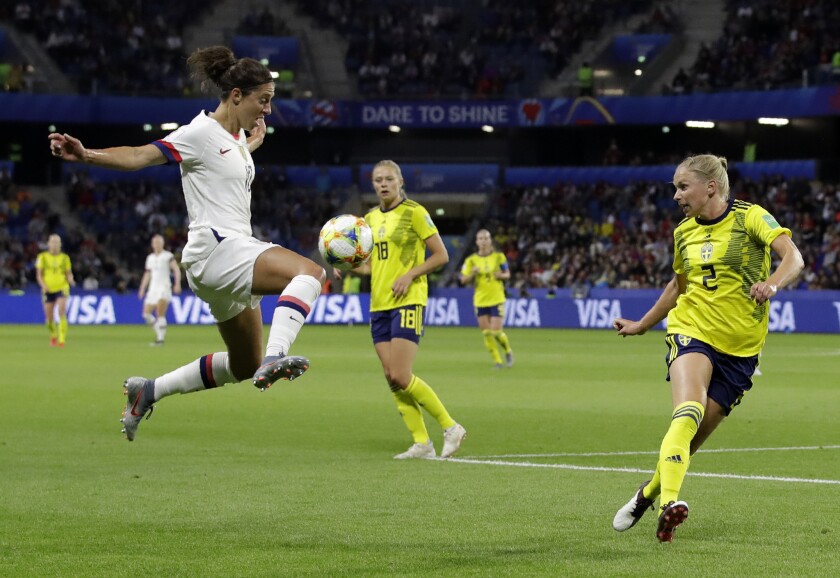 Reporting from REIMS, France —
The seemingly interminable group stage of the Women's World Cup lasted 14 days, featuring 36 games, 106 goals, 23 shutouts and very few surprises.
New Zealand didn't a win a group-stage game for the fifth time in as many World Cups and the U.S. didn't lose one for the seventh time in eight tournaments. It didn't give up a goal either, something the Americans accomplished for the first time.
The host country — in this case, France — advanced as it has in every tournament. So did Germany, whose women have never exited a World Cup in the first round — a claim the German men can no longer make.
Marta scored twice, extending her World Cup total for goals to 17, most by a player of either gender. And her team, Brazil, moved on as it has in every tournament she's played in.
Canada's Christine Sinclair scored a goal — she only has 182 of those. In her first two games, American Carli Lloyd scored three, giving her goals in a record six consecutive World Cup games, dating to 2015.
"I don't care," she said when her streak ended in the group-stage final against Sweden. "I just want to win."
Mission accomplished: The U.S. has lost just twice in regulation in Lloyd's four World Cups.
So in a lot of ways, this tournament has been déjà vu — which I can use here because it's a French term. (So, interestingly, is cliché.)
But there's also been some new ground broken. Although none of the four World Cup debutantes — Chile, South Africa, Scotland and Jamaica — survived the group stage, for the first time, Africa will see two countries advance in the same tournament. But it wasn't easy for either Cameroon or Nigeria.
Francisca Lara had a late penalty kick against Thailand that would have sent Chile on to the round of 16, but her try thudded off the crossbar and that spot in the elimination stage went to Nigeria instead, touching off a wild celebration at the hotel where Nigerian players were watching the Chile game on TV.
Nigeria is the only African nation to have played in every Women's World Cup, though it has gotten out of the group stage just once. Cameroon also advanced on goal differential, here thanks to Ajara Nchout's game-winning score against New Zealand five minutes into stoppage time.
Thailand, embarrassed when the U.S. scored 13 goals against it in the opening game, captured hearts in its second game when captain Kanjana Sungngoen scored her country's only goal of the tournament with less than two minutes remaining in stoppage time of a 5-1 loss to Sweden.
Many on the Thai sidelines burst into tears.
"Everyone was very happy that we at least scored one,'' Kanjana said through an interpreter.
That was just about the team's only moment of joy, though. Thailand gave up 102 shots and a Women's World Cup-record 20 goals. The team's goal differential of minus-19 was also a record.
Thailand is gone now, as is teenage forward Javiera Grez of Chile, at 4-foot-10, the smallest player in the tournament.
The attendance numbers at this World Cup have, so far, been lagging: Through the 36 games of the group stage, average attendance was 18,498, lower than in any of the last five Women's World Cups. The only previous 52-game tournament, the one played in Canada four years ago, drew an overall attendance of 1.35 million and an average of 26,029 per game, although that figure is misleading because the first 24 games of group stage were played as doubleheaders with the same attendance counted for both games.
Sign up for our weekly soccer newsletter »
Things will be looking up in the knockout stage: Organizers say nearly 1.1 million tickets have been distributed with the semifinals and finals at 59,000-seat Parc Olympique Lyonnais in Lyon sold out. If France advances to the quarterfinals, that game in Paris will likely sell out as well — especially if the hosts play the U.S., as expected.
FIFA set a goal of reaching 1 billion TV viewers during the tournament, and that number is still within reach thanks to record viewership in a number of countries. France's three group games drew an average of 10.1 million viewers, more than double the previous record for a women's game. Nearly half of the daytime audience in Rio de Janeiro watched Brazil's game with Italy.
Want some more numbers? The German team covered 348 kilometers, about the distance from Santa Barbara to San Diego, in its three group games, and the U.S. had the ball nearly two-thirds of the time in its three games.
So what else can we expect in the knockout stages? For one, it will move quickly, cramming four rounds into 15 days.
Well, Germany will reach the quarterfinals for an eighth consecutive tournament, as will the U.S.
Lloyd will score another goal or three — and they'll come in clutch moments.
Brazil will send Marta, Formiga and Cristiane into likely World Cup retirement without the championship they so desperately wanted. Formiga will go home having played in this tournament seven times — and when she stepped on the field for Brazil's opener here, she was, at 41 years, 98 days, the oldest player to appear in a World Cup game.
One hundred fifty players in this tournament weren't even born when Formiga made her World Cup debut in 1995.
Australia too will come up short again, exiting the tournament in the quarterfinals for a fourth consecutive time. Or maybe not.
The Aussies, and especially their captain, Sam Kerr, have been feeding on detractors in this tournament. So much so that when Kerr helped cap a rally from a two-goal deficit to a 3-2 win over Brazil, she fired back on national television Down Under.
"There were a lot of critics talking about us but we're back. So suck on that one," she said.
---