The Sports Report: Lakers prove they can be a good team without LeBron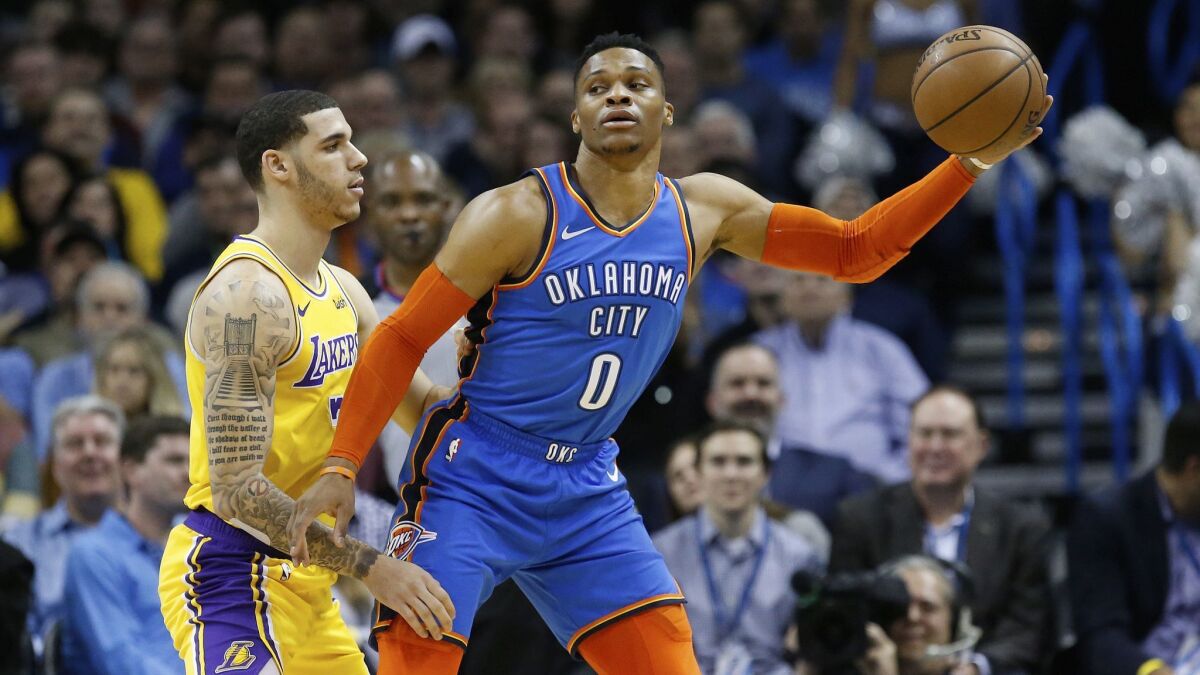 Howdy everyone, and welcome to the Friday edition of the Los Angeles Times daily sports newsletter. My name is Houston Mitchell and I'm your host for the festivities.
Let's get to it.
Lakers
The Lakers pulled off an impressive 138-128 victory over the Thunder in Oklahoma City on Thursday, fighting back after trailing by 17 points in the first quarter.
Kyle Kuzma scored 32 points, making 11 of 20 field goals, and a career high seven three pointers. Brandon Ingram dished out a career high 11 assists. Josh Hart scored 12 points, with 10 rebounds, four of them in overtime. Ivica Zubac scored a career high 26 points, adding 12 rebounds.
"I was just a little on edge after the first quarter," coach Luke Walton said. "I felt like we weren't competing hard enough. Which is not who we are as a group. I think I was probably a little trigger happy, a little on edge about when I thought guys were not competing at an acceptable level. I was going to find people that could get it done."
The amazing victory was almost ruined by an admitted bad call by the referees at the end of regulation, but to read about that and the rest of the game, you'll have to click here and read this story by Tania Ganguli.
Clippers
The Clippers were routed by the Utah Jazz on Wednesday, 129-109, but things can't possibly get any worse, can they? Let me check that schedule. Oh, that's not good. The Clippers play the Golden State Warriors tonight at Staples Center.
The game will also feature the Warriors debut of center DeMarcus Cousins.
Through the season's first 20 games, the Clippers ranked eighth in defensive efficiency and held a 14-6 record.
They are 10-14 since while owning the league's third-worst defensive rating.
Here's guessing things get worse before they get better for the Clippers.
Why the Rams will win
Bill Plaschke gives you five reasons why the Rams will defeat the Saints on Sunday in New Orleans.
But here's the thing. I grew up a Rams fan back in the days of Lawrence McCutcheon, James Harris, John Cappelletti, Cullen Bryant, Ron Jessie, etc. I once waited in line for an hour at the Carson Mall just to get James Harris' autograph. So I know how this goes. The Rams always tease us. They win the first-round game in the playoffs, then lose in the NFC title game. It felt like they broke my heart every year. So, no, I'm not buying it. Until there is a Super Bowl parade in Los Angeles, I'm keeping my heart up on a shelf, safe from the heart-breaking Rams.
Oh, who am I kidding. I'll be sweating out every minute.
By the way, here's a depressing stat, which you can find in this story by Sam Farmer:
Visitors — as the Rams and New England Patriots will be Sunday — are 0-10 in NFL conference title games the last five years, and 4-16 in the last decade. The last time road teams won they did so together, in 2012, when both Baltimore and San Francisco won to advance to the Super Bowl.
Patriots-Chiefs
Temperatures in Arrowhead Stadium for Sunday's AFC title game between Kansas City and New England are expected to be in the low-20s with 7-mph winds, which won't do any favors for Patriots quarterback Tom Brady or Chiefs quarterback Patrick Mahomes.
"What happens in cold weather is the balls tend to get real hard, and when they're hard, they're just hard to hold," former Dallas Cowboys quarterback and current Fox NFL analyst Troy Aikman told Mike DiGiovanna for this story.
"For a guy like myself, who struggled throwing when the balls were slick, the cold weather just added to the difficulty for me in being able to grip it and throw it."
But here's the best part of DiGi's story:
The benches also will be flanked by propane-powered bullet heaters that blow hot air into the bench area and can be something of a hazard for the uninitiated.
"I've seen many a guy by those propane heaters that look like jet engines catch their coats on fire," former NFL quarterback Dan Fouts said. "You see that every now and then with some of these youngsters who are not playing. They're trying to stay warm, and all of a sudden they're on fire."
Vote in our poll!
So, it will be Rams-Saints for the NFC title and Patriots-Chiefs for the AFC title. Who do you think will win those games? Vote in our polls and the results will be revealed on Sunday. A random voter will win a free subscription to the newsletter!
For the Rams-Saints poll, click here.
For the Patriots-Chiefs poll, click here.
Boxing
The return of Manny Pacquiao to Las Vegas this weekend means even more to him than you would think, because his three longtime cornermen have joined him.
Pacquiao's seven-time trainer of the year Freddie Roach, his recently promoted lead trainer Restituto "Buboy" Fernandez and conditioning coach Justin Fortune will all be with him when Pacquiao fights Adrien Broner on Saturday.
"It's great, nostalgic," Fortune told Lance Pugmire in Vegas this week. "We're like those old married couples. We've had ups and downs, bumps in the road, but we're still here and Manny still is fighting with something to prove. "Having something to prove is the best thing I have going for me as I'm pushing Manny, telling him, 'People want to see you fail. Prove them wrong.' "
Also Thursday, it was learned that Canelo Alvarez will fight fellow middleweight champion Daniel Jacobs on May 4, probably in Las Vegas. The streaming service DAZN will broadcast the fight. DAZN cleverly stands for "The Zone", as in "what part of The [Twilight] Zone am I in where DAZN means The Zone?"
World Boxing Council and World Boxing Assn. champion Alvarez will have the opportunity to add the International Boxing Federation belt that Jacobs (35-2, 29 KOs) holds.
"I will unify my middleweight titles against Daniel Jacobs on one of the two most important dates that belong to me," Alvarez said. "I have no doubt that I will be victorious and that I'll be one step away from becoming the undisputed middleweight world champion."
High school basketball
Scotty Pippen Jr., son of basketball Hall of Famer Scottie Pippen, is scoring 17.4 points a game for Sierra Canyon and leading the team with 4.2 assists. He committed to Vanderbilt a few days ago, and, judging by his play, is clearly ready for the next level, Eric Sondheimer writes.
But, how can he be a Jr. when he spells his name different than his dad did? Turns out Scottie Pippen Sr.'s first name is actually spelled Scotty. He just prefers it to be spelled Scottie because when it is spelled Scotty (like it is on his birth certificate), people tend to shorten it to Scott, which he doesn't like.
And now I have a headache.
UCLA basketball
In this space yesterday, I made reference to current UCLA guard Keith Wilkes. Keith Wilkes, of course, played for the Bruins from 1971-74, making him far from current. However they do have a player named Kris Wilkes on the team, and that's who I was talking about. But I'd like you to know there's a simple explanation for my mistake if you'll just calm down and listen for a second: I'm not that bright.
Gymnastics
The video of UCLA gymnast Katelyn Ohashi's floor exercise routine for which she received a perfect 10 a few days ago has gone viral, getting more than 39 million views. But what you didn't see in that video was the pain and tears that led to that moment. Read Blake Richardson's excellent story here to find out more. And watch the video here.
Ducks win! Ducks win! Ducks win! (So do the Kings)
John Gibson made 37 saves and Adam Henrique and Rickard Rakell scored 11 seconds apart in the first period as the Ducks ended a team-record 12-game losing streak by beating Minnesota, 3-0.
Finally, we can go back to ignoring hockey now.
Meanwhile, Jack Campbell made 18 saves in the third period as the Kings defeated the Dallas Stars, 2-1.
Golf
The last time we saw Phil Mickelson, he was winning $9 million in an ill-conceived pay-per-view golf event against Tiger Woods.
He turned up again on Thursday and shot a 60 at the Desert Classic in La Quinta.
Must be all those arthritis drugs I seem him taking in TV commercials. You can read how he shot 60 in this story by Mike James.
Ask a Times sportswriter
A new feature of this newsletter will be you, the loyal subscriber, being able to ask any Times sports reporter a question. Just click here to send me an email. Include in the email who you want to ask a question of and what your question is. I'll pass it on and it will be answered in a future newsletter. Ever wanted to ask Bill Plaschke a question? Want to ask Tania Ganguli a question about the Lakers? Have a question for Sam Farmer about the NFL? Click here and ask away. But make sure you let me know which sportswriter you want answering the question.
And finally
That concludes the newsletter for today. If you have any feedback, ideas for improvement or things you'd like to see, please email me here. If you want to subscribe, click here.
---
Get our high school sports newsletter
Prep Rally is devoted to the SoCal high school sports experience, bringing you scores, stories and a behind-the-scenes look at what makes prep sports so popular.
You may occasionally receive promotional content from the Los Angeles Times.