The Sports Report: Don't count the Clippers out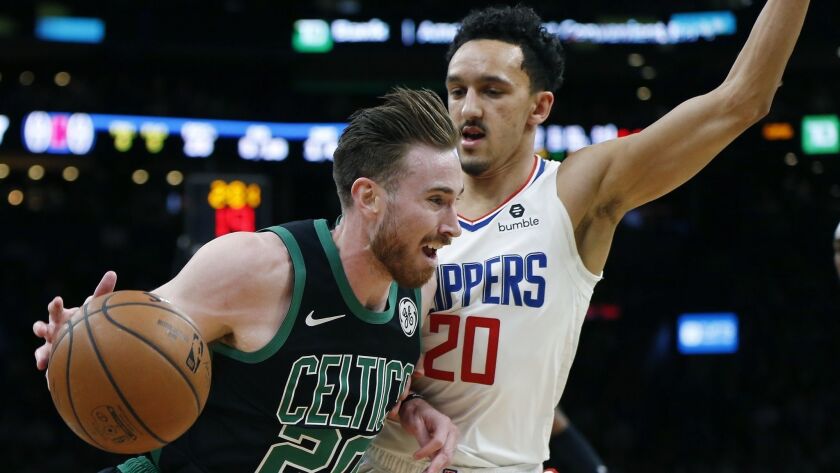 Howdy everyone, and welcome to the Sunday edition of the Los Angeles Times daily sports newsletter. My name is Houston Mitchell and I'm your host for the festivities. Subscribe to this newsletter by clicking here.
Let's get to it.
Clippers
A lot of people have written off the Clippers, thinking the trade deadline deals they made stripped them of some of their best players and will leave them on the outside looking in come playoff time.
No one told the Clippers that they are supposed to give up now though.
A Clippers team incorporating four new players from trades stunned one of the Eastern Conference's most talented rosters with a 28-point comeback that led to a 123-112 victory over the Boston Celtics.
When it was over, the fans who hadn't already left as the Clippers took control in the final three minutes showered the Celtics with boos. It was the third victory in the Clippers' last five games when trailing by 20 points or more.
"Team full of fighters," point guard Shai Gilgeous-Alexander. "We know we can come back."
UCLA Basketball
Speaking of blowing big leads, the Bruins had a 22-point lead over Utah at one point on Saturday. But they lost, 93-92.
"We're obviously about as down as you can be right this second," coach Murry Bartow said after an implosion involving turnovers, missed free throws and some questionable strategy resulted in the Bruins' third consecutive defeat.
"If you analyze that last four minutes, it almost can't happen."
But it did.
USC Basketball
A defensive lapse proves costly as the Trojans lose to Colorado, 69-65. Read all about it here.
Rams
Gary Klein takes a look at the Rams' free-agent situation and what to expect in the offseason. Click here to read it.
College sports
An excerpt from David Wharton's excellent story on Gloria Nevarez:
When the boss introduced Gloria Nevarez at a staff meeting, he made a point of remarking that she was "much better looking" than the man she replaced, which irked her.
"People laughed," she said. "I'm thinking, you know, I have a top-10 law degree."
Twenty years later, Nevarez tells these stories to illustrate the issues she faced in becoming commissioner of the West Coast Conference, a collection of 10 private universities that include Pepperdine, Loyola Marymount and basketball power Gonzaga.
Still relatively new on the job, Nevarez has taken her place among a generation of women running Division I conferences across the nation. She is the first Latina to lead a major-college league.
esports
An excerpt from Arash Markazi's story on esports:
Los Angeles is a two-team city with a pair of franchises in the NFL, NBA, MLB, NHL, MLS and two traditional college sports powerhouses in USC and UCLA.
Most people have chosen a side in these intercity battles, but perhaps the rivalry that will become the most interesting to watch in the coming years, particularly if you're younger than 30, isn't taking place on the field, court or ice.
It's taking place on what was formerly "The Tonight Show" soundstage at the old NBC Studios in Burbank, which was used by Johnny Carson and Jay Leno before the show moved to New York in 2014. The building is now called Burbank Studios, and Studio 1, which Carson and Leno called home for 40 years, is now called Blizzard Arena.
The arena, which opened last year, is the home of the Overwatch League, a professional esports league for the video game Overwatch. The game, which is developed and published by Irvine-based Blizzard Entertainment, is a multiplayer, first-person shooter video game in which two teams of six battle each other.
Boxing
Gervonta Davis knocked out former super-bantamweight champion Hugo Ruiz with one second remaining in the first round to retain his World Boxing Assn. super-featherweight belt.
"I wanted to make it a great performance and I did it," said Davis, who was scheduled to fight Abner Mares before the former champion suffered a detached retina and withdrew two weeks ago.
Figure skating
From Helene Elliott's story on the Four Continents championships:
The lasting memory of Sui Wenjing and Han Cong's free skate program will be of their beauty and unison and magical connection to their music, not the small mistakes they made in a performance that allowed them to narrowly win the pairs title at the Four Continents championships on Saturday at Honda Center.
The 2017 world champions and 2018 Olympic silver medalists from China easily pulled off dazzling lifts and twists, and they benefited when early leaders Kirsten Moore-Towers and Michael Marinaro of Canada faltered on a lift midway through a routine to music by Pink Floyd. Sui and Han totaled 211.11 points to 211.05 for the Canadians, who lost .77 of a point on that perilously shaky lift. Cheng Peng and Yang Jin of China were third with 205.42 points.
Olympic silver medalist Shoma Uno of Japan won the men's title by performing a riveting and near-flawless free skate routine to Beethoven's "Moonlight Sonata" and earning a record 197.36 points for his program. Uno, who was fourth after the first segment of the competition, cleanly landed three quadruple jumps and finished with 289.12 points to outdistance a strong field. Vincent Zhou of San Jose, the leader after the first part of the competition, dropped to third overall with 272.22 points after the judges penalized him for under-rotating three of his jumps in his free skate program, a problem that has long plagued him. Jin Boyang of China took second with 273.51 points.
Kings/Ducks
The Boston Bruins defeated the Kings, 5-4, while the Philadelphia Flyers routed the Ducks, 6-2.
Best sports movies
As we continue our runup to the Oscars by having Times readers pick the best sports movie of all time, we move on to baseball. You have chosen the best football and basketball movies, and we have received over 30,000 ballots, so make sure your vote counts by clicking here or emailing me here. This time, we will have you pick your top seven baseball movies of all time.
This date in sports history
Notable births on this date
1893: Tennis star Bill Tilden
1950: Swimmer Mark Spitz
1955: Golfer Greg Norman
1963: Baseball star Lenny Dykstra
1975: WNBA star Tina Thompson
Notable deaths on this date
2003: Pro wrestler Curt "Mr. Perfect" Hennig
And finally
That concludes the newsletter for today. If you have any feedback, ideas for improvement or things you'd like to see, please email me here. If you want to subscribe, click here.
---
Get our high school sports newsletter
Prep Rally is devoted to the SoCal high school sports experience, bringing you scores, stories and a behind-the-scenes look at what makes prep sports so popular.
You may occasionally receive promotional content from the Los Angeles Times.