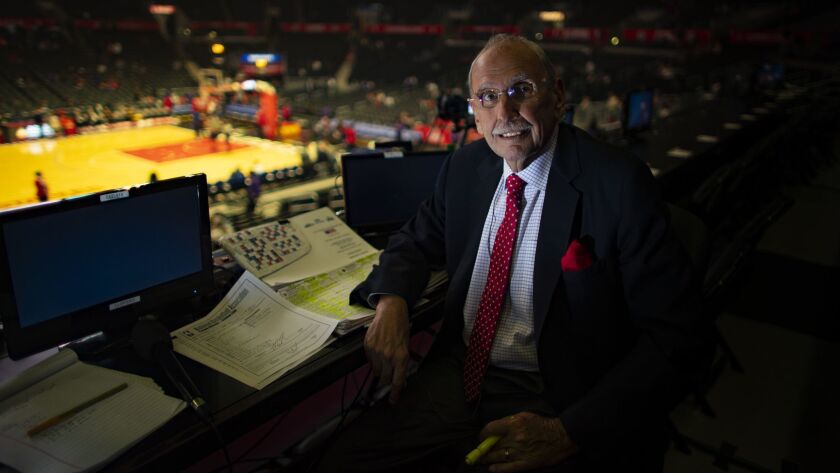 Howdy everyone, and welcome to the Saturday edition of the Los Angeles Times daily sports newsletter. My name is Houston Mitchell and I'm your host for the festivities. Subscribe to this newsletter by clicking here.
Let's get to it.
Clippers
This probably isn't really the biggest story from Friday, but it is one that deserves the spotlight, so I'm leading off with it.
Clippers broadcaster Ralph Lawler, who has been the voice of the team for 40 seasons, will be inducted into the Naismith Memorial Basketball Hall of Fame this year.
"I can hardly believe this is happening," Lawler said. "Never in my wildest dreams did I dare to imagine that my career would culminate with this ultimate honor. My wife and I are thrilled and humbled to be joining the elite group that preceded me with the Curt Gowdy Award."
Lawler was somewhat unfortunate to be broadcasting in the same city that had Vin Scully, Chick Hearn and Bob Miller, who are the greatest announcers of all time for their respective sports. He would be overshadowed by them, and was never given his full due as an outstanding broadcaster in his own right. This is a much-deserved honor.
This is Lawler's last season with the team, as he announced he is retiring at the end of the year.
Meanwhile, Dylan Hernandez points out that the Clippers have positioned themselves really well to acquire some big names during the offseason.
---
Fresh off the heels of not trading Anthony Davis to the Lakers for half their team, the New Orleans Pelicans fired GM Dell Demps.
"As difficult as these decisions are, my responsibility is to provide the leadership and resources necessary to deliver a winning team to our fans and community," Pelicans owner Gayle Benson said. "My expectations, and the expectations of our fans, are that this team will compete at a high level for the remainder of the season. While we still have many more critical decisions to make when this season comes to an end, I am focused on making sure we are properly positioned to succeed and that we are headed in the right direction."
---
By the way, there is still time to vote in our Luke Walton poll. What do you think? Should Walton be fired? Click here to vote. Final results will be in Monday's newsletter.
Auto Racing
Everyone seems to agree that NASCAR became a national sport in 1979 when Cale Yarborough and Donnie Allison crashed on the backside of Daytona, got out of their cars and soon Cale and Donnie's brother Bobby started fighting. At the same time Richard Petty sped around the track to win the race. You couldn't have written a better script and the timing was perfect. It was the first time a network televised a race flag to flag and the East Coast was socked in with a snow storm. We take a look at the 40th anniversary of the race that turned NASCAR from a regional sport to a national one.
Odds and Ends
LZ Granderson takes a look at how and why so many NBA players are going vegan…. Matt Kuchar apologized for being a cheapskate…. Tiger Woods is nine shots behind leaders Justin Thomas and Adam Scott in the Genesis Open…. The NFL has reached an agreement with players Colin Kaepernick and Eric Reid to resolve their collusion grievances, the sides announced Friday. Terms of the deal were not disclosed…. At some point this summer, Travis Barbary, recently named triple-A Oklahoma City's manager, is likely to manage Keibert Ruiz, the Dodgers' top prospect. They already have a connection.
Born on this date
1959: Tennis player John McEnroe
1959: NBA player Kelly Tripucka
1964: NBA player Mark Price
1972: NFL player Jerome Bettis
And finally
That concludes the newsletter for today. If you have any feedback, ideas for improvement or things you'd like to see, please email me here. If you want to subscribe, click here.
---