The Sports Report: Clay Matthews comes home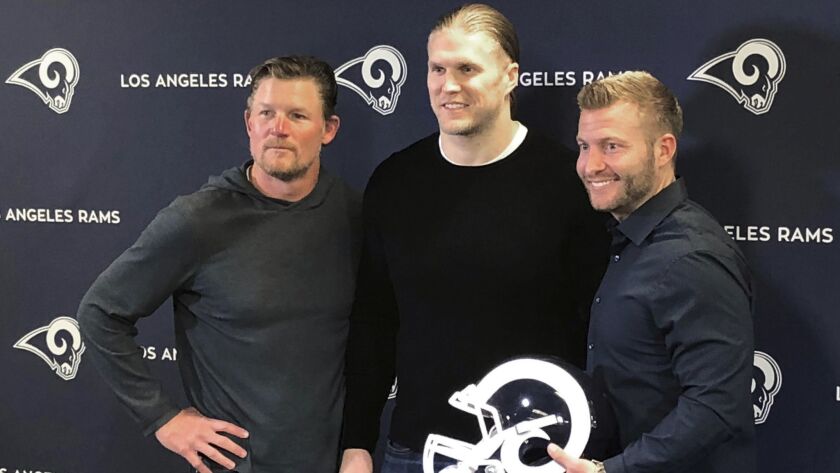 Howdy everyone, my name is Houston Mitchell, proprietor of this here newsletter. I'm proud to announce my tournament bracket is still perfect. Then again, I do wait until after each game ends to fill it out.
Rams
Imagine growing up a big football fan in Los Angeles, but with no home team to cheer for (OK, a lot of us can imagine that). But then imagine being good enough at football that you go from a star at USC to playing for a Super Bowl champion with the Green Bay Packers. Then, near the end of your time with Green Bay, the Rams move back to Los Angeles and you play against them at the Coliseum, stirring thoughts of what could have been. When the Packers decide to part ways with you, who are you going to turn to first?
That's the Clay Matthews story. The six-time Pro Bowl linebacker signed with the Rams earlier this week, and was formally introduced at a news conference Thursday. And one of the things he pointed out is that very few of his former teammates were surprised where he ended up.
"They were saying, 'You kind of called this as far as ending up back home,' " Matthews said.
Matthews began as a walk-on at USC career as a walk-on, became a star there and spent a decade with the Packers, where he had 83½ sacks. Now he is a married father of three who is having a house built not far from the Rams' training facility.
"To be back here now and to be able to play for the local football team and have family and friends and be able to start our family here and plant our roots here is something that's pretty awesome," he said.
"I expect my position to be fluid — I'll have a variety of roles. I think the most important thing … is just pressing the quarterback, making him make bad decisions and keeping the heat and keeping the pressure on him…. I know I'm a difference maker. I know I can change games and I look forward to doing that and proving that and showing to everybody here."
USC football
It has been a tough few weeks for USC, but the Trojans got some good news when they learned that cornerback Greg Johnson had withdrawn from the transfer portal and would stay with the team. On Thursday, he explained why:
"I talked to my teammates and coaches and I'm past it now.… I'm just happy to be here and looking forward to getting better every day. I learned a lot from the guys who were here previously, and I'm like the older guy now so I'm trying to motivate the young guys every day."
Lakers
Remember D'Angelo Russell? He returns to Staples Center tonight with the Brooklyn Nets to take on the Lakers. Russell comes back to town on the heels of a 44-point performance against Sacramento. Hmmm, Russell, Julius Randle, Lou Williams. Think the Lakers would like to have any of them back? Even if it was just to package them in a trade for Anthony Davis.
Anyway, back to Russell. Here's an excerpt from Broderick Turner's story on him:
"Russell has come a long way since his days with the Lakers, the team he and the Nets will face Friday night at Staples Center. He leads Brooklyn in scoring (20.7), assists (6.9) and steals (1.2). He's shooting career bests of 43.2% from the field and 36.6% from three-point range.
"Luke Walton, who coached Russell for one season, 2016-17, said he never tried to define how the 6-foot-5 guard would improve.
"No, you don't want to say that a young player isn't going to be able to do things," Walton said Thursday after the Lakers' practice. "I think D'Angelo was the No. 2 pick because he's got an incredible skill set when it comes to playing this game. So, he's definitely sharpened those skills.
"He looks like he's really getting comfortable with the angles and whether it's finishing at the rim or finding his big man roaming, feels like in watching him — like I talk about with Brandon [Ingram] a lot — the game is starting to slow down for him a little bit. It feels like the same thing is going on for D'Angelo right now."
The Lakers felt it was better to ship Russell out to Brooklyn with Timofey Mozgov after the then 20-year-old had recorded Lakers teammate Nick Young talking about cheating on fiancée Iggy Azalea during the 2015-16 season.
"He's playing at a very high level, coming off that huge fourth quarter in Sacramento, so our defense is going to have to be keyed in on him," Walton said.
"But Brooklyn does a great job moving the ball and keeping shooters spaced around. So if you key too much on one guy, they'll make you pay elsewhere. So, it always starts with us on our individual defensive job we do. So, whoever is matched on him is going to have to really give a great effort."
March Madness
Before we get to the results and schedule, make sure you read this story by Jeff Miller that breaks down today's game between UC Irvine and Kansas State.
A look at the first-round results and schedule:
First Round
West Regional (read game stories here)
No. 1 Gonzaga 87, No. 16 Fairleigh Dickinson 49 (read this game story here)
No. 9 Baylor 78, No. 8 Syracuse 69
No. 4 Florida State 76, No. 13 Vermont 69
No. 12 Murray State 83, No. 5 Marquette 64
No. 10 Florida 70, No. 7 Nevada 61
No. 2 Michigan 74, No. 15 Montana 55
South Regional (read game stories here)
No. 6 Villanova 61, No. 11 Saint Mary's 57
No. 3 Purdue 61, No. 14 Old Dominion 48
Midwest Regional (Read game stories here)
No. 5 Auburn 78, No. 12 New Mexico State 77
No. 2 Kentucky 79, No. 15 Abilene Christian 44
No. 4 Kansas 87, No. 13 Northeastern 53
No. 7 Wofford 84, No. 10 Seton Hall 68
East Regional (read game stories here)
No. 10 Minnesota 86, No. 7 Louisville 76
No. 3 LSU 79, No. 14 Yale 74
No. 2 Michigan State 76, No. 15 Bradley 65
No. 6 Maryland 79, No. 11 Belmont 77
Today -- First Round
All times Pacific
No. 10 Iowa vs. No. 7 Cincinnati (Columbus, Ohio), 9:15 a.m. -- CBS
No. 9 Oklahoma vs. No. 8 Ole Miss (Columbia, S.C.), 9:40 a.m. -- truTV
No. 14 Northern Kentucky vs. No. 3 Texas Tech (Tulsa, Okla.) 10:30 a.m. -- TNT
No. 13 UC Irvine vs. No. 4 Kansas State (San Jose), 11 a.m. -- TBS
No. 15 Colgate vs. No. 2 Tennessee (Columbus), 11:45 a.m. -- CBS
No. 16 Gardner-Webb vs. No. 1 Virginia (Columbia), 12:10 p.m. -- truTV
No. 11 Arizona State vs. No. 6 Buffalo (Tulsa), 1 p.m. -- TNT
No. 12 Oregon vs. No. 5 Wisconsin (San Jose), 1:30 p.m. ET -- TBS
No. 9 Washington vs. No. 8 Utah State (Columbus), 3:50 p.m. -- TNT
No. 16 North Dakota State vs. No. 1 Duke (Columbia), 4:10 p.m. -- CBS
No. 14 Georgia State vs. No. 3 Houston (Tulsa), 4:20 p.m. -- TBS
No. 12 Liberty vs. No. 5 Mississippi State (San Jose), 4:27 p.m. -- truTV
No. 16 Iona vs. No. 1 North Carolina (Columbus), 6:20 p.m. -- TNT
No. 9 UCF vs. No. 8 VCU (Columbia), 6:40 p.m. -- CBS
No. 11 Ohio State vs. No. 6 Iowa State (Tulsa), 6:50 p.m. -- TBS
No. 13 Saint Louis vs. No. 4 Virginia Tech (San Jose), 6:57 p.m. -- truTV
Saturday's second-round TV schedule
All Times Pacific
East Regional
No. 3 LSU vs. No. 6 Maryland, 9 a.m., CBS
No. 2 Michigan State vs. No. 10 Minnesota, 4:45 p.m., CBS
Midwest Regional
No. 2 Kentucky vs. No. 7 Wofford, 11:30 a.m., CBS
No. 4 Kansas vs. No. 5 Auburn, 6:30 p.m., TBS
West Regional
No. 2 Michigan vs. No. 10 Florida, 2:15 p.m., CBS
No. 4 Florida State vs. No. 12 Murray State, 3 p.m., TNT
No. 1 Gonzaga vs. No. 9 Baylor, 4 p.m., TBS
South Regional
No. 3 Purdue vs. No. 6 Villanova, 5:30 p.m. TNT
Odds and Ends
Blake Bortles knew he belonged with Rams, even if it meant being a backup…. Former Chargers defensive lineman Darius Philon signs with Cardinals…. Brad Miller opts out of contract after learning he wouldn't make Dodgers' roster…. Angels GM Billy Eppler's affinity for franchise icons spurred Mike Trout extension…. UCLA men's soccer coach Jorge Salcedo resigns in wake of bribery allegations…. Ruling in Caster Semenya sex-testing case postponed until April…. Clippers' defense might not be the best, but it makes opponents work hardest…. DAZN to raise monthly price and offer new annual pass…. In a 1-0 victory, U.S. national soccer team dominates Ecuador everywhere but on the scoreboard…. La Mirada's Jared Jones heads the list of top pitchers in high school baseball…. Kings defeat San Jose, 4-2.
Today's local major sports schedule (all times Pacific)
Brooklyn vs. Lakers, 7:30 p.m., Spectrum Sportsnet, 710 ESPN
Clippers at Cleveland, 4:30 p.m., Fox Sports Prime Ticket, AM 570
Dodgers vs. Arizona, 1 p.m.
Angels (ss) vs. Chicago, 1 p.m., FSW, KLAA 830
Angels (ss) vs. Seattle, 6:30 p.m.
San Jose at Ducks, 7 p.m., FSW, NHL Network
Born on this date
1946: NBA player/coach Don Chaney
1952: Sportscaster Bob Costas
1966: NBA player Brian Shaw
1968: Former Dodger pitcher Ramon Martinez
1969: NFL player Russell Maryland
1972: Figure skater Elvis Stojko
1972: NBA player Shawn Bradley
Died on this date
1993: Cleveland Indians pitcher Steve Olin (27) and Indians pitcher and former Dodger Tim Crews (31).
And finally
That concludes the newsletter for today. If you have any feedback, ideas for improvement or things you'd like to see, please email me here. If you want to subscribe, click here.
---
Get the latest on L.A.'s teams in the daily Sports Report newsletter.
You may occasionally receive promotional content from the Los Angeles Times.