The Sports Report: Rob Pelinka forces Luke Walton out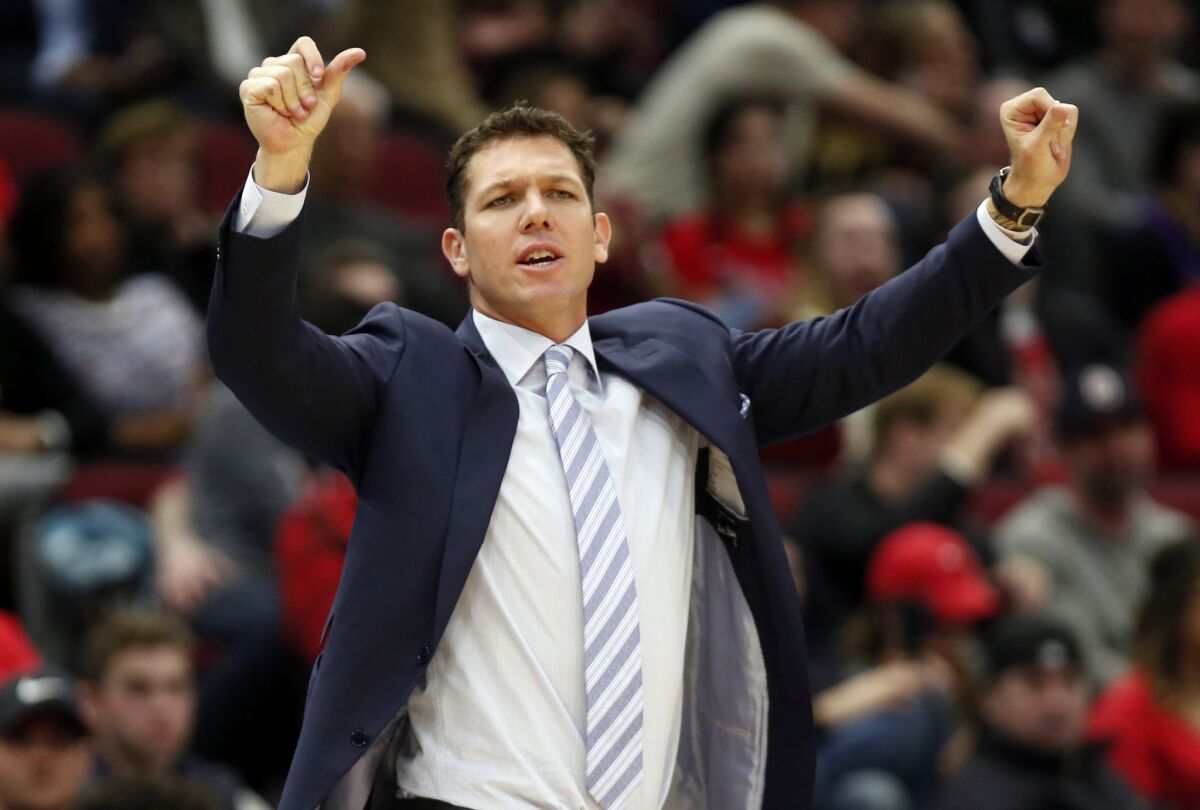 Howdy everyone, my name is Houston Mitchell, proprietor of this here newsletter. Let's get right to the news.
Lakers
Remember the Saturday Night Massacre? That's when President Nixon wanted someone to fire independent special prosecutor Archibald Cox to prevent him from fully investigating Watergate. Nixon ordered attorney general Elliot Richardson to fire Cox. He refused and quit in protest. Nixon then ordered deputy attorney general William Ruckelshaus to fire Cox. He refused and quit in protest. Nixon then ordered solicitor general Robert Bork to fire Cox. He did. When the public found out, there was an outpouring of support for Cox and it was the beginning of the end for Nixon.
The Lakers situation is somewhat similar, except we don't have a President Nixon. Magic Johnson was supposed to fire Luke Walton. He quit. Team owner Jeanie Buss sits in the White House, I mean, the front office, and says how much she likes Luke. On his way out the door, Magic take what some believe are veiled shots at Lakers general manager Rob Pelinka. The next day, off the record, GMs and agents from around the NBA talk about how much they dislike Pelinka. On Friday, Pelinka fires Walton. There is an outpouring of support from around the league and from a section of the Lakers fanbase for Walton. We would say this ruins Pelinka's chances to make the Supreme Court, but that pushes the entire analogy to its breaking point.
So Walton is out of a job, no one seems to like Pelinka, and the reputations of Magic and Buss have taken a serious hit. Plus, the Lakers are basically laughingstocks around the league.
Great week everyone!
"We would like to thank Luke for his dedicated service over the last three years," Pelinka's statement read. "We wish Luke and his family the best of luck moving forward." That's like a statement you put on a graduation card for the son or daughter of a person you really don't like.
"I want to thank Jeanie Buss and the Buss family for giving me the opportunity to coach the Lakers. This franchise and the city will always be special to me and my family," Walton said. Which sounds like a statement you put out when you desperately want to find something nice to say.
Walton will be fine. He'll more than likely end up coaching in Sacramento.
Here's what Golden State coach Steve Kerr (Walton was an assistant coach to him for a few years) had to say: "I'm disappointed for Luke. In this job, as a coach in the NBA, you are 100% dependent on your circumstances — the strength of your organization, the momentum, the unity. Everything has to be in good order. If it's not, as we have witnessed with the Lakers, then there's going to be casualties and usually the coach is the first one. They're losing one of the best human beings in the NBA, they're losing a guy who knows the game as well as anybody I've ever met."
In other words, the Lakers don't know what they are doing.
"I liked playing for him," Lakers guard Josh Hart said of Walton. "He's a player's coach. Lets you kind of play your game, play with passion, so it was fun to play for him. I think he'll get another job fairly quickly. … I think he did the best job with the cards he was dealt. He's a professional about it. Did his job with class."
Many people seem to think former Cleveland coach Tyronn Lue will replace Walton. Time will tell. In the meantime, it's hard to imagine another NBA star wanting to join this mess, which could make for a long offseason for the Lakers.
The folks at BetOnline.ag have already set odds on who the next coach will be. Here they are:
Juwan Howard, 1-1
Lue, 6-5
Monty Williams, 4-1
Jason Kidd, 7-2
Magic Johnson, 250-1
UCLA
Nathan Fenno took a deeper dive into the college admissions scandal and found some disturbing information about UCLA. In short, they knew of a similar deal that took place a few years ago. Here's an excerpt from Nathan's story:
"She ran track for a private high school in Los Angeles, but her personal best in the 800 meters wasn't nearly fast enough to earn a place on a high-level college team. The UCLA track and field director had never even heard of the runner.
"But she had an advantage: Her parents were potential donors to the school.
"The young woman's admission to UCLA as a recruited athlete — and her parents' subsequent $100,000 donation pledge to the school's athletics program — were detailed in an internal investigation the university completed in July 2014, a year after she began taking classes.
"The confidential report, reviewed by the Los Angeles Times, shows that years before the current college admissions scandal, UCLA knew of allegations that parents were pledging donations to its athletic program in exchange for their children being admitted to the university in violation of rules prohibiting the practice.
"The investigation determined that the timing of the donation pledge by the parents "together with the revelation that she was intended to be only a manager, in violation of the department recruitment and admission policy, removes any reasonable doubt that the contribution from the parents was obtained quid pro quo for the daughter's admission." William Cormier, then the director of UCLA's administrative policies and compliance office, wrote the report. It is unclear who received it.
"The track and field director later said in a letter, also reviewed by The Times, that he had approved the admission at the request of a senior athletics official.
"Families involved in the current college admissions scandal in most cases sent money to a purported charity through which the scam's mastermind allegedly funneled bribes to university coaches and administrators. What happened at UCLA in 2014, according to the report, is different in that the money was donated to UCLA's athletic program and did not break any laws.
"Federal prosecutors last month charged 50 college administrators, coaches and parents in a sprawling scheme at schools across the country. UCLA men's soccer coach Jorge Salcedo, who later resigned, was among those indicted. Prosecutors accused the coach of accepting bribes in exchange for helping two students gain admission to the school as soccer players though they didn't play the sport competitively.
"Universities, including UCLA, expressed shock at the alleged scheme and launched internal investigations. Dan Guerrero, UCLA's athletic director, issued a statement defending the program's admissions process as one of the toughest in the country.
"Documents reviewed by The Times show UCLA was already aware that parents were trying to influence the admissions process through donations to athletics."
Clippers
The Clippers open their playoff series against the Golden State Warriors today. Here's Andrew Greif on the series:
"The Clippers profess no awe about their first-round matchup because if an upset would represent a massive surprise, it would be just their latest in a string of them this season. The Clippers spent the preseason off the NBA's radar, and not because their training camp was held in Honolulu. While oddsmakers were setting their over-under total for victories at 35, players were discussing the playoffs over dinners in Waikiki.
"Despite turning over nearly half their roster at midseason, the Clippers finished with 48 wins and confidence that has carried into the playoffs.
"I guess all the basketball people are not very smart saying that we couldn't make it to the playoffs," forward Danilo Gallinari said. "We're just a little smarter than them."
"Only five No. 1 seeds have been upset by a No. 8 in the first round in NBA playoff history, and the Warriors don't present much of a compelling case to become the sixth victim."
Golf
Tiger Woods moved up the leaderboard at The Masters in a big way on Friday, shooting a four-under 68 to end the second round one shot off the lead. Five players share the lead: Jason Day, Francesco Molinari, Brooks Koepka, Louis Oosthuizen and Adam Scott. (You can check out the full leaderboard here).
"I feel like I played my own way back into the tournament," Woods said. "I was just very patient today, felt very good to be out there doing what I was doing. This is now three straight majors that I've been in the mix, and so it's good stuff."
A bizarre incident happened during the round. After Woods had hooked his drive into the trees at 14, he launched a high and spectacular approach shot. As the gallery watched, the security guard rushed to hold spectators back. Looking as if he was trying to break up a double play at second base, the man lost his footing on the slick, muddy pine straw and clipped Woods' lower right leg. Woods - hopped and grimaced, but eventually shook it off as he stood in the fairway.
Clearly wanting to not embarrass the guard, Woods downplayed the incident after the round, saying, "It's all good. Accidents happen. I've had galleries run over me. It's just, when you play in front of a lot of people, things happen."
You can watch the incident by clicking here.
NHL playoffs
Friday's scores (read game stories here)
Columbus 5, Tampa Bay 1 (Blue Jackets lead series, 2-0)
New York Islanders 3, Pittsburgh 1 (Islanders lead series, 2-0)
St. Louis 4, Winnipeg 3 (Blues lead series, 2-0)
Vegas 5, San Jose 3 (Series tied, 1-1)
Today's schedule
All times Pacific
Carolina at Washington, noon, NBC (Capitals lead series, 1-0)
Dallas at Nashville, 3 p.m., CNBC (Stars lead series, 1-0)
Toronto at Boston, 5 p.m., NBC (Maple Leafs lead series, 1-0)
Colorado at Calgary, 7:30 p.m., NBCSN (Flames lead series, 1-0)
Clippers playoff schedule
All times Pacific
Today, 5 p.m., at Golden State, ABC
Monday, 7:30 p.m., at Golden State, TNT
Thursday, 7:30 p.m., at Clippers, TNT
Sunday, April 21, 12:30 p.m., at Clippers, ABC
*Wednesday, April 24, TBA, at Golden State, TBA
*Friday, April 26, at Clippers, TBA
*Sunday, April 28, at Golden State, TBA
*-if necessary.
Odds and Ends
Mike Trout's groin injury will keep him out of Angels-Cubs series…. Dodgers lose to Milwaukee Brewers, 8-5…. Angels see their six-game winning streak blown away by Cubs' bats…. Vasiliy Lomachenko defeats Anthony Crolla with fourth-round knockout…. USC's Kevin Porter Jr. declares his intention to enter NBA draft…. Claressa Shields focused on winning and dominating versus Christina Hammer…. Grand Prix of Long Beach has been an elusive race for Josef Newgarden…. Arkansas Derby will test how good Omaha Beach really is…. Todd McLellan once again is the leading candidate for Kings' coaching job…. The best seats at the Masters can be yours — until the owner wants them back
Today's local major sports schedule (all times Pacific)
Clippers at Golden State, 5 p.m., ABC
Milwaukee at Dodgers, 6 p.m., Sportsnet LA, AM 570
Angels at Chicago Cubs, 11:15 a.m., FSW, KLAA 830 AM
Philadelphia at Galaxy, 7:30 p.m., Spectrum Sportsnet
FC Cincinnati at LAFC, 7:30 p.m. Youtube TV, 710 ESPN
Born on this date
1964: Golfer Davis Love III
1971: NBA player Charles Outlaw
1974: NHL player Sergei Gonchar
Died on this date
2009: Baseball player Mark Fidrych, 54
And finally
That concludes the newsletter for today. If you have any feedback, ideas for improvement or things you'd like to see, please email me here. If you want to subscribe, click here.
---
Get our high school sports newsletter
Prep Rally is devoted to the SoCal high school sports experience, bringing you scores, stories and a behind-the-scenes look at what makes prep sports so popular.
You may occasionally receive promotional content from the Los Angeles Times.