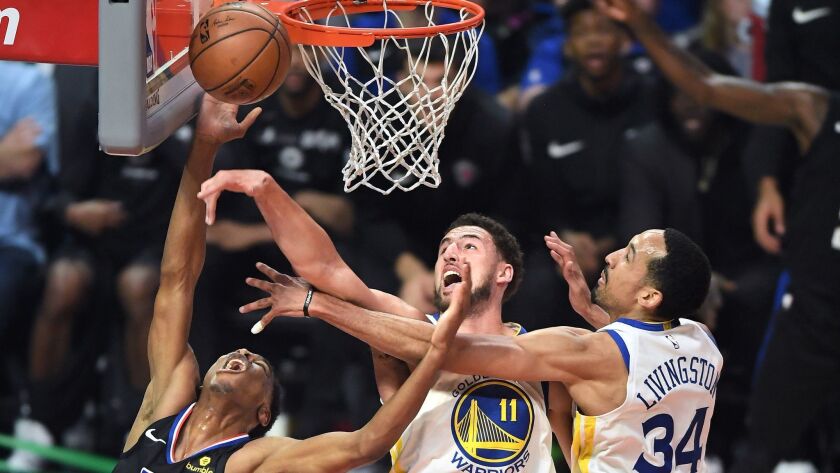 Hello, one and all, my name is John Cherwa, and I'm guest-hosting this here newsletter for just two more days as Houston Mitchell sees how much he can get above face value for the Game 7 Clippers-Warriors game ticket in Oakland.
Clippers
Sorry, Clippers fans, but the season is over. You knew it was coming, but that doesn't make it any less painful. In the newsletter's effort to heal, we offer up this little song to listen to, expressing our sentiments to you for the offseason. Just click here.
Bet you're smiling.
Now for the autopsy of the game, we turn to Andrew Greif's first quick take. (Or given the way the Clippers were never in the game, is it more of a necropsy?)
"There was one, final push.
"Of course there was.
"The Clippers, a team that never met a deficit they didn't believe they couldn't overcome, trailed top-seeded Golden State on Friday at Staples Center by 19 at halftime, 26 in the second half and 23 with 10 minutes left in their season.
"But then, Lou Williams sank a step-back, Patrick Beverley scored a layup, Shai Gilgeous-Alexander made a mid-range jumper and, with 7:19 to play, Danilo Gallinari dropped a transition dunk over Draymond Green's head. The arena's volume was up and deficit down to 109-95 – a pittance compared to the holes they'd come back from all season.
"All those comebacks left Clippers coach Doc Rivers lovingly referring to his team as unkillable "roaches."
"But in closing out Game 6, and this first-round playoff series, Kevin Durant was the exterminator.
"Durant made a fade-away jumper on the very next possession and was fouled. When he sank the free throw, he had 50 points and the final word in a series where he had been questioned at times.
"The Warriors won, 129-110, behind Durant's outburst, scored in 42 minutes, and Stephen Curry's 24 points.
"'The ultimate weapon," Golden State coach Steve Kerr said of Durant.
"Durant joined Michael Jordan, Kobe Bryant and Russell Westbrook as the only players in the last 35 seasons to score at least 45 in consecutive playoff games."
Clippers 2019 playoff results
(Warriors win series, 4-2)
Game 1: Warriors 121, Clippers 104
Game 2: Clippers 135, Warriors 131
Game 3: Warriors 132, Clippers 105
Game 4: Warriors 113, Clippers 105
Game 5: Clippers 129, Warriors 121
Game 6: Warriors 129, Clippers 110
Today's NBA schedule
(All times Pacific)
Philadelphia at Toronto, 4:30 p.m. TNT (First game of series.)
San Antonio at Denver, 7 p.m. TNT (Series tied, 3-3)
Clippers arena
When it comes to those plots of land that use to house Hollywood Park and the adjacent but renovated Forum, nobody knows it better than our own Nathan Fenno. He's followed the story since the "terrorist two-fer" (I know, it never gets old) to Friday's ruling by a judge. Plus, he gets to use the phrase "Surplus Land Act."
So, how foolish would it be for me to summarize things when I can give you some of his story or all of it beneath this link?
"A Los Angeles County Superior Court judge ruled Friday that a lawsuit contesting the arena the Clippers want to build in Inglewood can proceed.
"Uplift Inglewood, a community group that advocates for affordable housing, alleged in a lawsuit filed last June that Inglewood's exclusive negotiating agreement with a Clippers-controlled company, Murphy's Bowl LLC, to pursue the arena violates the state's Surplus Land Act.
"The regulation mandates that public agencies give first preference to using surplus land for affordable housing, recreation and schools.
"Murphy's Bowl and Inglewood agreed in June 2017 to explore constructing a privately financed arena on 22 acres of empty, city-owned land along West Century Boulevard.
"Judge Mary H. Strobel rejected attempts by Inglewood and Murphy's Bowl to dismiss the action, including arguments that the act hasn't been triggered because the city still owns the property.
"'Therefore, the transfer of the property cannot be the triggering event for the agency's mandatory duty of notice and negotiations,' Strobel wrote. 'Otherwise, the SLA would be unenforceable.'
"The trial is set for Sept. 24."
Rams and Chargers
Two more rounds of the NFL draft are over and four more to go on Saturday. It even switches from ABC to ESPN on Saturday and is held during daylight starting at 9 a.m. PDT.
Then the pundits across the land will give each team a grade, usually a letter grade, which is as big an exercise in guesswork as you'll ever see. It serves our need to contrast and compare, especially vis a vis the local team's opponents. So, while the professors are tabulating the grades, let's see how our Rams and Chargers did on Friday.
--Gary Klein looks at the Rams:
"The Rams were in no hurry to make their first pick in the NFL draft.
"They entered Friday already having traded their first-round pick the day before, and then traded down twice in the second round to the 61st pick before choosing their first player.
"That's where they selected Washington safety Taylor Rapp, before adding Memphis running back Darrell Henderson, Michigan cornerback David Long and Oklahoma offensive lineman Bobby Evans in the third round.
"In all, the Rams traded back three times and forward twice in the first two days of a draft that concludes Saturday with Rounds 4 through 7. The Rams have four more picks, though that number could grow or shrink if general manager Les Snead continues dealing."
--And Jeff Miller looks at the Chargers:
"The Chargers' first-round pick, Jerry Tillery, went to Maui for his draft party.
"Their second-round pick, Nasir Adderley, went to a Dave & Buster's.
"The team, however, doesn't anticipate the gap between the two being that large this season.
"Both are expected to be contributors, Adderley giving the Chargers a versatility option at free safety a year after they were forced to play Jahleel Addae there.
"'It's a perfect fit,' Adderley said. 'I really enjoyed my meetings with the coaching staff. I mean, I'm part of a winning team. They were on the brink of a Super Bowl … I want to contribute to bring a Super Bowl they deserve.'
"The Chargers drafted Adderley with the 28th pick of the second round out of Delaware, where he was a Football Championship Subdivision All-American.
"In the third round Friday they stayed small school, taking Trey Pipkins, a 6-foot-6, 309-pound offensive tackle from Division II Sioux Falls."
NHL playoffs
Friday's scores
Carolina 1, New York Islanders 0 (Hurricanes lead series, 1-0)
San Jose 5, Colorado 2 (Sharks lead series, 1-0)
Today's schedule
(All times Pacific)
Dallas at St. Louis, noon Channel 4 (Blues lead series, 1-0)
Columbus at Boston, 5 p.m. Channel 4 (Bruins lead series, 1-0)
Odds and ends
Cody Bellinger goes deep again in Dodgers' win over Pirates. … Angels pitcher Tyler Skaggs dominates Royals in return from injury. … Cardinals trade former UCLA quarterback Josh Rosen to the Dolphins. … Lakers' interviews with Monty Williams, Tyronn Lue leave lasting impressions on both sides. … Vladimir Guerrero Jr. showed glimpses of greatness as a boy in the Angels clubhouse. … Galaxy's Romain Alessandrini will be out until September after knee surgery. … Minjee Lee has lead after two rounds at Wilshire Country Club, but there are many on her heels.
Today's local major sports schedule
(All times Pacific)
Pittsburgh at Dodgers, 6 p.m., Sportsnet LA, KTLA Ch. 5, AM 570
Angels at Kansas City, 4:15 p.m., FSW, KLAA 830
Born on this date
1896: Baseball player Rogers Hornsby
1932: NFL coach Chuck Knox
1938: Bowler Earl Anthony
And finally
That concludes the newsletter for today. If you have any feedback, ideas for improvement or things you'd like to see, please email us here. If you want to subscribe, click here.
---