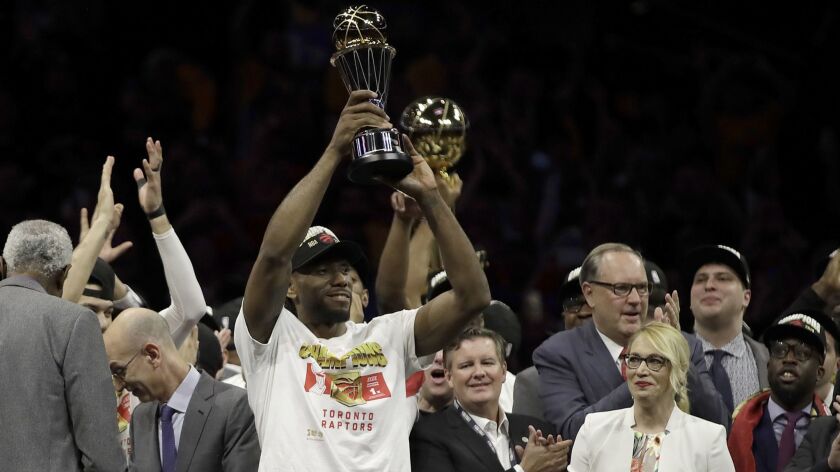 Howdy, my name is John Cherwa and I'm the guest pilot on this here newsletter as Houston Mitchell decides if he should take the over or under on Sunday's U.S.-Chile soccer game. (Hint: Take the over, whatever it is.)
You know, sports fans love to dream how their favorite team is just that one special player away from the promised land. And, it usually works, you know, like the difference LeBron James made with the Lakers this past season. Or, a couple years back, how Albert Pujols would transform the Angels.
Oh, wait, you're saying the one player doesn't make a difference. Well, let's go into dreamland and think what might happen if Kawhi Leonard were to end up with the Clippers.
Andrew Greif's job is to ponder what will happen to the Clippers, and that's exactly what he does in this story. GIve it a read right here.
We'll give you a preview in this newsletter.
"Mere minutes after the NBA season ended Thursday, the countdown began toward a period on the league's calendar even more anticipated, and scrutinized, than Toronto's Game 6 Finals victory over Golden State: free agency.
"Moments after grasping the Finals MVP trophy in his massive hands, Raptors forward Kawhi Leonard was asked how a championship would factor into his looming decision on whether to stay with or leave Toronto.
"'I'm about to enjoy this with my teammates and coaches,' Leonard said, 'and I'll think about that later.'
"The Clippers have spent months thinking about what it would take to attract Leonard, who was raised in Moreno Valley, starred at Riverside King High and San Diego State before winning NBA titles in San Antonio and Toronto. Leonard can decline a player option for next season and meet with teams as a free agent on June 30 beginning at 3 p.m. PDT, six hours earlier than allowed by the league in years past.
"Other marquee potential free agents, such as Golden State's Kevin Durant, remain offseason targets but Leonard has been a top Clippers priority all along and his playoff performance validated the attention devoted to him. He averaged 30.5 points, 9.1 rebounds, 3.9 assists and made 37.9% of his three-pointers during the playoffs en route to becoming the game's best two-way player and its most wanted man.
"Before the Clippers meet with potential new players they must decide how badly they wish to keep a few already on their roster. Starting Friday, they have until June 29 to issue qualifying offers to guard Rodney McGruder and center Ivica Zubac, which would make them restricted free agents."
U.S. Open golf
Lots of golf left to play at Pebble Beach and the U.S. Open. Gary Woodland has the lead after two rounds. The guess here is that he won't be in the lead after the final round, but who's to know.
Tod Leonard gives you a glimpse into who he is and who is chasing him. Just look here. A quick version follows.
"Gary Woodland knows what his reputation has been in 10 years on the PGA Tour:
"One-dimensional bomber.
"He didn't like it, but it was difficult to dispute some of the facts. They included that the muscular, Topeka, Kan., native didn't post a top-10 finish in the first 27 major championships he played. That's quite an indictment on any player's versatility.
"Woodland hopes his more recent results are changing opinions.
"The 35-year-old has top-10 finishes in the last two PGA Championships and Friday made possibly his biggest statement in the 119th U.S. Open.
"On a tight, shorter Pebble Beach course not meant to favor the biggest hitters — 49-year-old Jim Furyk shot 67 in the second round, after all — Woodland worked his way around the Cliffside course beautifully, going bogey-free in firing a six-under-par 65 that thrust him into sole possession of the lead.
"At nine under heading into the weekend, Woodland led by two shots over 2013 U.S. Open winner Justin Rose, who shot 70. The Englishman held the top spot for most of the day until Woodland charged in late, capping his round by draining a lengthy birdie putt at the par-four ninth.
"The 65 matched the lowest score recorded at Pebble Beach in a U.S. Open — a number that Rose also notched in his opening round, and Tiger Woods carded in 2000 on the way to a crown."
Women's World Cup
Before we get to Friday's scant schedule, I have to say it, this tournament is too long. It's not that there are too many games, it's just that they are spaced out too much.
When did the U.S. team play? May? It's been so long I've almost forgotten about them running up the score on Thailand, 13-0. The team next plays on Sunday, against Chile.
It just seems you could shave about a week off this tournament. The group play, each team playing three games, is just one day shorter than it took the NBA to play a six-game Final, and that seemed to drag.
Now, we may not be the only ones thinking this thing is dragging on. Our own Kevin Baxter discovered that sentiment among the U.S. team. Catch the full report here. Don't have the time? Here's an excerpt.
"On her first day in Paris, Carli Lloyd said she "just kind of chilled out" at her hotel. That's what she did the day before that.
"And much of last week too.
"'I'm a little bored, to be honest,' she said Friday. 'There's only so many Netflix [programs].'
"Blame a Women's World Cup schedule that had the U.S. playing the last of 12 group-play openers, five days after the tournament started. That was 16 days after the team played their final exhibition game at home.
"For women used to playing once a week, the waiting has seemed interminable.
"'I just want to play,' said forward Mallory Pugh, one of 11 U.S. players who waited their whole lives to play in a World Cup, only to get to France and be told to wait a bit longer."
Friday's results
Japan 2, Scotland 1
Italy 5, Jamaica 0
England 1, Argentina 0
Today's schedule (all times Pacific)
Group E: Netherlands vs, Cameroon, 6 a.m., FS1
Group E: Canada vs. New Zealand, Noon, FS2
Group A W-D-L, GD, Pts
France 2-0-0, +5, 6
Norway 1-0-1, +2, 3
Nigeria 1-0-1 -1, 3
South Korea 0-0-2, -6, 0
Group A schedule (all times Pacific)
France 4, South Korea 0
Norway 3, Nigeria 0
Nigeria 2, South Korea 0
France 2, Norway 1
Monday, Nigeria vs. France, Noon, Fox
Monday, South Korea vs. Norway, Noon, FS1
Group B W-D-L, GD, Pts
Germany 2-0-0, +2, 6
Spain 1-0-1, +1, 3
China 1-0-1, 0, 3
South Africa 0-0-2, -3, 0
Group B TV schedule (All Times Pacific)
Germany 1, China 0
Spain 3, South Africa 1
Germany 1, Spain 0
China 1, South Africa 0
Monday, South Africa vs. Germany, 9 a.m., Fox
Monday, China vs. Spain, 9 a.m., FS1
Group C W-D-L, GD, Pts
Italy 2-0-0, +6, 6
Brazil 1-0-1, +2, 3
Australia 1-0-1, 0, 3
Jamaica 0-0-2, -8, 0
Group C TV schedule (all times Pacific)
Italy 2, Australia 1
Brazil 3, Jamaica 0
Australia 3, Brazil 2
Italy 5, Jamaica 0
Tuesday, Jamaica vs. Australia, Noon, FS2
Tuesday, Italy vs. Brazil, FS1
Group D W-D-L, GD, Pts
England 2-0-0, +2, 6
Japan 1-1-0, +1, 4
Argentina 0-1-1, -1, 1
Scotland 0-0-2, -2, 0
Group D TV schedule (all times Pacific)
England 2, Scotland 1
Argentina 0, Japan 0
Japan 2, Scotland 1
England 1, Argentina 0
Wednesday, Japan vs. England, Noon, FS1
Wednesday, Scotland vs. Argentina, Noon, FS2
Group E W-D-L, GD, Pts
Canada 1-0-0, +1, 3
Netherlands 1-0-0, +1, 3
New Zealand 0-0-1, -1, 0
Cameroon 0-0-1, -1, 0
Group E TV schedule (all times Pacific)
Canada 1, Cameroon 0
Netherlands 1, New Zealand 0
Today, Netherlands vs, Cameroon, 6 a.m., FS1
Today, Canada vs. New Zealand, Noon, FS2
June 20, Netherlands vs. Canada, 9 a.m., Fox
June 20, Cameroon vs. New Zealand, 9 a.m., FS1
Group F W-D-L, GD, Pts
United States 1-0-0, +13, 3
Sweden 1-0-0, +2, 3
Chile 0-0-1, -2, 0
Thailand 0-0-1, -13, 0
Group F TV schedule (All Times Pacific)
Sweden 2, Chile 0
United States 13, Thailand 0
Sunday, Sweden vs. Thailand, 6 a.m., FS1
Sunday, United States vs. Chile, 9 a.m., Fox
June 20, United States vs. Sweden, Noon, Fox
June 20, Thailand vs. Chile, Noon, FS1
Rest of the schedule
Round of 16 matches takes place from June 22 to 25.
Quarterfinal matches are from June 27 to 29.
One semifinal match is on July 2 at noon on Fox.
The other semifinal is on July 3 at noon on FS1.
Third-place game is July 6 at 8 a.m. on Fox.
Championship match is July 7 at 8 a.m. on Fox.
Odds and ends
Dodgers beat the Cubs, 5-3. … Bullpen falters as Angels fail again to reach .500 in loss to Rays. … As with Jared Goff, Rams coach Sean McVay and GM Les Snead in line for new contracts. … Mexico's 'best of the rest' team ready to show its form against Cuba in Gold Cup opener. … USC hires Loyola Marymount's Jason Gill as new baseball coach. … Pat Bowlen, Broncos owner who helped transform franchise and the NFL, dies at 75. … Albert Pujols' revitalized game powering his milestone achievements.
Other newsletters
We also have five other newsletters you can subscribe to for free. They are emailed to you and we don't sell your name to other companies, so no spam from us. They are:
Our Dodgers newsletter, written by Houston Mitchell. Subscribe here.
Lakers newsletter, written by Tania Ganguli. Subscribe here.
Horse racing newsletter, written by John Cherwa. Subscribe here.
Boxing/MMA newsletter. Subscribe here.
Soccer newsletter, written by Kevin Baxter. Subscribe here.
Today's local sports schedule
Chicago Cubs at Dodgers, 6 p.m., KTLA, Ch. 5, Sportsnet LA, AM 570
Angels at Tampa Bay, 10 a.m., FSW, KLAA 830
New York vs. Sparks. 7 p.m., Spectrum Sportsnet
Born on this date
1938: Baseball player Billy Williams
1949: Former Dodger Dusty Baker
1957: Former Dodger Brett Butler
1958: Baseball player Wade Boggs
1972: Baseball player Andy Pettitte
1972: Golfer Justin Leonard
1984: Baseball player Tim Lincecum
Died on this date
1991: Baseball commissioner Happy Chandler, 93
1993: Race car driver James Hunt, 45
And finally
Remember Brett Butler's remarkable catch for the Dodgers in 1994. Well, you can relive it here.
That concludes the newsletter for today. If you have any feedback, ideas for improvement or things you'd like to see, please email us here. If you want to subscribe, click here.
---