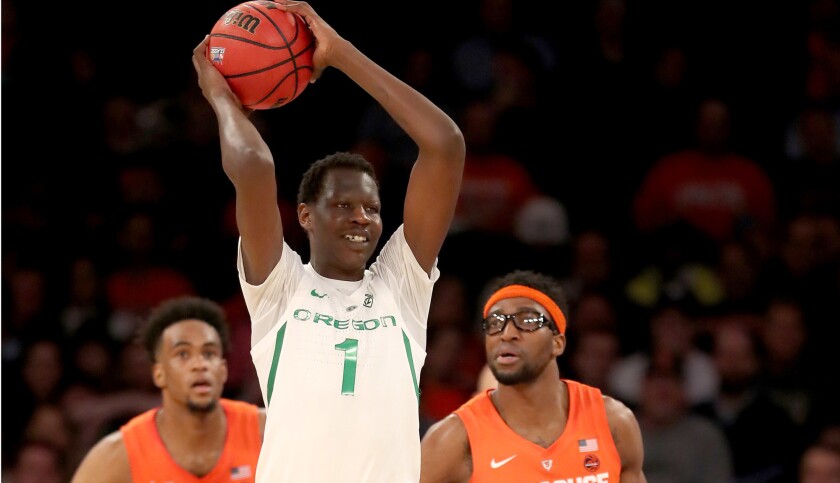 Howdy, my name is John Cherwa and I'm the substitute teacher on this here newsletter as Houston Mitchell puts the final touches on his Lakers-Clippers First Round Draft party at his house.
What a dilemma. Do I lead this newsletter with the NBA Draft, with no L.A. team picking in the first round? Or, the advance of the U.S.-Sweden World Cup match which is likely to decide, well, absolutely nothing? Both teams have qualified to advance to the knock-out round, which is way more exciting.
Let's go to a coin flip? Ready? U.S. women, your call. You choose heads. And …
NBA Draft
Neither the Lakers or Clippers have a first-round pick. The Lakers used to, but traded the fourth pick as part of the deal that brought Anthony Davis (we think, still not final) to Lakers from New Orleans. So, unless this is biggest con job in recent NBA history, the Lakers will trade their pick to New Orleans.
Once again, we've sent Dan Woike in search of the best story to give to you on the day of the draft. And, he did it. Woike Woike (his real name, not his LA Times name) chose to tell the story of Bol Bol, son of Manute. See, you are already hooked. Check out the full piece by clicking here or the top of story here.
"In one corner, you could see what stardom looks like.
"Zion Williamson, surrounded by cameras and microphones, relaxed back in his chair Wednesday and answered questions with a big smile on his face, comfortable and ready to take his place among the most popular NBA players the second he's picked No. 1 Thursday by New Orleans in the NBA draft.
"On the court, you see jumping ability that doesn't belong with this combination of of size, force and skill that has almost no comparison. Off it, you see charisma rarely displayed by an 18-year-old in the middle of the spotlight.
"'He's a different kind of athlete,' Virginia star De'Andre Hunter said.
"But Williamson is not what the unpredictable NBA draft is about. He knows how tomorrow is going to go.
"For uncertainty,the most physically interesting and, maybe, the most polarizing player in the same swanky New York ballroom is Bol Bol.
"The son of the tallest player in NBA history — 7-foot-7 Manute Bol — Bol is a 7-3 shoelace and a mystery to NBA teams after playing only nine games during his freshman season at Oregon.
"He dribbles and shoots with an ease that isn't usually possible for someone his size. He can swat shots the same way his dad used to block his in their one-on-one games. But he's got a checkered medical past. Foot and ankle injuries and big men don't usually mix.
"It's why there's a nervousness to Bol on the eve of the draft, a package full of arms, legs and destiny with no clue when or where the next chapter will begin.
"'It's still very wide open,' he said. 'I'm just waiting to see.'
"He's not the only one. The certainties in this draft are pretty locked in — Williamson will go No. 1 to the New Orleans Pelicans, Ja Morant will head to Memphis at No. 2, and RJ Barrett almost certainly will be picked by the New York Knicks at No. 3. But there's something attractive about the mysteries — the home run swings that either connect or miss, leaving you twisted into the ground.
"In talking to league executives and evaluators, Bol is routinely pointed to as the biggest risk/reward prospect in the draft. His strengths — size, shooting and ball handling — could justify a top-10 pick or higher. His weaknesses — lean frame, injured foot and questions about passion — could have him slide to the end of the first round."
Women's World Cup
There's a real twist to Thursday's game between the U.S. and Sweden where the loser might have an easier path to the final.
We know it makes no more sense than a couple of famous ground-breaking principles, such as math's Hibachi Sequences, where the more time you spend on a Sudoku the more likely the meat on the grill will burn. Or Einstein's Theory of Relatives, where speed of light isn't fast enough to get your relatives out of your house after three days.
But, luckily for us, we have Kevin Baxter to explain soccer to you. You know the choices, click here, or keep reading below.
"The U.S. is on to the knockout stage of the Women's World Cup no matter what happens in its final group-stage match Thursday in this port city on the English Channel.
"Same with Sweden, the Americans' opponent. But that doesn't mean there's nothing to play for — or not to play for, depending upon how such matters are viewed.
"With a win or draw, the U.S. wins the group and moves into the top half of the tournament bracket with England, France and Australia, who are all ranked among the top six in the world.
"Lose and it drops in the bottom half with Italy, Japan and Germany, just one of which is ranked higher than seventh, clearing a far easier path to the semifinals.
"This might be a case in which a loss is actually a win, right? Well, not in the Americans' camp.
"'It's in our team's DNA to want to win and do really well,' defender Abby Dahlkemper said. 'Entering this tournament it's just been 110% focused on the next game. We have Sweden and we want to progress and keep getting better.'
"Her coach agreed.
"'We want to win every game. That's where we're at and that's what we want to do,' said Jill Ellis, who has never lost a World Cup match as manager. 'Deciding to come second or manipulate a score, that can be dangerous. The draw is what it is and we navigate whoever is in front of us.'
"Finishing first would send the U.S. to a round-of-16 meeting with Spain on Monday in Reims. A win there could bring a quarterfinal matchup in Paris with France, the only team to beat the U.S. in the last 23 months. A loss to Sweden would send the U.S. to meet either Canada or the Netherlands, followed by a likely quarterfinal clash with Germany, which hasn't beaten the U.S. in 16 years."
Wednesday's results
England 2, Japan 0
Scotland 3, Argentina 3
Thursday's schedule (PDT)
Group E: Netherlands vs. Canada, 9 a.m., Fox
Group E: Cameroon vs. New Zealand, 9 a.m., FS1
Group F: United States vs. Sweden, noon, Fox
Group F: Thailand vs. Chile, noon, FS1
Group A W-D-L, GD, Pts
France 3-0-0, +6, 9
Norway 2-0-1, +3, 6
Nigeria 1-0-2 -2, 3
South Korea 0-0-3, -7, 0
Group A results
France 4, South Korea 0
Norway 3, Nigeria 0
Nigeria 2, South Korea 0
France 2, Norway 1
France 1, Nigeria 0
Norway 2, South Korea 1
Group B W-D-L, GD, Pts
Germany 3-0-0, +6, 9
Spain 1-1-1, +1, 3
China 1-1-1, 0, 4
South Africa 0-0-3, -7, 0
Group B results
Germany 1, China 0
Spain 3, South Africa 1
Germany 1, Spain 0
China 1, South Africa 0
Germany 4, South Africa 0
China 0, Spain 0
Group C W-D-L, GD, Pts
Italy 2-0-1, +5, 6
Australia 2-0-1, +3, 6
Brazil 2-0-1, +3, 6
Jamaica 0-0-3, -11, 0
Group C results
Italy 2, Australia 1
Brazil 3, Jamaica 0
Australia 3, Brazil 2
Italy 5, Jamaica 0
Australia 4, Jamaica 1
Brazil 1, Italy 0
Group D W-D-L, GD, Pts
England 3-0-0, +4, 9
Japan 1-1-1, -1, 4
Argentina 0-2-1, -1, 2
Scotland 0-1-2, -2, 1
Group D results and schedule (PDT)
England 2, Scotland 1
Argentina 0, Japan 0
Japan 2, Scotland 1
England 1, Argentina 0
England 2, Japan 0
Scotland 3, Argentina 3
Group E W-D-L, GD, Pts
Netherlands 2-0-0, +3, 6
Canada 2-0-0, +3, 6
Cameroon 0-0-2, -3, 0
New Zealand 0-0-2, -3, 0
Group E results and schedule (PDT)
Canada 1, Cameroon 0
Netherlands 1, New Zealand 0
Netherlands 3, Cameroon 1
Canada 2, New Zealand 0
Today, Netherlands vs. Canada, 9 a.m., Fox
Today, Cameroon vs. New Zealand, 9 a.m., FS1
Group F W-D-L, GD, Pts
United States 2-0-0, +16, 6
Sweden 2-0-0, +6, 6
Chile 0-0-2, -5, 0
Thailand 0-0-2, -17, 0
Group F results and schedule (PDT)
Sweden 2, Chile 0
United States 13, Thailand 0
Sweden 5, Thailand 1
United States 3, Chile 0
Today, United States vs. Sweden, noon, Fox
Today, Thailand vs. Chile, noon, FS1
Rest of the schedule (PDT)
Round of 16 games, Friday to June 25
Quarterfinal games, June 27-29
Semifinal game, July 2, noon, Fox
Semifinal game, July 3, noon, FS1
Third-place game, July 6, 8 a.m., Fox
Final, July 7, 8 a.m., Fox
Mike Trout has personal best night
The Angels don't often get elevated to a separate in the newsletter but Mike Trout certainly made it happen on Wednesday. We'll let our Maria Torres tell you about it.
"By the fourth inning of the Angels' 11-6 victory over the Toronto Blue Jays, Mike Trout was already six RBIs and two home runs richer, putting together one of the best offensive performances of his career Wednesday.
"He crushed a grand slam in the fourth inning, his second of the season, after hitting a two-run homer in his previous at-bat. He sliced a bases-loaded single to left field that scored an insurance run in the ninth inning.
"Trout's seven RBIs marked a career high. It also extended his hot-hitting month of June. Trout is batting .322 (19 for 59) with seven home runs and 15 RBI this month.
"Trout's surge comes on the heels of a month-long slump. For a span of 31 games, Trout batted a pedestrian .248 from April 23 to May 28. His production continued to climb, courtesy of the constant walks he drew and his superhuman ability to crack extra-base hits. But he didn't feel like himself.
"Trout is past that now. In three weeks, he's 25 for 71 with 10 home runs and 26 RBIs. The two-time American League most valuable player has been on such a tear that he has added 1.7 wins above replacement since May 28. His 5.0 WAR is second only to the Dodgers' Cody Bellinger.
"The Angels improved to 38-37, one game above .500 for the first time since April 13."
Odds and ends
Dodgers beat the Giants but lose Rich Hill early in the game. … Two former Jr. Ducks should hear names in NHL draft — and Craig Johnson will be proud. … David Ortiz shooting a result of mistaken identity, authorities say. … USC's Bennie Boatwright has size and skill, but will he get an NBA chance? … Gold Cup: Andres Guardado scores two as Mexico beats Canada.
Other newsletters
We also have five other newsletters you can subscribe to for free. They are emailed to you and we don't sell your name to other companies, so no spam from us. They are:
Our Dodgers newsletter, written by Houston Mitchell. Subscribe here.
Lakers newsletter, written by Tania Ganguli. Subscribe here.
Horse racing newsletter, written by John Cherwa. Subscribe here.
Boxing/MMA newsletter. Subscribe here.
Soccer newsletter, written by Kevin Baxter. Subscribe here.
Thursday's local sports schedule
San Francisco at Dodgers, 7 p.m., Sportsnet LA, AM 570
Angels at Toronto, 4 p.m., FSW, KLAA 830
Born on this date
1972: NHL player Jozef Stumpel
1978: Football player LaVar Arrington
1983: NFL player Darren Sproles
1985: Basketball player Darko Milicic
Died on this date
2018: Golfer Peter Thomson, 88
And finally
Not many of you may know about Australian golf legend Peter Thomson. This video should catch you up. Just click here.
That concludes the newsletter for today. If you have any feedback, ideas for improvement or things you'd like to see, please email us here. If you want to subscribe, click here.
---