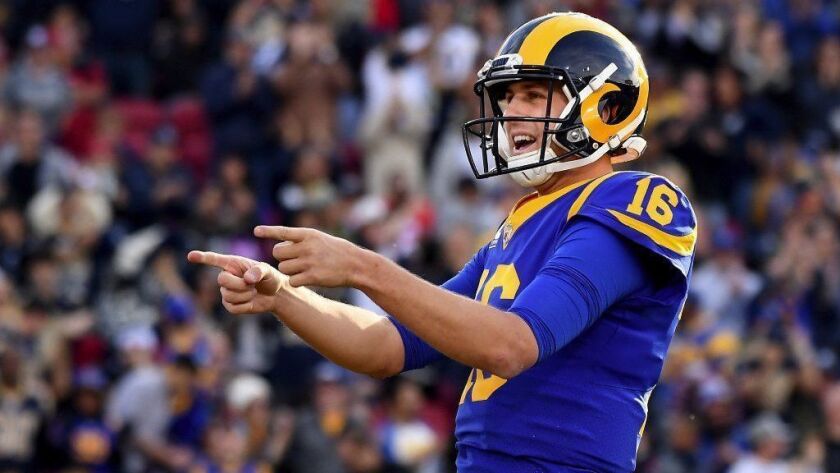 Reporting from atlanta —
Fourth of a five-part series looking at team strategy for Super Bowl LIII: New England coach Bill Belichick is famous for taking away one specific strength of the opposition. Who or what might he target against the Rams?
He used to run for a living and now he talks for a living, the dual careers giving him an ideal perspective on this topic.
After spending nine years in the NFL, former running back Maurice Jones-Drew is now the radio analyst for the Rams.
So he knows the NFC representative in this Super Bowl well, and he knows Bill Belichick too.
What does Jones-Drew think will be Belichick's focus entering Sunday?
"Stopping the run," he said. "If the Rams get to running the ball, they're tough. Stopping their outside zone will be big. The Saints did that early on [in the NFC championship] and got the Rams a little discombobulated."
The Rams, of course, re-combobulated to beat New Orleans 26-23 in overtime and advance to face New England and its defensive-minded head coach popular for making the opposition squirm.
Belichick's reputation — as well as his success — is founded on the mantra of taking away one of the other team's top weapons. The concept is so much a part of him that it's almost as if Belichick invented the very idea.
That notion is as ridiculous as suggesting Belichick also invented the hamstring stretch. But there's nothing silly about identifying this as one of his obvious strengths.
The future home of the Rams and the Chargers is under construction in Inglewood. The $2.6-billion, 300-acre project includes plans for retail, office, residential, hotel and park space.
"Every coach on Earth does the exact same thing," said Brian Billick, who coached the Baltimore Ravens for nine seasons and led them to a Super Bowl title. "Bill just does it better. He's very situationally focused. He does as good a job as we've ever seen getting his players to understand the game plan."
This will be the first meeting between Belichick and Sean McVay as head coaches. But it won't be the first time they've tried to outsmart one another.
In 2015, the Patriots beat Washington 27-10 back when McVay was calling plays as the Redskins' offensive coordinator.
What Belichick took from McVay that day was pretty much everything, Washington managing just 89 yards of offense in the first half and 37 rushing yards total.
Like Jones-Drew, Billick said he thinks New England will concentrate on stopping the Rams' ground game Sunday and try to force Jared Goff to throw his team to victory.
"If the Rams win, my guess is that afterward we're going to be talking about the game Todd Gurley had," Billick said. "Of course, that's if he's healthy — and it sounds like he is.
Sign up for our daily sports newsletter »
"Sean said this week, 'My job is to get Todd Gurley into the game and we will.' That's either a hell of a bluff and he's trying to get Bill thinking that way because Todd's not healthy or he is healthy and the Rams know that's what it's going to take."
Ah, yes, Gurley's health. There has been speculation about his status since the NFC title game, when Gurley was clearly visible but disappeared anyway.
The Rams continue to maintain that their top runner is fine. Those claims won't be fully accepted, however, until Gurley can prove his soundness inside Mercedes-Benz Stadium, with the entire football world watching.
"Oh, he's healthy," Jones-Drew said. "You ever have a bad day? I've had horrible days. It was just a bad day on a big stage and his team was able to bail him out.
"I talk to Todd all the time. I consider us to be good friends. He tells me he's healthy, and I don't think he would lie or anything like that."
So Gurley insists he'll be primed and present against New England, just in time, perhaps, for Belichick to make him disappear again.
Twitter: @JeffMillerLAT
---