Newsletter: Escapes: Pack your bags and fill the tank. It's time for the All-American road trip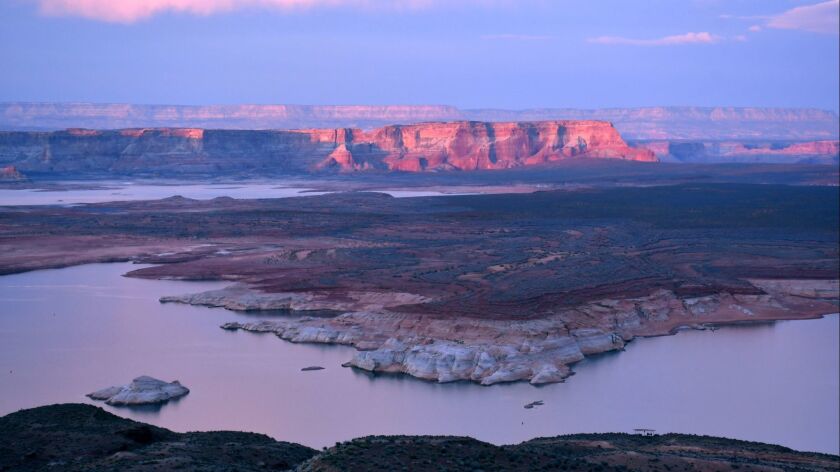 It's almost go time.
Go where? Do we have some ideas for you!
As the Memorial Day weekend nears, we offer a slew of road trips to start your mental engine.
And by a slew, I mean that if you can't find something here to tickle your fancy, you are the American West's version of Ebenezer Scrooge.
Trains. Flowers. Route 66. Traveling by Tesla. In the footsteps of an environmentalist/bad boy in the desert Southwest. (And no, we didn't find his grave.) California Basque country. Two beautiful drives in the Pacific Northwest. A relaxing jaunt to Ojai. And an answer to the musical question, "Are we recreational vehicle people?"
My name is Catharine Hamm, and I'm the travel editor for the Los Angeles Times. Our road trip issue is one of our favorites, and our job is to ensure you envision yourself away from the office and your home and on the way to finding your bliss, each year in a different kind of way.
I found my bliss in a different kind of way that I don't quite recommend, which I detail in this week's End paper (found, not surprisingly, at the end of this newsletter), but I did find my way back home.
And isn't that sort of the point of it all? There is no place like it, Toto, especially after a week or two on the road. So let's get to it.
The fellow had frailties; the desert, none
Christopher Reynolds was a fan of the books of environmentalist Edward Abbey, who railed against the incursion of modern life on our Western landscapes. As Reynolds visited the places Abbey had touched, his appreciation for the desert Southwest increased as his admiration for Abbey waned.
Livin' (sort of) the dream (maybe)
Who hasn't dreamed of ditching their life and traveling by RV? John Nelson and his wife, Leslie, did dream it and then live it. Read about the hilarious, cringe-worthy, funny, warm adventure in which they ask, then answer the question: "Are we RV people? Hell, yeah!"
These are a few of our favorite things
You know those road trips that start out meandering with no clear goal? These aren't among them. Sara Cagle takes us on three trips with a goal: to see the Colorado wildflowers; to hunt for antiques in California; and to experience the wonder of train travel (it really is a road trip with a big rail component) in California and Nevada. All aboard!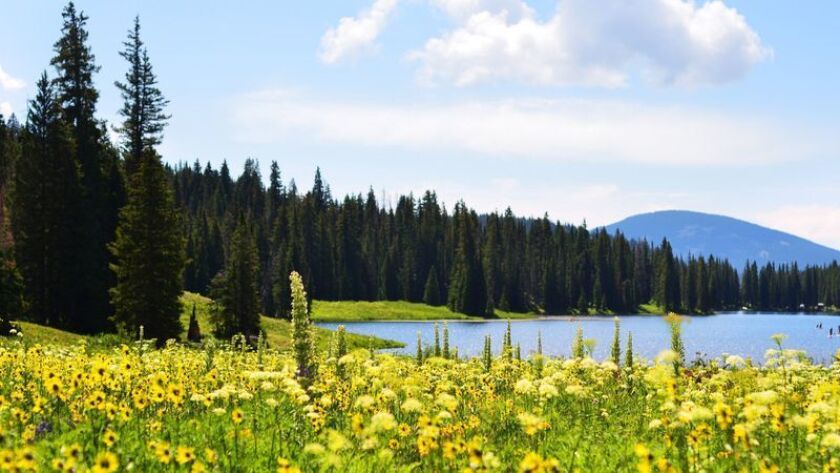 Living the alternative (fuel) lifestyle
What's it like to set out on a road trip in a vehicle in which running out of juice means you are stuck? To find out about "range anxiety," Chris Erskine, along with staff photographer Robert Gourley, set out to drive Nevada's Electric Highway and found the past and the present on a bit of a collision course. Meanwhile, Charles Fleming drove a hydrogen-fueled vehicle to California's Basque country, indulging in the delights of regional cuisine.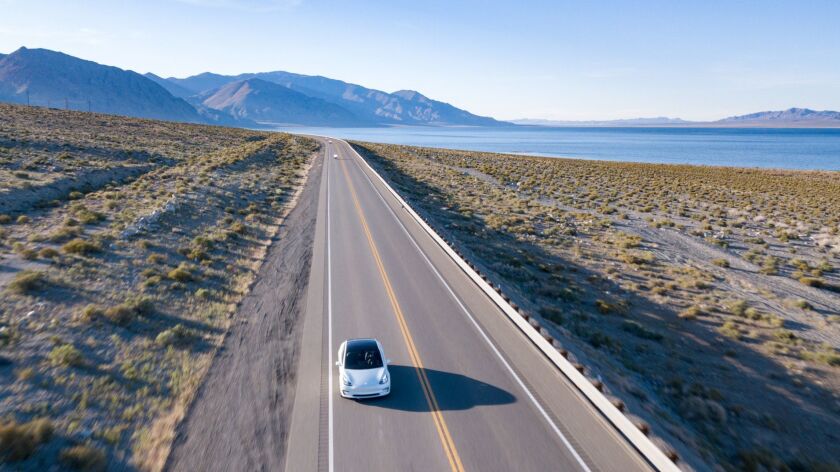 A little of this, a little of that
Not every mile nor every minute of a road trip is filled with great scenery, amazing attractions or memorable moments. There. We've said it. But there are some parts of vacation on the road that we think are worth mentioning. We call them "road trip snippets," and these 375-word pieces are designed to give you a quick overview of the route: to Ojai and back; our pick for the best Southern California part of Route 66; a waterfall-rich loop in the Pacific Northwest; a drive that takes you to three capes in Oregon; a romp through southern Colorado; and more. Watch for "Road Trip" headlines for these little slices of heaven at latimes.com/travel.
Traveling with an older parent
The enforced enclosure of the car will bring you together, whether you want it to or not. So why not make the most of it, Bill Clevlen says. You can not only share memories but also create your own shared memory, a good deposit to have for later use.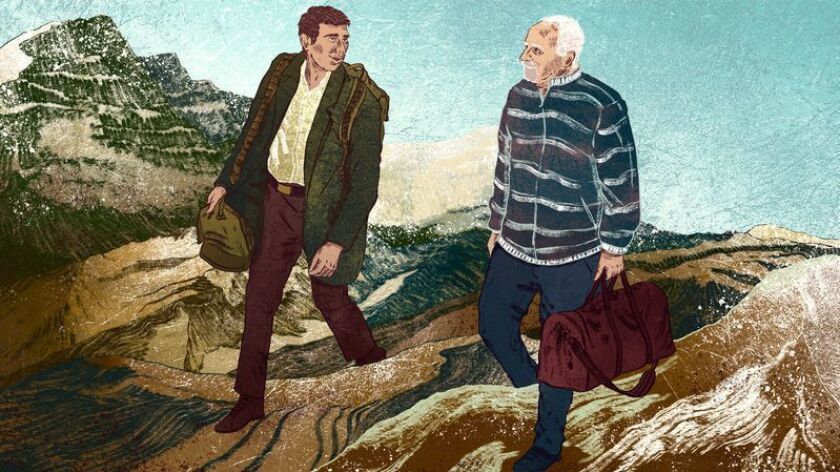 A new fix for California's Real ID license
You don't have to have a Real ID California driver's license to get out on the road. But many of us do, and some of us (at least 2.3 million) got the license before the Department of Homeland Security decided that the way California verified residence was inadequate. Now it has a fix for that conundrum. Read about what to look for coming soon to a mailbox near you.
What we're reading
Need something to keep you calm when you're in an airport? That would be music to my ears, and in Atlanta's Hartsfield-Jackson airport, it very well may be, Kelly Yamanouchi writes for the Atlanta Journal-Constitution. Musicians are paid to perform in various locations throughout the mega-airport, so you may encounter (or hear) a violinist, a pedal-steel guitarist, a saxophonist and more as they work to create the charms that soothe the savage breast.
This definitely isn't music to your ears: "Passengers in B 1 to 30 may now board." That's because those who end up later in the Southwest Airlines boarding process are encountering planes where seats have been "saved" by earlier boarders. Caroline Morse Teel, writing for Smarter Travel, discusses the struggle for seats on an airline where paying to board early may no longer pay off.
Well, we could just blame this on Justin Bieber, but that wouldn't be fair. Still, there's an issue and it's this, Annabelle Timsit writes for Quartz: Fjadrárgljúfur Canyon in Iceland used to be largely unknown, but that was BB — Before Bieber and the music video for his 2015 single "I'll Show You." Now, 445 million views later, the place is overrun, and the government is periodically shutting it down.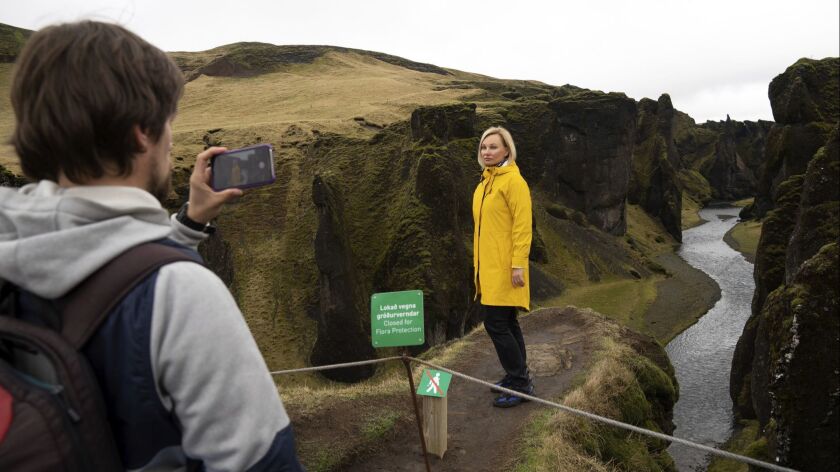 Where to reach us, read us and join the party
Maybe you didn't know what a revelation this newsletter would be ("They practically planned my vacation for me!") and now you're thinking, "Just how do I get this delivered to my inbox?" Well, friends, we are nothing if not helpful.
To subscribe to this and others like it (although, in truth, there is only one other like it and that's the monthly Vegas Escapes newsletter, which I also assemble, but there are others that are just as delightful), go to membership.latimes.com/newsletters. Best of all, they're free.
Then think about trying out a digital subscription to the Los Angeles Times. It's not free, but it's not expensive, either, and it will keep you from smacking into the paywall.
You know, lots of people pushing subscriptions resort to the old "subscribe or the puppy gets it," showing a picture of a cute little beagle on its death march.
Not nice. We mean the threat, not the beagle, who is probably perfectly nice, despite its obsession with food, thanks to an abundance of smell receptors in its nose. Whatever it is, that tactic stinks. We hope you'll subscribe because it's something nice to do for yourself. And you learn stuff. And you get to be the life of every party. Consider subscribing to the Los Angeles Times digitally or on paper or both. The animal kingdom thanks you. And so do we.
End paper
Thanks to my colleague Chris Erskine (owner of a 300-pound beagle) for filling in for me while I was away.
And by "away" I mean in the hospital. Three times. In Kansas. Having surgery. Candygram.
And now I'm so … grateful.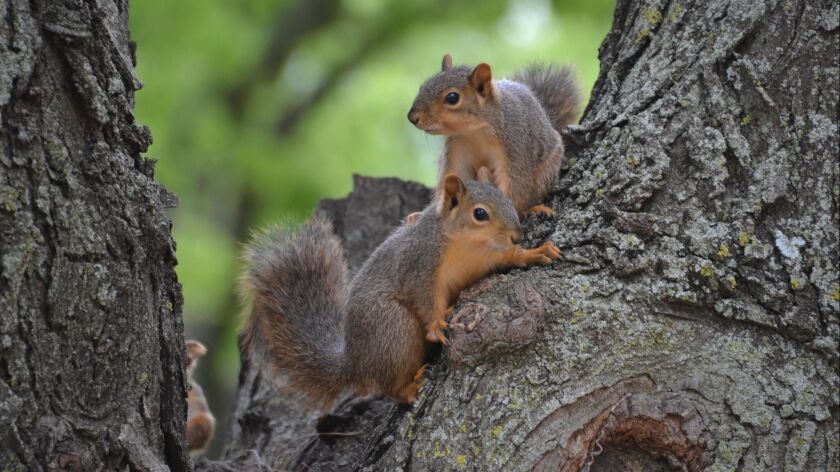 Things were going great, and I was loving the interviews I was doing in Abilene, Kan., but suddenly, things got squirrelly (see above). Two words: kidney stone.
We will skip the dull details and proceed directly to the lessons, which were almost as painful as the stone.
Don't rely on the kindness of strangers, but don't be stupid about it either. When I let Jay and Adrien Potter, the innkeepers of Abilene's Victorian Inn, know I was ill and awaiting a ride to the ER, they insisted on driving me there, even though Adrien was already in her nightclothes. I protested but quickly realized they were right.
Your friends are the ones who always show up. My college friend Cynthia Mines lives an hour from where I was, and even though we had planned to see each other on the weekend, this wasn't the weekend, it wasn't on the schedule and it wasn't during regular daytime hours. She came anyway. Sisterhood for the goal.
Small towns, big hearts. The stone was gone after a quick surgery. The aftereffects hung around. After a third visit to an ER, I checked into a motel and almost immediately my phone rang. It was the nurse, and she had forgotten to give me the anti-nausea meds she'd mentioned (critical because no pharmacy was open on a Sunday evening). She would bring them to me, she said. And she did.
Small acts of kindness mean the world. I don't know who you are, ma'am, but on my Southwest flight home on Monday, you gave me your aisle seat, unbidden. Your selflessness may have been the kind of anti-vomit talisman that wards off trouble just by its goodness. To wit: I was fine — until I deplaned. Thank you.
And now, for the safety takeaways:
Give a list of your emergency contacts and your itinerary to family members before you go. If your loved ones don't need it, no harm done. My family only sort of knew my plans — why burden them? Um, in case they needed to fetch me.
Expecting the worst by overcommunicating isn't borrowing trouble; it's laying the groundwork for that moment when you can't speak for yourself. I also failed (for about six months now) to tell them I had bought medical evacuation insurance, domestic and foreign, through Medjet, which would have gotten me home if I'd needed it. Everybody who was trying to help me from afar was operating with a lack of information.
Apparently you are never too old to be scolded. Trust me on this: You do not ever want to be scolded by the Sisters Hamm. They are never wrathful. They are always sorrowful. My own heart breaks after breaking theirs.
Happy to be upright and taking solid food, I wish you safe (and smarter) travels and hope you know that we will always be here to welcome you home.
---
Get inspired to get away.
Explore California, the West and beyond with the weekly Escapes newsletter.
You may occasionally receive promotional content from the Los Angeles Times.